SSC results on May 31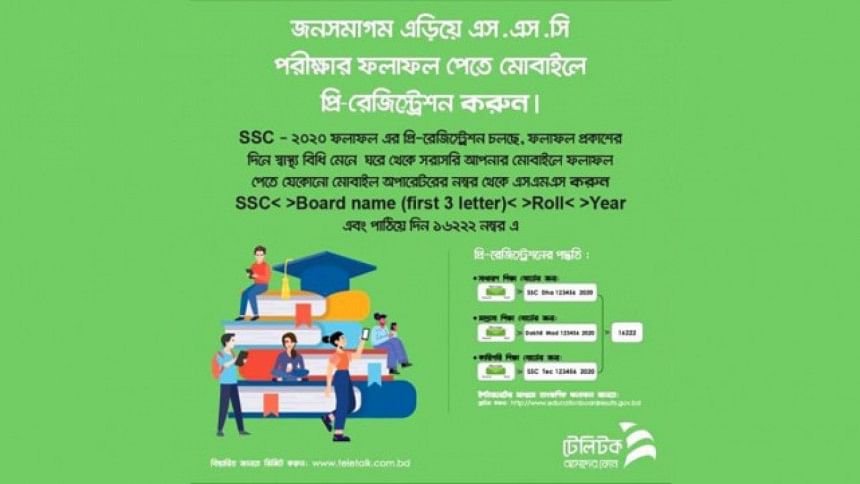 Results of Secondary School Certificate (SSC) and equivalent exams will be published on May 31, education ministry officials said this evening.
Education Ministry public relation officer Mohammad Abul Khair in a statement said that Prime Minister Sheikh Hasina will officially announce the report through video conference at 10:00am on May 31.
For the first time in Bangladesh, results of SSC and equivalent exams will reach examinees' or their guardians' mobile phones through SMS.
Education boards have started pre-registration of the candidates through SMS in this regard. Pre-registration will continue till 24 hours before publishing the result
Authorities took the initiatives against the backdrop of the coronavirus pandemic.
"This is for the first time that we are pre-registering candidates, and will send their results to their mobile phones," said Monjurul Kabir, senior systems analyst at Dhaka Education Board.
To know about SSC and equivalent results, pre-registration will continue till 24 hours before publishing the result. SMS should be sent to 16222 with the text SSC/Dakhil <space>BOARD<space>ROLL<space>YEAR.
Dhaka Education Board Chairman Prof Ziaul Haque, also the head of inter-board coordination committee, said that this year students will not be able to collect their results from educational institutions.
The government closed all educational institutions from March 17 to 31. Later, the shutdown was extended till May 30.
The government earlier planned to publish the results on May 7 or 8, but could not publish it due to school closure.
For the first time in the last eight years, the government will not be able to publish results within 60 days of completing a public exam.
This year, the SSC exams began on February 3, with the theoretical and practical tests ending on February 27 and on March 6 respectively.
Some 20,47,779 students took part in the SSC and equivalent examinations held at 3,512 centres.
Monjurul Kabir said that like previous years, results will be also available on the education board website.
Examinees can get the results from the education board website http://www.educationboardresults.gov.bd/ and also from the websites of respective education boards.