WWE wrestler "Rowdy" Roddy Piper dies at 61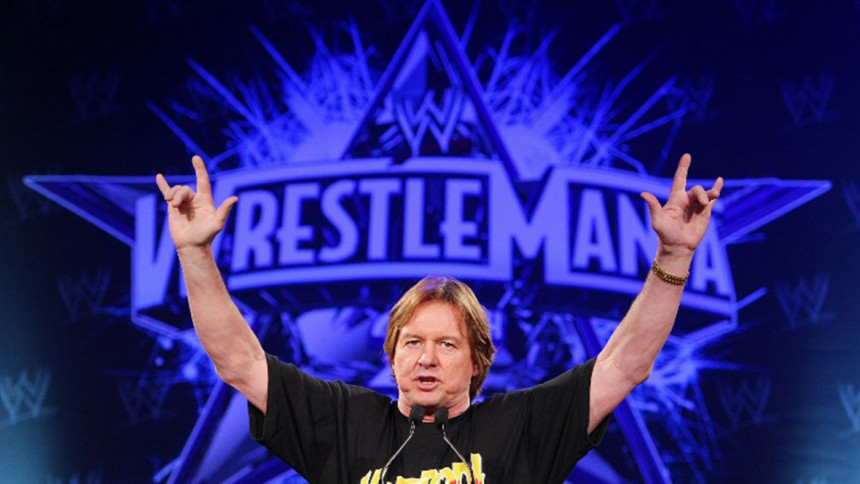 He once cracked another wrestler over the head with a coconut. He kicked singer Cyndi Lauper in the head. He mesmerized fans as he fired frenzied insults and threats at opponents.
"Rowdy" Roddy Piper -- the kilt-wearing heel who headlined the first WrestleMania and helped the WWE push other professional circuits out of the spotlight -- has died in his sleep, his agent said Friday, reports CNN.
He was 61.
The superstar of the 1980s was arguably the top bad guy in professional wrestling history, but was a fan favorite for his crazed outbreaks on the microphone and in the ring.
Piper, whose real name was Roderick George Toombs, was inducted into the World Wrestling Entertainment (WWE) Hall of Fame in 2005.
Agent Jay Schachter said Piper died peacefully in his sleep at his California residence.
Nicknamed "Rowdy," Piper was known for wearing a kilt outside the ring, entering to bagpipe music and his frenetic, big mouth.
Grew up a fan(still have my Hot Rod shirt), became a colleague, and most importantly, became a friend. Bagpipes are playing #RIPHotRod

— Adam (Edge) Copeland (@EdgeRatedR) July 31, 2015
He teamed with Paul Orndoff in the main event at the first WrestleMania in 1985, where they lost to Mr. T and Hulk Hogan, with whom Piper had a sustained ring rivalry in the 1980s.
"He was my best friend. He is a legend. God's gain is our loss. May his family find peace in this time of need. My love forever -- HH," Hogan said in a written statement.
Piper, born in Canada of Scottish heritage, wrestled in World Championship Wrestling before returning to the WWE in 2003.
"Roddy Piper was one of the most entertaining, controversial and bombastic performers ever in WWE, beloved by millions of fans around the world," said WWE Chairman and CEO Vince McMahon. "I extend my deepest condolences to his family."
Piper told the Sun-Sentinel of South Florida in 2002 that he was saved from life on the streets by wrestling.
"I was 15 years old when I started wrestling full time and I know what I had to go through to get here," Piper told the newspaper. "Wrestling saved my life."
Piper told CNN's Larry King in 2000 that he got his wrestling name when very early in his career his took the place of a no-show wrestler and the announcer -- who knew he played the bagpipes -- introduced him as Roddy the Piper.
He told King that when he and Hogan were increasing the popularity of the WWE, he didn't like Hogan.
"He's the driving force in our sport. I was the bad guy. I felt second fiddle," Piper said. "But as all things have come around, he deserves everything, all the accolades he can get."
While with the WWE, the wrestler sometimes hosted an interview segment called "Piper's Pit," in which he often antagonized another wrestler. In a memorable 1984 confrontation,he ended up cracking a coconut on the head of Fijian wrestler Jimmy Snuka, then rubbing a banana in his face.
During his feud with Hogan, Piper once attacked two Hogan allies, Lauper and wrestling manager Captain Lou Albano, and while Lauper lay on the ground, grasping Piper's leg, Piper kicked her.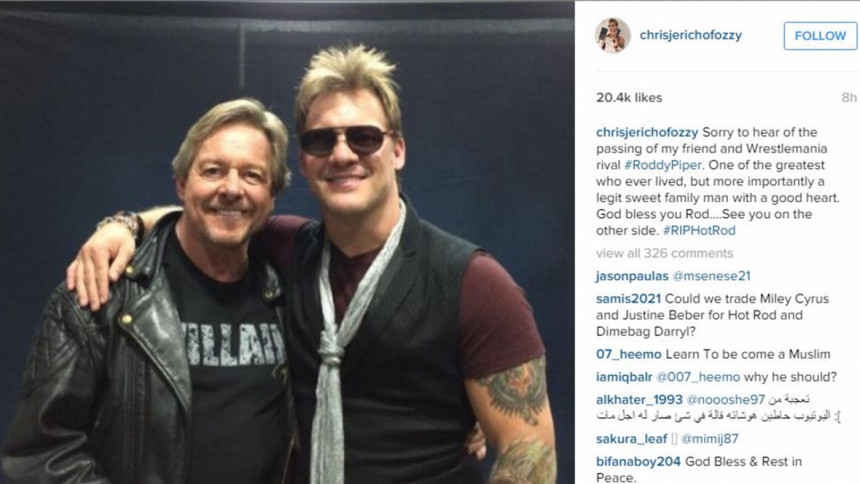 At WrestleMania 2 in 1986, Piper's boxing bout with Mr. T ended when Piper pushed down the referee and body-slammed the actor.
According to the Internet Movie Database, Piper had appeared in many television shows and movies, including the cult classic "They Live," directed by John Carpenter. The movie included a lengthy fight sequence between characters played by Piper and Keith David.
Carpenter mourned his friend on Twitter.
"I'm devastated by the passing of my friend Roddy Piper," Carpenter wrote. "Great wrestler, underrated actor, dear friend, Rest in peace, Rod."
WWE star John Cena called Piper one of the all-time greats.
"My heart goes out to his family and the fans he entertained over the years. RIP Rowdy," he tweeted.
One of the true greats of all time. My heart goes out to his family and the fans he entertained over the years. RIP Rowdy.

— John Cena (@JohnCena) July 31, 2015
Wrestler Chris Jericho said on Instagram: "Sorry to hear of the passing of my friend and Wrestlemania rival #RoddyPiper. One of the greatest who ever lived, but more importantly a legit sweet family man with a good heart. God bless you Rod....See you on the other side. #RIPHotRod."
Piper had a wife and four children. There were no immediate details about funeral arrangements.