Tigers can take heart from Fatullah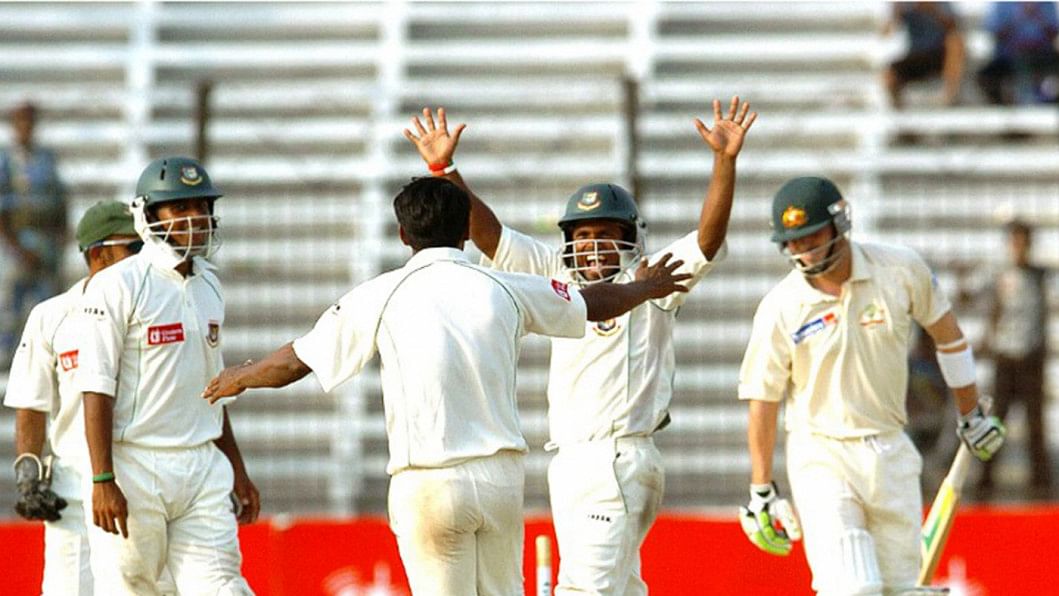 Australia are due to tour Bangladesh in October and have already announced their 15-man squad for the two Test matches at Chittagong and Dhaka.
The Australian team this time around is a far cry from the side that last toured Bangladesh way back in 2005/06, in terms of talent and experience.
Australian top order boasted the likes of Matthew Hayden, Michael Hussey, Ricky Ponting, Damien Martyn, Michael Clarke and Adam Gilchrist ten years ago.
Their bowling unit comprised of Bret Lee, Stuart Clark, Shane Warne, Stuart MacGill and Jason Gillespie.
Against such a formidable attack, Bangladesh batters managed to score the highest total of 427 runs in the first Test at Fatullah.
Shahriar Nafees hammered his only hundred in his brief Test career and took the attack to the Aussie bowlers on the first day. He scored 138 from 189 balls with 19 boundaries punctuating his breezy knock.
He was ably supported by Rajin Saleh and skipper Habibul Bashar. Both of them picked up fifties in the first innings.
At the close of play of Day 1, Bangladesh piled up 355 runs in 88 overs, and sent the Aussie bowlers on a leather hunt unlike anything seen before.
Although Bangladesh lost 5 wickets on the opening day, they dominated the Australian attack, and even took Warne to the cleaners.
Shane Warne conceded 112 runs in only 20 overs, and was whacked for 16 boundaries by the Bangladeshi batters.
The 187-run partnership between Nafees and Bashar for the 2nd wicket was something special as both of them got on top of the Aussie bowlers at Fatullah.
They were positive with their intent and decisive with their footwork to nullify the likes of Lee, Gillespie, Warne and MacGill for nearly 40 overs on the first day.
Bashar took full advantage as Australian bowlers strayed down the leg-side far too often for their liking and gave away easy runs to the Tigers captain.
His trademark pulls delighted the home crowd at Narayanganj, fetching him the bulk of his runs in the first outing.
At the other end it was the Shahriar Nafees show, fearless and focused with sparks of brilliance from his blade.
His cover drives were a treat for cricket connoisseurs. He did not let anything wide and full to go unpunished.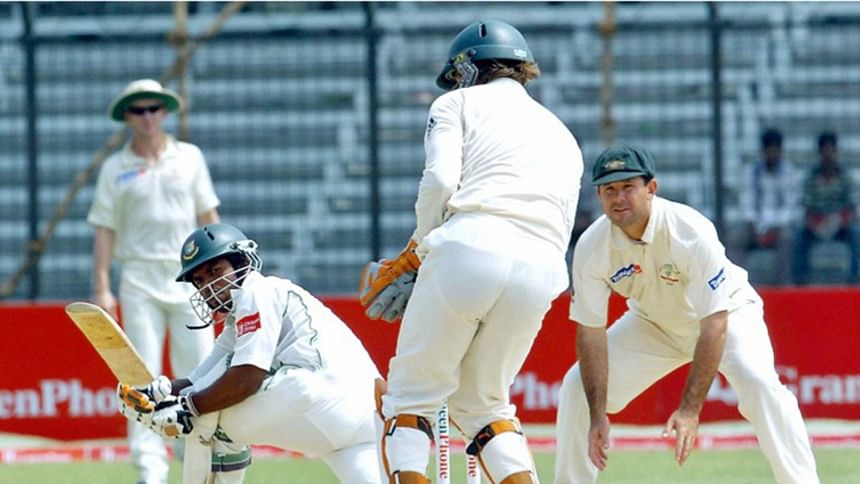 On a day when anything he touched turned to gold, Shahriar Nafees showed his full repertoire of strokes, especially on the off-side.
Whenever the spinners gave some flight, Nafees was quick to the pitch of the ball and smothered the spin quite easily. Using his supple wrists, he picked the slow-bowlers for ones and twos almost at will.
As a left-hander, he made full use of the ball turning towards him from Warne and MacGill and peppered the mid-wicket region during his innings.
Booming drives and the clinical placement were the highlights of the Nafees-show while Bashar's pulls and flicks were equally effective.
However, Nafees fell against the run of play when MacGill disturbed his furniture. Tossed up bit full on the leg stump, Nafees missed his sweep and the ball struck the leg-stump.
Australia were bowled out for 269 in the first innings, their lowest total against Tigers till date.
At 6 for 93, Australia were looking down and out. Gilchrist came to the rescue with his belligerent knock of 144 from 212 balls.
Australian batters found the going quite tough with Mohammad Rafique and Enamul Haque Jnr on top of their game.
Rafique captured five wickets for 62 runs in 32.2 overs while Enamul picked up two for 83. The spinning duo gave Tigers the upper hand with immaculate control and impressive patience against the seasoned Aussie batters.
Unfortunately for Tigers fans, Bangladesh batsmen failed to press home the advantage in their second innings, and fell like nine pins. They were booked for 148.
Chasing 307 for victory, it took a herculean effort from Aussie skipper Ponting to take his side home in this see-saw of a Test match.
Tigers lost the match by 3 wickets, but earned the respect of cricket fans all over.