'May be a young team, but it's still Australia'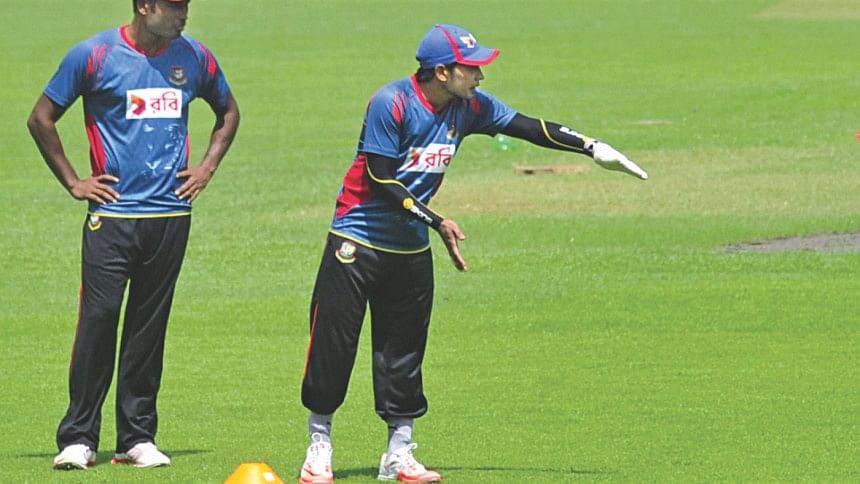 Bangladesh Test captain Mushfiqur Rahim emphasised on continuing the good work that the Tigers have been doing throughout the year in order to get a positive result against a rather inexperienced Australian line-up in the two-match Test series at home in October.
Australia have named a squad that in comparison to their previous teams, is quite inexperienced. Mushfiqur though showed plenty of respect to the new-look team.
 "Although it's a young team, it's Australia and we can't forget that," he said with a smile during a press conference in Mirpur yesterday.
 The little man however, did state that this would be Bangladesh's best chance to beat the visitors.
"If we don't get a result despite playing well, that's a different issue, but our main target will be to play good and consistent cricket. I don't think there will be a better opportunity to beat Australia, so we will have to try to give our hundred per cent or even more than that in the two Tests," said Mushfiqur.
The skipper wanted to keep faith in his side's strength rather than focusing on the opponent's inexperience.
"It's not as though we beat teams only when their younger sides come here. The South African side that played against us was top-class, but they still lost. India sent their best team and they were beaten. The main thing was that we played good and consistent cricket this year and that's why the wins have come. So our main target will be to keep the focus that we have kept this year," he added. All those successes were in the ODIs. 
When asked if he actually believed that the hosts could successfully overcome the enormous task of beating the Australians, Mushfiqur indicated that there was no reason not to.
"In 2006, the Australian team that came here was probably their best ever. The Bangladesh team back then managed to come so close to a victory… and that too at a time when winning was something that the players probably didn't think of; in fact there were talks about whether Bangladesh would be able to survive four days.
"The kind of cricket we are playing right now, if we can play to the best of our ability, then a victory is definitely not impossible. Test cricket may be different, but at least our expectations have risen," a confident Mushfiqur replied.
"Bangladesh is gradually improving in Tests as well. So hopefully if we can do well here and end the year on a good note," he added.
Considering Australia's weakness against spin, especially in the subcontinent conditions, many anticipate a spinning track in the coming two-match series. Mushfiqur understandably was not ready to disclose the plan, but once again, he made the point very clear that at first they should play their best cricket.
"There is a plan but I don't want to disclose it. No matter what plan we have, we have to play well. They have three spinners in their squad, so a turning wicket is not just a solution. We will prefer a wicket where we can score 400 and also take 20 wickets," said Mushfiqur.