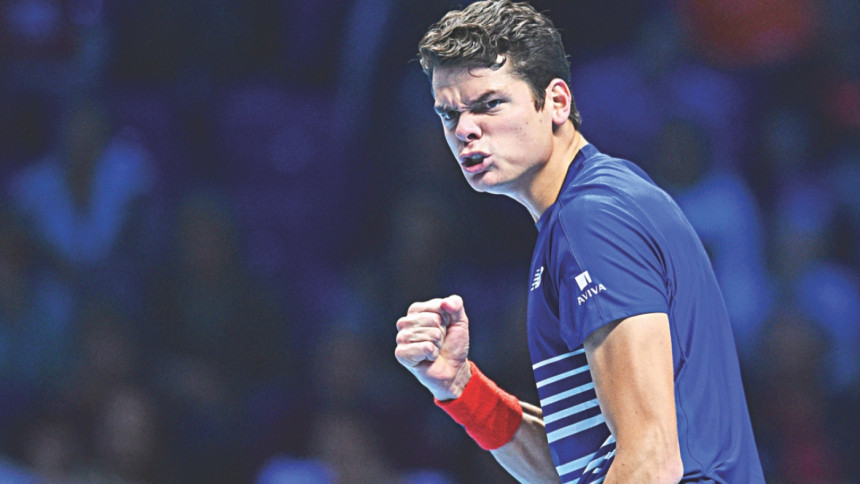 Less than two weeks after pulling out of the Paris Masters semi-finals with a thigh injury, Milos Raonic reached the last four at the ATP World Tour Finals and is close to breaking into the top three of the rankings.
His 7-6 (5) 6-3 victory over Austrian Dominic Thiem on Thursday left him second in the Ivan Lendl Group behind Novak Djokovic who won all his three matches.
Raonic will next meet world number one Andy Murray, the man he was supposed to play in the last four in Paris, for a place in the final providing the Briton beats Swiss Stan Wawrinka on Friday to seal top spot in the John McEnroe Group.
"I've played Andy many times this year," Raonic told reporters. "I haven't gotten the better of him.
"The one thing I might have is how much he has on his shoulders right now, a lot of consecutive matches, and what he's playing for," he added in reference to Murray bidding to end the year as world number one.
"I have to try to do my best to accentuate that as much as possible in my own favour so I can really get the most out of myself and hopefully be able to get on top of him for once this year."
Murray has an 8-3 win-loss record against Raonic who has been beaten in all their five encounters this season.
The Canadian also has a target to aim for as he looks to climb from fourth to third in the rankings.
"It's very big for me. I had a very big goal of wanting to win my first slam this year. I came up short on that," said Raonic.
"That was what I had for myself as the biggest motivator after the U.S. Open."
Japan's Kei Nishikori, the world number five, will also be on court Friday when he plays Croatian Marin Cilic.