Organisers under fire as rain rules RG
The 10th day of the French Open sees just two matches completed and resultant backlog means players, including top seeds Novak Djokovic and Serena Williams, face playing four days in a row.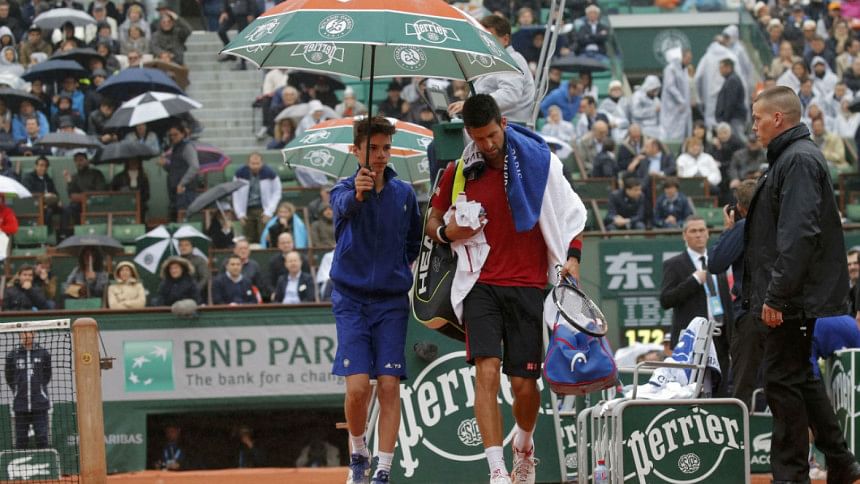 Fans spent more time looking at the murky Parisian sky than watching tennis on Tuesday as French Open organisers were accused of "not caring about the players" after the event was disrupted by more rain following the previous day's washout.
Czech seventh seed Thomas Berdych summed up everyone's frustration on a day when nine hours of play was lost by tweeting: "Hey @AustralianOpen can you send us one roof here to Paris?! You have 3 down there."
The inability to play under cover, with Roland Garros being the only one of the four grand slam venues that does not have a court with a retractable roof, certainly proved costly for Agnieszka Radwanska and Simona Halep -- fourth-round losers in the only two matches that were completed on day 10.
With the fixture list piling up, the women in top seed Serena Williams' half of the draw would now need to play on four successive days to win the title if the final takes place on Saturday as scheduled -- though more rain is forecast.
World number one Novak Djokovic and the men in his half of the draw, including Berdych, can also forget about enjoying the traditional rest days between each round as they would have to play on four of the next five days to contest Sunday's final.
Radwanska, the world number two, and 2014 runner-up Halep --who both started their last-16 matches on Sunday -- were forced to play in misty rain on Tuesday as organisers made a desperate attempt to clear the huge backlog.
"No one cares about the players in my opinion," sixth seed Halep said after she was beaten 7-6(0) 6-3 by Australian Sam Stosur in a battle of former finalists.
"It was impossible to play. To play tennis matches during the rain is a bit too much. I was close to getting injured with my back... but no one cares."
Radwanska had been leading Bulgaria's Tsvetana Pironkova 6-2 3-0 when rain halted play on Sunday.
When the match resumed more than 40 hours later, the Polish second seed suffered a monumental meltdown as she lost 10 successive games in a 2-6 6-3 6-3 defeat by an opponent ranked 100 places below her.
"I'm just so surprised and angry that we have to play in the rain. I mean, it's not a $10,000 tournament. It's a grand slam," said Radwanska, the highest seed to exit the tournament.
"How can you allow players to play in the rain? I cannot play in that condition. They really don't care what we think."
Ernests Gulbis and David Goffin did get on court for their fourth round showdown but took matters into their own hands by marching back into the locker room even before organisers had a chance to make a call.
It was a decision that Halep welcomed. "Good. Well done to them," the Romanian said as she gave them a thumbs-up.
While matches at the three other majors -- Wimbledon (grass), Australian and U.S. Opens (both hardcourts) -- are halted at the first sight of any raindrops, the brittle claycourt surface at Roland Garros means competitors are often told to play on in drizzle.
Roger Federer did just that in the 2009 men's final when he beat Robin Soderling to win his solitary French Open trophy.
Unsurprisingly, Pironkova did not think Tuesday's conditions were unplayable, though she acknowledged they were far from ideal.
"Well, it's happened before, of course. We have played in all sorts of conditions," said the Bulgarian, a semi-finalist at Wimbledon in 2010.
"Usually if the court is not fit for play, like if it's slippery, they would cancel the match right away. But today the court was still hanging in, it was okay. We could have played, and so we did."
Radwanska and Halep's exit meant that at least five of the top eight women's seeds failed to make their allotted quarter-final spots.
Only two of 10 scheduled matches were completed as the claycourt major suffered its sixth day of showers, with Djokovic -- leading Spaniard Roberto Bautista Agut 3-6 6-4 4-1 -- one of 16 players still stranded in the fourth round.