Federer beats great rival Nadal to win Shanghai Masters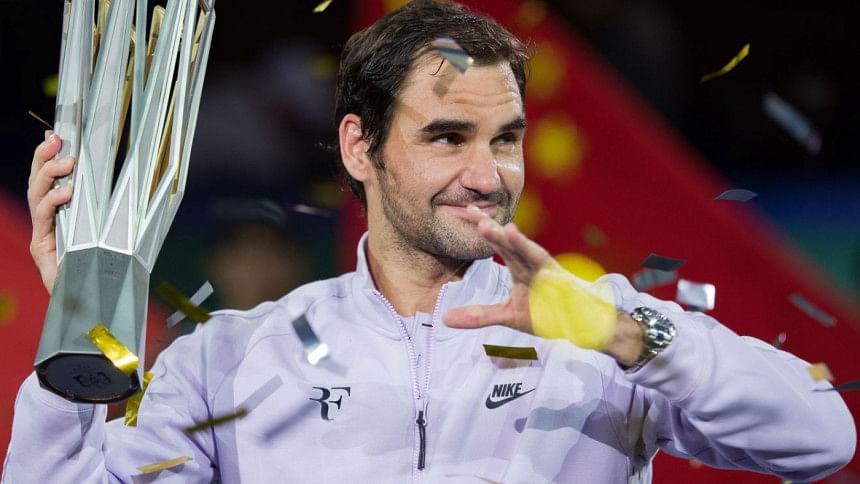 Roger Federer got one over his old rival Rafael Nadal to win the Shanghai Masters 6-4, 6-3 on Sunday in a showdown between the two best players on the planet.
It was a 94th title for the Swiss legend, drawing him level with the great Ivan Lendl, and a fifth victory in a row against world number one Nadal.
Nadal, who admitted afterwards that he had been beaten by the better man on the night, was ahead in their overall record going into the clash -- 23 wins to Federer's 14.
But this time he was up against it almost right away.
Number two Federer put the Spaniard under the cosh in breaking him in the first game -- to roars of approval from the majority inside the arena.
Another break to 36-year-old Federer in the pivotal fifth game of the second set put him in reach of a second Shanghai Masters crown -- and a sixth title in 2017.
"We didn't think maybe we were going to have the year we did, I definitely didn't," Federer said on court afterwards, looking at Nadal, reflecting on their continued success even at this late stage of their careers.
"It's nice to share this court with you today and I hope there are more to come in the tournaments we've got left.
"It's been a pleasure playing against you here today."
Federer, fondly known as "Cow" in China for his laid-back personality, had started the better in grabbing the break and he then rattled through his own service game for 2-0.
Federer, a 19-time Grand Slam champion, was in full flow under the Qizhong Tennis Center roof, which was closed because of downpours in Shanghai.
Nadal, 31, fresh from winning the US Open and China Open, groaned while lashing many of his shots; Federer was all quiet efficiency.
Somewhere in the stadium somebody rattled a cow bell.
Federer made it 4-2 with two booming aces in a row, drawing huge cheers from much of the stadium.
In contrast, Nadal -- a 16-time Grand Slam winner but who had never won the Shanghai Masters -- was labouring through his service games.
- 'Emotional year' -
There were suggestions that Federer might not be quite as fresh as his old foe, having been pushed to three sets a day earlier in the second semi-final against Juan Martin del Potro.
The timeless Federer rubbished that notion as he seared his way to a 5-3 first-set lead.
Nadal sent down his fourth ace for 5-4, only for Federer to seal the set with his seventh ace of the match.
There was little between the great rivals in the early exchanges of the second set until the fifth game.
Nadal saved the first break point but could not survive the second one to put Federer in reach of the title.
Nadal, for whom defeat sees Federer close the gap at the top of the world rankings as the year approaches its climax, has nevertheless enjoyed a remarkable season of his own.
His triumph in Beijing last weekend was also his sixth of the year as he continues to defy doubts about his fitness following repeated injury.
The Spaniard called it "an emotional year".
"I could maybe have done some things better," said Nadal.
"Of course was not the best match of the week for me... but when someone plays better than you in most of the things that really matter in this sport, then it's tough."
He declined to say if he had been hampered by a problem with his right knee, which had a bandage on it during the match.
"I don't want to talk about that now, sorry," Nadal said.
"After losing a final it's not the moment."