'Pocket dynamite': Kishan dreams of World Cup glory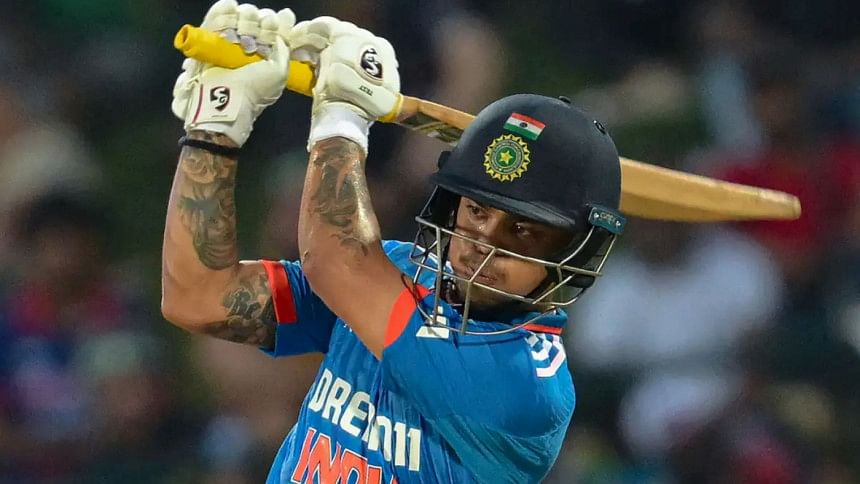 Ishan Kishan was often compared to M.S.Dhoni as a flamboyant wicketkeeper-batsman, but the India player has carved out his own identity ahead of his first World Cup.
Kishan, 25, has an ODI best of 210 in 25 matches, but a recent 82 against Pakistan in the Asia Cup won him rich praise from the cricketing fraternity including former Pakistan speedster Shoaib Akhtar who called him a "big match player".
Kishan was 13 when India last won the World Cup in 2011 under Dhoni, who hit the winning six against Sri Lanka at Mumbai's Wankhede Stadium.
Twelve years later Kishan, an attacking left-hand batsman, is part of the Rohit Sharma-led team, which will look to win the trophy at home at the tournament that opens October 5.
"As an individual, as a sportsperson, I think everyone wants to win World Cup for their country because that is the most important stage in our life, where we go and everything is at stake-- and you just play the game," Kishan told AFP.
"Pressure is there, expectation is there and still you have to perform well, so that is something I want to do. I have thought a lot about winning this World Cup."
He said his dream would be fulfilled if India win the World Cup and he ends up playing a "crucial role" in the triumph.
Kishan's knock against arch-rivals Pakistan in the Asia Cup had glimpses of Dhoni's grit as he lifted India from a precarious 66-4 to 266 all out in a match that was ultimately washed out.
'Bright future' 
The fans labelled him a "pocket dynamite" since his early days as a swashbuckling batsman, but former India captain Sunil Gavaskar said he has a different side to him as well.
"The way he kept his composure and the way he handled pressure against Pakistan showed he's not just somebody who goes out there and plays his shots freely, but somebody who applies his mind, reads the situation and plays accordingly," Gavaskar told India Today.
"The temperament he showed in that game shows he has a bright future ahead of him."
It was an Indian Premier League stint with the now defunct Gujarat Lions that opened new doors for the dashing batsman.
He was soon picked up by IPL giants Mumbai Indians and repaid the faith by playing a key part with 516 runs in the team's fifth title in 2020.
Mumbai, owned by Nita Ambani -- wife of India's richest man, Reliance Industries billionaire Mukesh Ambani -- released Kishan the next year, only to buy him back in the 2022 auction for a whopping $2 million.
"When I played for Mumbai Indians, my game changed, I changed as a person. I started looking at things in a different way where I have to do well under pressure," said Kishan.
"In pressure situations, I wanted to do well and perform well, so Mumbai Indians has helped me a lot and many more youngsters like me."
'Pressure on myself' 
Kishan, who stands 5 feet and 6 inches (1.68 metres) tall, made his India debut in T20 and one-day internationals and hit fifties in both the outings.
A self-confessed Sachin Tendulkar fan, Kishan started young on a cricket field alongside his elder brother to fulfil the unfinished dreams of their father.
Kishan's father, who wanted to pursue the game professionally but failed after being denied regular outdoor sessions by his grandparents, pinned his hopes on his oldest son but it was Kishan who shone.
He made his mark in the state side and then became the captain of India Under-19, learning the ropes of the game under the watchful eyes of India A coach Rahul Dravid, who now coaches the senior team.
Kishan's older brother sacrificed his career for a more talented sibling and Kishan is always grateful.
"I put more pressure on myself that I have to do well, as my brother is not playing because of me," he said. "That's how it started."