Match highlights: Argentina vs Mexico 2-0
World Cup favorites Argentina (FIFA ranking #3) heads into a do-or-die match against Mexico (FIFA ranking #13)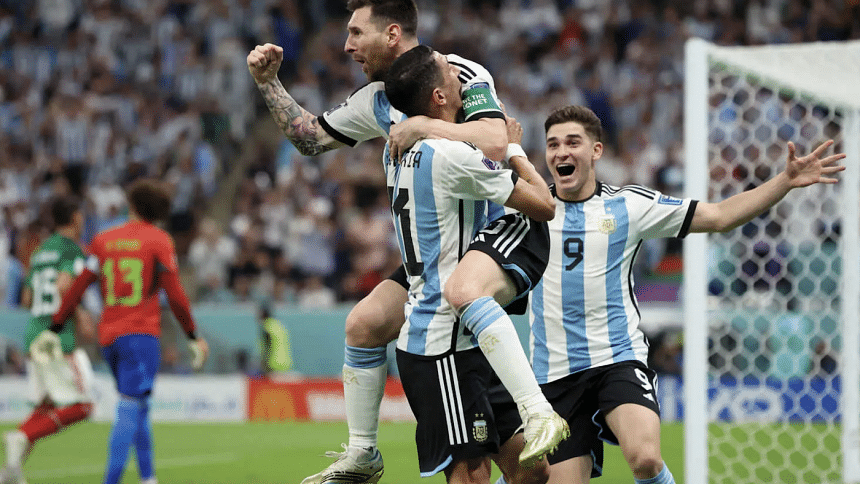 Lionel Messi and Enzo Fernandez save Argentina from a humiliating exit from the World Cup with 2-0 win over Mexico. Here's how it happened: 
Full-time: Desperately needed win for Argentina after a rocky start. Still doesn't guarantee they'll make it. If Argentina beats Poland they're through and if Saudi Arabia loses to Mexico, then for sure too. Poland will qualify even if they draw with Argentina, with four points that posits them on top of the group. Worst case scenario for Argentina would be losing or drawing with Poland, and Saudi Arabia beating Mexico. Pretty sticky situation but if Argentina, with Messi's magic, is to be back, like the last 30 minutes of today's game — then there's good hope.
86:40 mins: GOAL!  Fernandez does a quick stepover in the left side of the area and then curls a gorgeous shot around Ochoa. Beautiful goal, sealing the victory for Argentina tonight. 
70:00 mins: Scaloni makes double changes: Romero, who was apparently injured, and Ezequiel Palacios replace Alexis Mac Allister and Angel Di Maria. Not sure how we feel about it. But Argentina's shining bright. Mexico's grip is loosening. 
63:57 mins: GOAL!! Quite out of the blue: Di Maria cuts inside from the right, passes to Messi, and there we have it. That's what we're here for. And Argentina are alive! Messi scores his 8th goal in the World Cup. Much-much-needed. 
60:00 mins: It's faster, kinda? Argentina's front-line focus is still flickering like fairy lights. Vega can be dangerous but Argentina's defense is looking better. 
55:00 mins: It's looking a bit better for Argentina. Or at least the ball's edging closer to the goal post since half-time. Di Maria's bringing some energy. 
51:00 mins: Messi takes the free-kick, goes right over the goal post. He's looking frustrated. Pretty rubbish so far. 
50:00 mins: Messi makes a run, knocked down by Gutierrez who gets a yellow card. A free-kick for Argentina. 
Half-time Pretty tight first half. Both sides battled mostly on the midfield. Certainly not the start Messi and Argentina would've hoped for. It's tense. Argentina needs at least a draw tonight.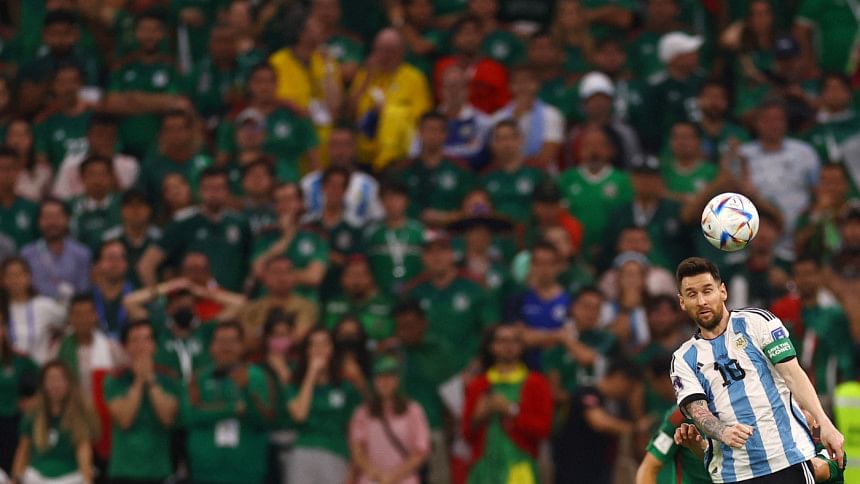 45:00 mins: A smashing free-kick from Vega, but a pretty smashing save by Martinez. Argentina's possession takes a dive to 68 percent, and Mexico's at 32 percent. 
43:00 mins: A few charges here and there, not much build-up. Both teams seem to be battling in the middle-field. Di Maria tries to get a firmer grip. Montiel's cross goes behind for a corner. Mexico changes veteran Guardado, injured, for Gutierrez. Montiel gets a yellow card. 
40:00 mins: Messi and the attacking's been stagnant so far. Mexico's Lozano has pulled a couple of moves. 
30:00 mins: Mexico seems to be aggressively capitalising on Argentina's nerves. A sort of good play from Messi but Montiel's — off-side — cross goes beyond the far post. Di Maria makes a dash, leads to Argentina's first corner. 
25:00 mins: Still looking pretty tense for Argentina, still struggling with a lack of poise despite Scaloni's opening changes. 
15:00 mins: Argentina's juggling the ball around with 76 percent possession, while Mexico's at 24 percent. 
10:00 mins: Mexico's playing a high-press. An outswinging free-kick leads to a slight chance for Mexico. Argentina's energy is shaky. 
0:00 mins: Argentina will use their customary 4-4-2 formation, while Mexico goes in with a more defensive 5-3-2 scheme.
Mexico has 1 point, after a goalless draw with Poland. Argentina's at the bottom of Group C after the shocking defeat by Saudi Arabia, that's taken the world by storm. Messi's Argentina is the only team without a point now in the Group, so a loss today could mean they'll exit the World Cup. 
Line-ups: 
Argentina: There are five new players in Argentina's starting 11 tonight: Gonzalo Montiel, Lisandro Martinez, Marcos Acuna, Guido Rodriguez and Alexis Mac Allister. 
Mexico: Guillermo Ochoa, Nestor Araujo, Cesar Montes, Alexis Vega, Hector Moreno, Hector Herrera, Andres Guardado, Hirving Lozano, Jesus Gallardo, Luis Chavez, Kevin Alvarez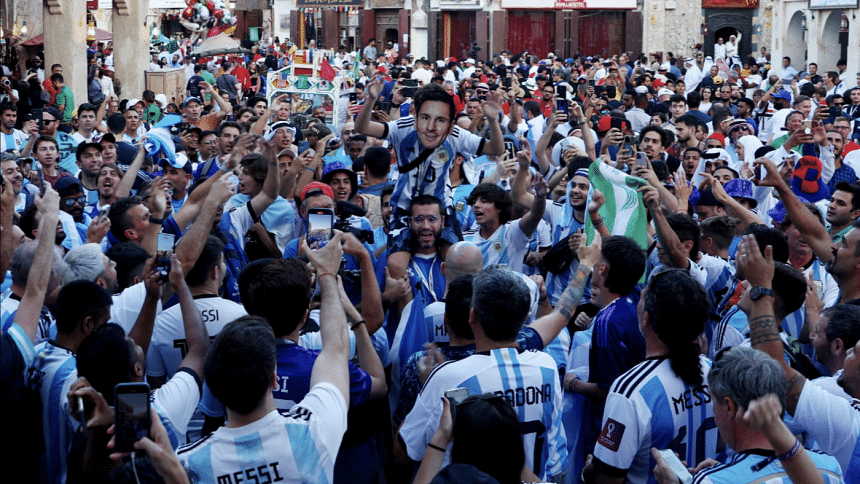 Big crowds are seen out on Doha ahead of the match. 
Players to watch: 
Not much to say about the Argentine team. But other than Lionel Messi, Argentina's got a stunning squad. Lautaro Martinez, who scored a brilliant goal against Saudi Arabia, though it was off-side. 
Goalkeeper Guillermo Ochoa, playing in his fifth World Cup for Mexico, is known to be solid. His performance in Tuesday's match with Poland was lauded. 
Raul Jimenez, Edson Alvarez and Hirving Lozano are key players in the attacking front for Mexico.
Pre-Match talks:
Mexico's Coach Gerardo "Tata" Martino, who is Argentinian and was Messi's coach in Barcelona during the 2013-14 campaign, said he would do "everything possible" to knock out his home country Argentina and star player Lionel Messi from the World Cup.
History: 
Mexico and Argentina played last in a friendly fixture contest in September 2019. Argentina won 4-0. Since 1930, Argentina has 14 wins over Mexico in 20 matches. Mexico has defeated Argentina twice.