Desert fest: Masters of close control not welcome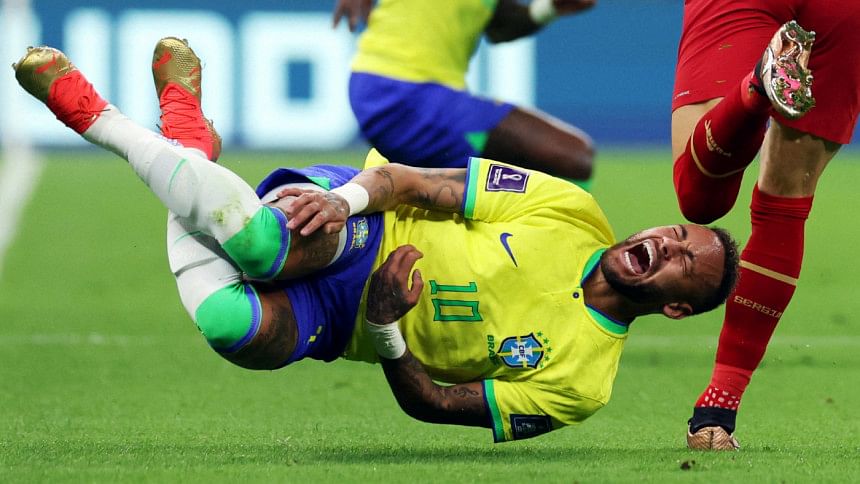 After Neymar left the pitch injured against Serbia in Brazil's opening World Cup game and shed tears on the bench, it reflected his helplessness more than anything else.
Across the 2014 and 2018 World Cups, Neymar was fouled a leading 44 times -- or once every 21 minutes. And in the first game of the 2022 World Cup, he was fouled nine times by Serbia, accounting for 75 per cent of Serbia's 12 fouls.
For his troubles, the 30-year-old left the pitch with an ankle injury that ruled him out of at least one of Brazil's two remaining group-stage matches, which led some to wonder whether Neymar should consider tweaking his style of play. In other words, they wondered if Neymar should stop being Neymar.
But the beauty of Neymar's methodical approach lies in the fact that it is far more than simply an act of defiance. To invite multiple opponents to trap you in a corner before getting away with a flurry of footwork, a drop of the shoulder or, in the best-or-worse-case scenario depending on who you ask, an audacious flick, can be a game-changer.
In the modern game, it is what can transform a player into a one-man wrecker of most forms of pressing football that now dominate the scene by giving their team the numerical advantage in dangerous areas of the pitch. Even against teams that tend to sit back in a low block, one player drawing out multiple defenders, especially those that have committed to a challenge and can no longer recover, is key to unlocking a defence.
It is why Neymar is often busier spinning a web around multiple defenders and getting their full attention before unleashing a pass, and it is also the reason his passes, often into open spaces left behind by defenders committed to tackling him, are so deadly.
The price for that style of play, as one of the best in the role can attest, is being fouled.
"It's part of the game, if you don't want to get fouled, don't get the ball. That's it," said Eden Hazard, who was fouled three times in the span of eight minutes by Canada in Belgium's opening game.
"I always say if there is a foul on me it means I have the ball, so it's a good sign, it's part of my game. Players who play with the ball like me, like Neymar, like Vinicius Junior, we are fouled. We have to deal with it.
"I just hope opponents can have yellow cards more often than now because then they will stop the fouls."
But the referees' failure to recognise such patterns and book offenders, especially for the trudges on ankles that seem to have become common for such players, paints the impression that these players are unwelcome.
At an event such as the World Cup, where the accumulation of two yellow cards will see a player miss match, a caution is the ideal way to curb potentially injurious tactics. Those yellow cards will persist until the end of the quarterfinals, meaning players should be doubly cautious not to be booked early in the tournament.
Yet, that has not materialised, with referees fluent with the whistle but often less than eager when it comes to flashing a card. For example, Serbia's nine fouls on Neymar cost them only two yellow cards, which came at the start of either half.
Jack Grealish, another player who courts challenges, was fouled four times after coming on in the 67th minute against the USA. But the USA's roughshod treatment of Grealish across those 23 minutes yielded no yellow cards at all.
The Canadians also made the most of lenient refereeing, getting away without a single yellow for their four nibbles at Hazard, who had ankle surgery in March this year.
With referees failing to punish infractions, such players are basically being asked to change their natural game or leave the field with an injury.
But with the stakes so high, the Neymars and Hazards of the world cannot back down. And with teams having shown in past World Cups that they will not shy away from literally taking a player out of the game if that enhances their chance to win, that puts the onus on the referees.
As Hazard said, these players already know their style demands that they are fouled. But unless such bold players are afforded more protection, especially when they are targeted with multiple tackles in short bursts, the art they represent may cease to exist altogether. And the game would only be less beautiful for it.