Can Messi defy records against Mbappe?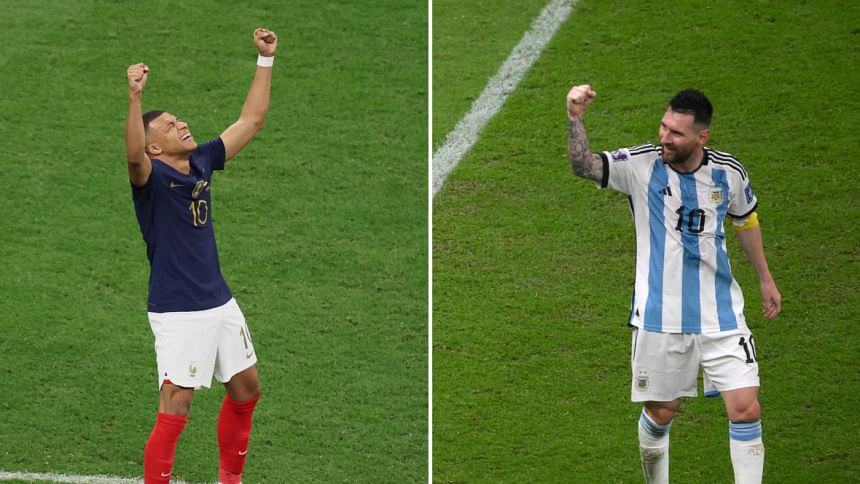 Lionel Messi is hoping to crown his stellar career by leading Argentina to World Cup glory on Sunday but Kylian Mbappe's history-chasing France are standing in his way.
It is tipped as Messi versus Mbappe.
Messi and Mbappe are team-mates at Paris Saint-Germain, but only one will return to the French capital happy.
Both have scored five times en route to the final, with Messi in particular growing in influence the deeper Argentina have progressed at what is his last World Cup.
They will have a big say over who hoists the trophy, the searing pace and devastating finishing of Mbappe up against the mesmerising close control, precision and vision of Messi.
Three of Messi's goals have been scored from the penalty spot, while all five of Mbappe's have come from open play -- mainly the result of quick transitions where France are at their most dangerous.
They have already met three times when La Pulga defended the Barcelona shirt. 
Look how the confrontations were:
***Of the three games in which they met, the Frenchman won two and the rest was a draw. Thus, Messi will seek to break his clubmate's undefeated one-on-one record and beat him for the first time this Sunday.
***The first game was, neither more nor less, on June 30, 2018, in the round of 16 of the 2018 World Cup in Russia, when Argentina fell 4-3.  Mbappe scored a double and, later, France reached the final and won their second World Cup.
***At the beginning of 2021, the other two crosses took place, for the round of 16 of the Champions League. Back then, Messi was still playing for Barcelona and Mbappe's PSG won the first leg 4-1. In the second leg, both teams drew 1-1 and the young Frenchman maintained his unbeaten record against the captain of La Scaloneta.
MESSI VS. MBAPPE BATTLE IN THE INDIVIDUAL STATISTICS:
Messi goals: 2
Mbappe goals: 6
Messi assists: 2
Mbappe assists: 0
Messi wins: 0
Mbappe wins: 2
Draw: 1