Belgium 1-1 Morocco: What's your prediction?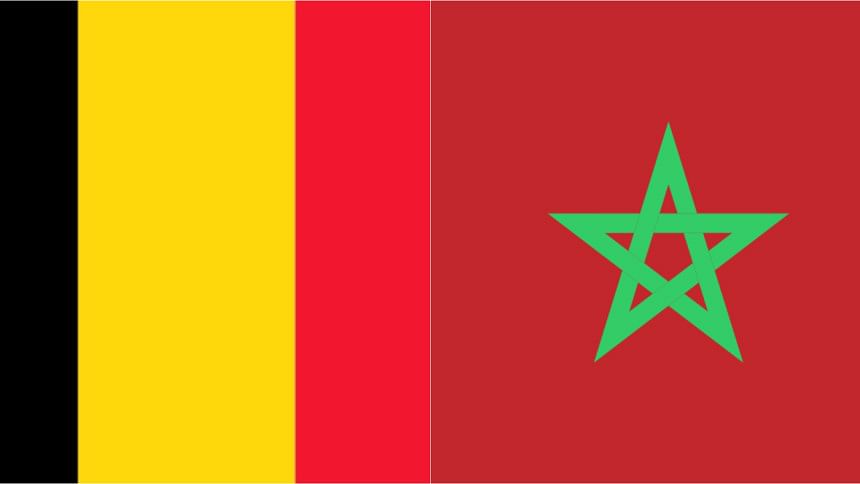 Belgium coach Roberto Martinez will be looking for a vastly improved performance from his side when they take on a resolute Morocco in their second World Cup Group F fixture at Al Thumama Stadium on Sunday, where victory will seal a round of 16 place.
Martinez described their 1-0 win over Canada on Wednesday as the "worst technical performance" of his six-year spell in charge but said his team will improve as the tournament goes on.
On the other hand, Morocco produced a workmanlike performance against the Croats but one that new coach Walid Regragui feels gives them a platform to build on against Belgium.
"I've only been here for two months and I'm proud of the players. We wanted to achieve another result, but in the end we were satisfied with the draw," he said.
"We will wait for the outcome of the Belgium match, and then we will look to qualify for the last 16 against Canada."
Morocco beat Belgium 4-1 the last time the teams met in 2008, a game in which centre-back Jan Vertonghen and midfielder Axel Witsel both played for the European side.
When?
27th November, 07:00 pm, Bangladesh time
Where?
Al-Thumama Stadium, Al Thumama, Qatar.
Capacity: 44,400
Head-to-head
Matches 3
Belgium 2
Morocco 1
Lineups
Key stats:
* Between them, the two countries have managed just a single goal at the World Cup so far after Michy Batshuayi finished off a long punt upfield to hand Belgium an unconvincing 1-0 win over Canada on Wednesday after Morocco had played out a 0-0 draw with Croatia earlier in the day.
* Belgium took over at the top of the FIFA rankings in September 2018, not long after finishing third at the World Cup in Russia, and stayed top for over three years until March, when Brazil replaced them at the summit.
* Axel Witsel made his debut and Jan Vertonghen was winning only his seventh cap when Morocco upset Belgium 4-1 in a friendly in Brussels in March 2008. Both have now won more than 100 caps each and should feature on Sunday.
* Morocco have four Belgian-born players in their squad, with Bilal El Khannouss and Anass Zaroury both playing for Belgium at youth level before switching allegiance. Selim Amallah and Ilias Chair are the other two.
Previous meetings: Belgium and Morocco first met at the 1994 World Cup in Orlando with the Belgians emerging 1-0 winners in a group game, then played a friendly in Liege five years later, which Belgium won 4-0. In 2008, Morocco won 4-1 in another friendly in Brussels.
Prediction: Belgium 1-1 Morocco
Following is a statbox on Belgium at the World Cup.
FIFA Ranking: 2
Odds: 12-1
Previous tournaments:
Belgium have qualified for eight of the last 10 World Cup tournaments, missing out in 2006 and 2010, and were one of four European nations at the very first in Uruguay in 1930. Their best finish is a bronze medal in 2018 when they beat England to third, while their only other semi-final appearance was in Mexico in 1986 when they lost to Diego Maradona's Argentina and finished fourth. They have been to 13 World Cups in all.
How they qualified:
They went unbeaten in their eight qualifiers, winning six of them, and had little trouble topping a group that also contained Wales, Czech Republic, Estonia and Belarus. They scored 25 goals, more than three per game, and conceded six with a haul of 20 points that was five more than the second-placed Welsh. They dropped points only in Cardiff and Prague.
Following is a statbox on Morocco at the World Cup:
FIFA Ranking: 22
Odds: 200-1
Previous tournaments:
Morocco have appeared in five World Cups. Their best performance was in 1986 when they became the first African country to reach the second round, where they lost to a last-gasp goal by eventual finalists West Germany. Since then Morocco have always been eliminated at the group stage.
How they qualified
Morocco cruised comfortably through the African qualifiers, with a perfect record in six games in a group that included Guinea Bissau, Guinea and Sudan. In the playoffs, Morocco beat DR Congo 5-2 on aggregate to reach their sixth World Cup.