Raza shows pressure makes diamonds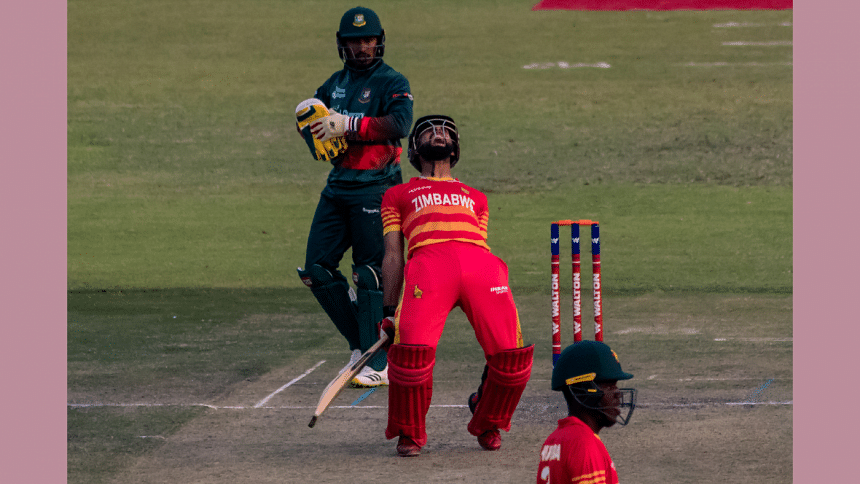 The best of players are known to crave the pressure of performing against the wind, when chips are down. On Friday, Sikandar Raza made audiences witness once again that pressure makes diamonds as his gem of a knock, a 109-ball 135, entered into Zimbabwe cricket folklore.  
Raza has the back-story of a hero, in every sense of the word, as someone who ends up becoming the protagonist from an unsuspecting scenario. While growing up, the Pakistan-born cricketer actually had no intention of taking up the sport and aspired to be a fighter pilot instead.  
"I have told this before, I never left Pakistan to become a cricketer, my objective was to become a fighter pilot but I couldn't become one. I did software engineering and my family moved to Zimbabwe till then," Raza said in an interview with Cricket Pakistan. 
"I was planning to do masters but eventually, I had an opportunity to play in domestic cricket for Zimbabwe and the journey started."
When Raza came in to bat in Harare on Friday, as Zimbabwe were eyeing a 304 chase against Bangladesh, the odds were heavily stacked against his side despite the batter enjoying a phenomenal run of form, having been the player-of-the-tournament in the T20 World Cup Qualifiers and the player-of-the-series in the recently concluded T20I series against Bangladesh.
How heavily stacked were the odds? For starters, Zimbabwe approached the ODI series against a side who are comparatively far superior in ODIs, based on recent form and head-to-head results over the past decade. And the Chevrons were without two of their most proven campaigners with the bat: Sean Williams and their regular captain Craig Ervine.
"It was great to break that shackle. We didn't beat Bangladesh in nine years," Raza told ESPNcricinfo after the match.
"They [Bangladesh] were 19-0 up on us. The wins are coming at the right time. India is coming. We are going to Australia. We have the World Cup to look forward to. It is a good time for Zimbabwe."
During the epic run-chase on Friday -- which turned out to be their highest-ever successful run-chase against Bangladesh -- the home side had the worst possible start, losing both of their openers early inside two overs.
And to make matters worse, in-form middle order batter Ryan Burl suffered injury while bowling and was unlikely to bat, and hence the burden of responsibility was stronger than ever on Raza's shoulders as he arrived at the centre stage to join rookie batter Innocent Kaia, who was playing only his fourth ODI, with Zimbabwe well behind the scoring rate, at 62 for three in the 14th over.
From then onwards, Raza was a smooth operator and paced his innings to near perfection and in the process, as if, had induced his confidence on the newcomer Kaia, who played like a seasoned campaigner, as both batters struck tons and strung the third-highest stand in their country's history and Zimbabwe eventually won the game without virtually breaking a sweat, with 10 balls left to spare.    
Back when he was in Pakistan, Raza had spent a few years of his developmental phase in PAF college, where students pursue a career in the Pakistan Air Force.
"Of course, it helps that I am from an Air Force background. We don't give up. I get hit, I get hurt, broken fingers, toes, etc. I don't care. I personally feel it helps spending the three-and-a-half years in PAF college," Raza told ESPNcricinfo.
"I will always be a fighter within myself. I couldn't become a fighter pilot. But I think as a person, I will always be a fighter. The training mentally and physically is paying dividends now."
Since debuting on the international stage in 2013 through an ODI against Bangladesh in Bulawayo, Raza has demonstrated that he is indeed a fighter, on and off the field. A revered cricketer in Zimbabwe, Raza had recently gone through surgery after being diagnosed with an infection in his bone marrow, which was first thought to be cancerous but it turned out to be otherwise.
Now it seems that nothing can prevent the cricketer from scaling greater heights as the 36-year-old is appears set to sustain his peak form at the very least, at an age when most good quality cricketers go into decline.