Shakib predicts Antigua wicket to behave 'completely different' this time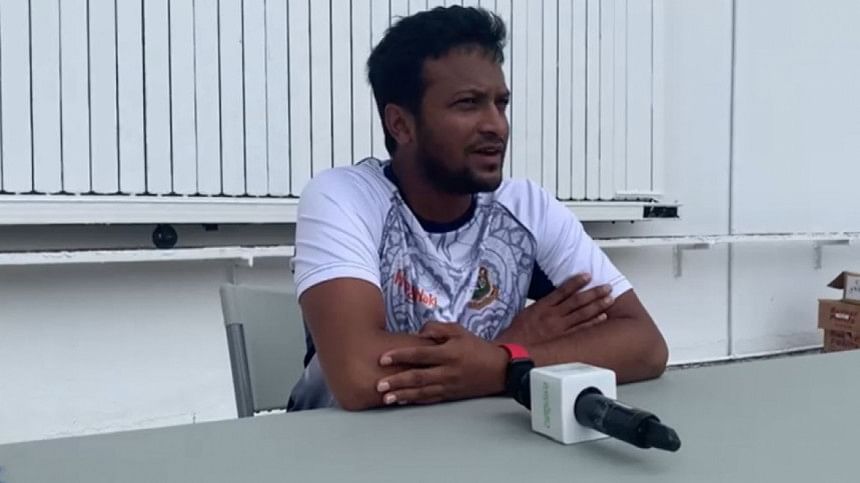 Bangladesh Test captain said his troops are 'ready for the challenge' and Shakib Al Hasan also hoped for a bigger pool of players in near future in the pre-match press conference on Wednesday ahead of the Antigua Test, scheduled to get underway on Thursday from 8 pm [BST].
It was in Antigua in 2018 where the Shakib-led Bangladesh side suffered an embarrassing batting collapse as the Tigers were bundled out for 43 – their lowest-ever total in the longest format. When reminded of that batting debacle, the new captain of Bangladesh Test side said the wicket in Antigua this time would be conducive for batting.
"I think it's a completely different wicket. As you said, four years back it was a different wicket. But it looks to me like a better wicker for batting. Fourth innings will be harder to bat as spinners will come into play.
"Important will be how we bat in the first innings, whenever we are batting. Batting first or bowling first won't make any difference as long as we do it well. We have to be prepared for everything," said the star all-rounder, who led the Tigers Test side in their Caribbean tours of 2009 and 2018.
Of late, Bangladesh have been suffering injury setbacks one after another, with batter Yasir Ali being the latest victim. However, Shakib is willing to see the bright side on this matter.
"We've playing a lot of cricket across all three formats. The guys are getting injured. At the same time, as I said, it will give newer guys the opportunity to play games.
"We might get the result in a few years' time where we will get 25-30 players to pick for all the formats. So it will be a very good thing for Bangladesh cricket.
"At this moment, it seems like we've been playing too much cricket with not a big number of players but in a year and half or two years' time that will help us because many players are coming in due to injuries. And if they start performing, there will be a healthy competition."