'The answer is there to see'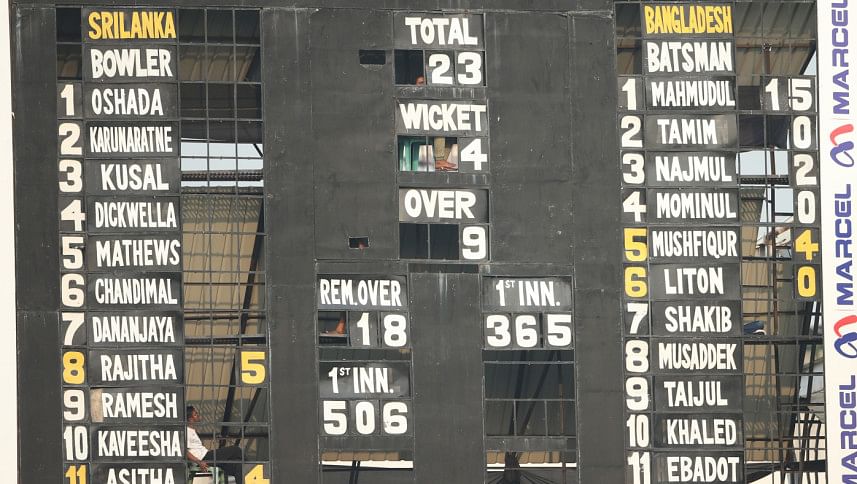 There was not any significant difference between hosts Bangladesh and Sri Lanka in terms of international experience as the two subcontinental rivals locked horns in a two-match Test series within the past two weeks.
The visitors, Sri Lanka, had arrived with a mixture of young and experienced players and it might not have been possible for them to concentrate fully, knowing that their homeland has been going through a bleak period in its history.
Then what had been the decisive factor that had the two sides separated by some margin at the end of the series? Why could Bangladesh not rewrite history against their Lankan counterparts?
Nobody would deny that there were some magnificent individual achievements from the home side throughout the two Tests. From rookie spinner Nayeem Hasan's six-wicket haul to Mushfiqur Rahim and Liton Das' batting masterclasses alongside Tamim Iqbal's brilliant hundred- having provided a lot of joy for the Bangladesh team and its fans but eventually, the harsh reality of yet another Test series surrendered cannot be merely shrugged under the carpet; and the same old questions cannot be stopped from leaking into view.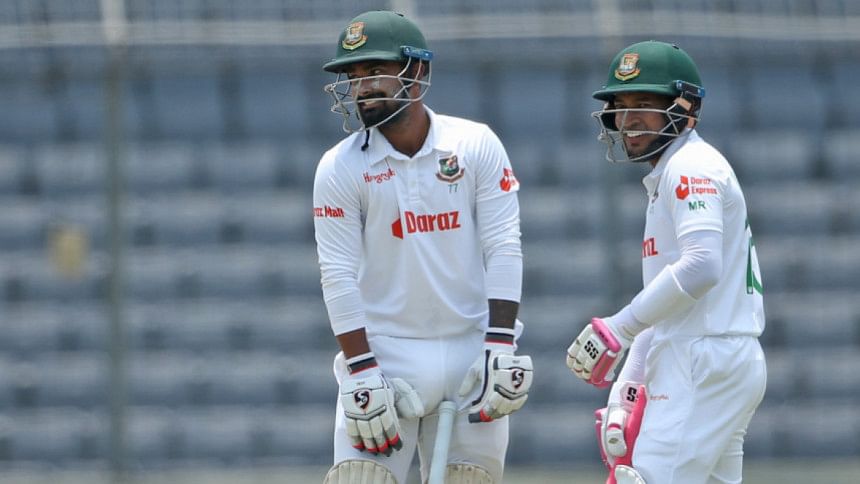 Is it still good enough to rehash the recent and trending excuse of 'the problem lies with our mentality' behind the failure?
Tamim might as well be spared for his hundred while Bangladesh Test skipper Mominul Haque, on the other hand, could be turned into a scapegoat for his long-extending lean patch or, number-three batter Najmul Hossain Shanto may come under heavy scrutiny. However, even if the scapegoat hunt does not float our boats, we could always resort to crying for the shortage of a specialist spinner or raise the finger at the futile pace-bowling behind the 1-0 series defeat, or precisely at the manner through which it occurred.
Furthermore, we could jump to the crowd-favourite fix that invariably cries for an immediate replacement or two, or more, even when a stalwart like Shakib Al Hasan logically had asked earlier that whether we could possibly find a better replacement.
Now, when emotions subside, we must dig deep and ask a simple question: Why did the Tigers' top-order end up contributing peanuts and succumb to two relatively inexperienced pacers -- Kasun Rajitha and Asitha Fernando? In other words, we must investigate how it was possible for these two quicks to expose the batters' inability to tackle subtle seam movement at their own den.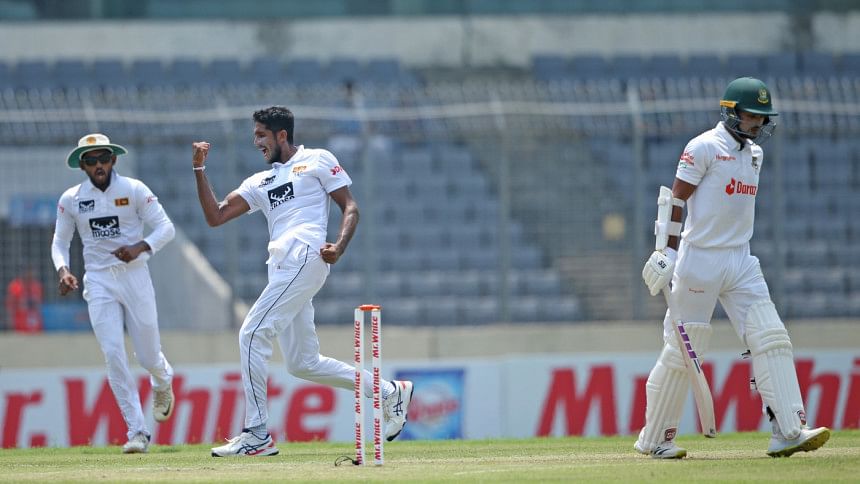 The answers are unlikely to be straightforward but all roads apparently lead to the contrasting cricketing culture of the respective countries, as the country's two eminent coaches -- Nazmul Abedin Faheem and Mohammad Salahuddin – happened to have echoed similar sentiments. 
 - Salahuddin's take: strike the iron while it's red hot -
"Just if one look into the Sri Lankan cricketing grassroots, how they groom their young players for the longer-version cricket, the answer is there to see."
"We love to say that we learn from every series defeat. But how much we actually learn and to be precise, how much can one player learn after entering into the international stage," said Salahuddin, who has been working with many national star players and budding cricketers for a long time.
"I don't want to say the players aren't willing to learn but the problem is that it takes too much time. Now you must find the reason behind it.
"You see, you can make some technical adjustments when you are with the national side but you cannot learn the trait of decision-making during the game, for it should be learned from the initial stage. Cricket is not all about batting or bowling, what is very important is your understanding of the game. Now if you examine the upbringing of the players of the two countries, you will get your answer to why Sri Lanka finished top with a relatively inexperienced side.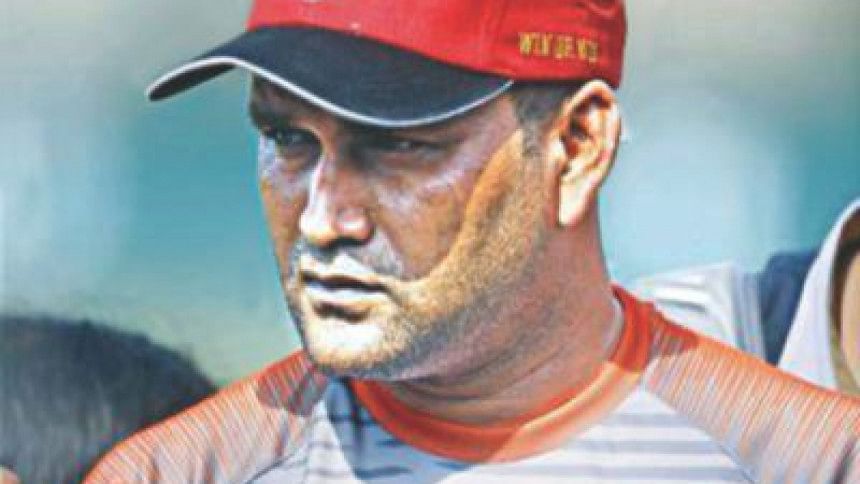 "I don't want to forget their experienced batters' outings but in my opinion, pace bowling made the difference in the series. Two Sri Lankan pacers had always kept the Bangladesh batters under threat while our pacers were seen struggling with their lengths. Moreover, they were very calculative in their approach while we had a lack of clarity in our approach. And that's why, despite dominating at times, we weren't sure about where we were heading.
"Look, if you make the national team a platform for learning everything, this kind of outcome is unavoidable. A player's upbringing is crucial because all those important traits are absorbed during that budding phase. You may continue to hire world's best faces to guide the national side but you'll not get any results in your favour until or unless you understand that you need to look into the roots.
"Just if one look into the Sri Lankan cricketing grassroots, how they groom their young players for the longer-version cricket, the answer is there to see," Salahuddin concluded.
-  Fahim hits the nail on the head as well -
"And indeed, there is no shortcut in Test cricket."
Fahim mentioned that the intent was missing from the Bangladesh team but then again, he was quick to pose the following question: from where does this intent arise?
"This series simply exposed the difference of the two countries' Test cultures. You see, we had some good moments in the Test series and some brilliant individual achievements. However, we just could not handle the pressure situation. Why is that?" said the veteran coach as he continued to shed valuable light on the question.
"Our players are not habituated with this kind of situation and they have only been learning how to deal with it from within the stage of international cricket. Centrally, you have decided who will play for which team in first-class cricket, you pick up the coach for the team only one or two days before the match and then you expect the players to learn the different traits of a competitive match, it's simply ridiculous.
"Just think, a batter of Liton's calibre was also made to learn how to handle pressure while staying in the national team, something he should've learnt way before in the domestic circuit. Doesn't that damage a talented batter? Meanwhile, [Najmul Hossain] Shanto is still learning. Therefore, this is no surprise our players are exposed in the international circuit if our domestic structure is taken into account.
"This is all but war when you compete on the international stage and you will be exposed if you don't come through a good culture. If you do not face optimum challenges in domestic competitions, how will you face it at the international level? Well, I can't even count Shakib [Al Hasan] out of this despite his bright international career. Just look no more beyond how our players responded in the crunch moments of the second Test against Sri Lanka. If we had a different cricketing culture, you would have a different team under pressure.
"And indeed, there is no shortcut in Test cricket," Fahim hit the bull's eye again as he wrapped up his take.
Now, with all being done and said, it seems there still exists a way out of the troubles. Of course, we could continue the trend of blaming the subpar performers, resort to the game of excuses with words like 'process', 'mindset' etc., or even scratch our heads thinking how it all went downhill despite apparently having enough quality players in the pipeline. However, perhaps the relevant authorities could somehow take a leaf out of our latest guests' book, and that is, pursue the long and painstaking route of focusing their resources into facilitating a world-class set-up at the youth level. And if that can be achieved, the barrage of questions thrown at the international circuit, especially in Test cricket, would not seem so open-ended for the cream of the crop, i.e. our national cricketers, when the whole world is watching.