Shakib shows avenue for better batting plan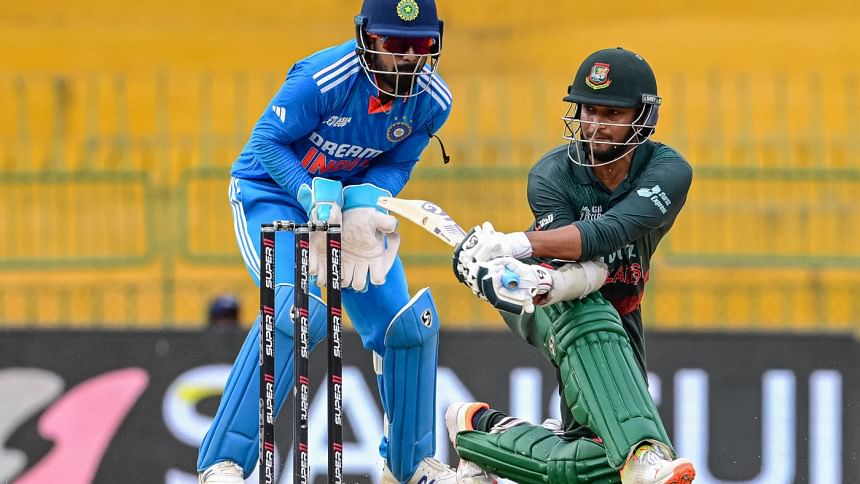 When Shakib Al Hasan came to the crease yesterday in the fourth over, the top-order was once again struggling; this time at 15 for two. Shakib may not have found the hundred he would have been desperate to get, but during a crucial 101-run stand with Tawhid Hridoy, he batted to a plan to bring much-needed respite for Bangladesh in their Asia Cup Super Four fixture against India in Colombo.
After missing out on a single, the stump mic caught him telling Hridoy, "You know how much further we have to go?" It was a reminder of the task ahead. And as the only veteran in the playing eleven, it was much needed.
Judging from his remarks before the game, he was acutely asking his players to take up their end of the bargain. He demonstrated how he does his bit. "Here experience or inexperience or new and old doesn't come into the equation," he had said. It was the scenario the Tigers' veterans and youngsters have to play if the team are to find rhythm at the upcoming World Cup.
With Anamul Haque Bijoy once again failing to impress and Mehedi Miraz departing soon after, the Tigers' batting recovery hinged on Shakib and Hridoy's partnership.
Shakib, was comfortable in shot-making from the onset but impatience was showing as well. He had to gradually settle down with wickets falling around him. It had been 36 innings since his last ODI ton; in fact, he has not reached three figures in any format since his blistering 124 not out against the Windies at the 2019 World Cup.
But as he has shown many times, he often does not worry about the numbers as long as he is contributing. He has scored fifty 11 times, crossing 90 twice since that ton against Windies. The unbeaten 96 against Zimbabwe was the closest he got to a hundred since then.
When he came on, it felt like he needed some luck on his side to play a bigger innings. He had got going against Pakistan in this Asia Cup too, but did not make enough to really make an impact. This time against India, despite it being a dead rubber, Shakib needed some confidence to carry to the World Cup. It is after all, his individual responsibility to shine with the bat at the World Cup.
That rub of the green came in the 19th over, when off-spinner Tilak Varma troubled him and got the outside edge but only for KL Rahul to drop a difficult chance behind the stumps.
Shakib would then get the wake-up call. With the spinners introduced, he found negotiating Varma difficult. But when India wanted to squeeze the run-rate, Shakib had finally found his preferred matchups in Axar Patel and Ravindra Jadeja.
While risks could not assure favourable results with a lot of rebuilding to do, Shakib and Hridoy were calculative. Thus, Hridoy went after Varma, the right-arm off-spinner, hitting two sixes in the 23rd over. Shakib picked the cue for acceleration and hit Patel for two through mid-wicket.
As spinners were trying to go through their overs fast, Shakib faced 20 deliveries from Patel, hitting 27 runs and picking 22 from the 17 deliveries he faced against Jadeja. Hridoy had taken Verma for 15 off the nine he faced against his favourable matchup.
When it looked assured that Shakib would convert the 80 to a ton, he fell to a careless shot, at a time the team needed a bigger contribution from him. Hridoy's fifty would ensure at least 200 on the board before Nasum Ahmed and Mahedi Hasan finished well.
Despite the lacklustre state of the batting department, some nuance shown by the skipper and others after yet another top-order struggle should set the Tigers on a better plan for their batting department.