No-ball wickets still haunt Aussies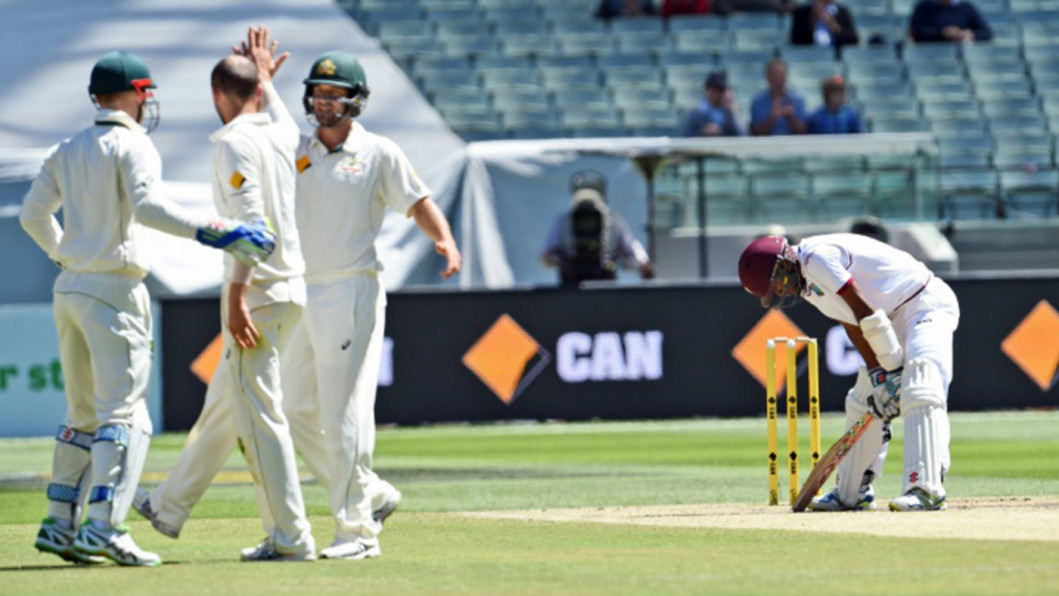 Australia's no-ball wicket curse continued Tuesday as the West Indies battled to save the second Test against the odds in Melbourne.
After James Pattinson had two wickets denied to him by overstepping on Sunday's third day, it was fellow paceman Josh Hazlewood's turn on the fourth day.
Hazlewood had first-innings top-scorer Darren Bravo caught behind by Peter Nevill on 12, only for the dismissal to be overturned by the third umpire for overstepping the bowling crease with his front landing foot.
It was another setback for the Australian bowlers, who have been clearly on top of the West Indies batting but have thrown away three wickets in the Melbourne Test with no-balls.
At lunch on the fourth day, Bravo and Rajendra Chandrika were stonewalling Australia's attempts to push on for victory after a second declaration in the Melbourne Test.
Skipper Steve Smith declared on Australia's overnight second innings total of 179 for three for a 459-run lead.
The Australians removed Kraigg Brathwaite in the 12th over for 31 but the tourists' leading batsman Bravo and opener Chandrika dug in.
The West Indies were 64 for one at lunch with Bravo on 14 and Chandrika not out 17 to trail Australia by 395 runs.
Bravo defied the Australians with 81 off 204 balls in the first innings and was the key man for the embattled tourists.
Lyon grabbed the only wicket by coaxing Brathwaite into an attempted cut shot only to be snapped up by Smith at slip.
Smith remained 70 not out when he made the declaration at the start of the fourth day and finished 2015 with most Test runs of 1,474 at 73.70.
Only Joe Root (1,372) was in a position in England's current Test match against South Africa in Durban to overtake him in the final Test of the year.
The longest Test fourth innings in Australia was India's 445 off 1,132 balls at the Adelaide Oval in 1978.
The West Indies will need to survive a minimum of 1,080 balls to draw in Melbourne.
The West Indies have yet to pass 300 in seven Test innings against Australia this year.