Ruqsana beats Tanjila as female boxers steal the show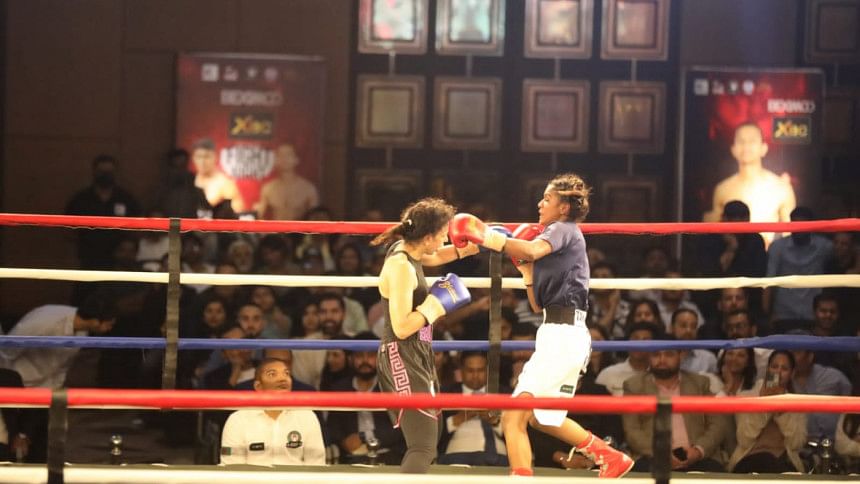 Ruqsana Begum battled for 10 rounds to secure a famous victory against Tanjila as female boxers got a chance to showcase their talents at the Beximco-XBC Fight Night, an international professional boxing event, at the InterContinental Dhaka on Tuesday.
The show-stopping fight for the WBU InterContinental title was the penultimate clash of seven bouts on the card.
Among other memorable highlights was Bangladeshi boxer Sura Krishna Chakma making quick work of his Thai opponent, Anan Pongkhet, in the Lightweight division, dispatching him in two rounds.
The Bangladesh Boxing Foundation-sanctioned tournament saw Bangladeshi featherweights Utsob Ahmed and Aminul Islam raise the curtains, with the former prevailing after six rounds.
In the light heavyweight category, Jahidul Islam continued his unbeaten run by defeating Shahriar Shanto by virtue of a TKO (technical knockout) in three rounds.
Abu Talha Hridoy then gave Bangladeshis a reason to cheer as he defeated Indian boxer Ashish Kumar in a Bantamweight clash after four rounds. However, Md. Kawsar Ali found no such luck in a clash of cruiserweights against French boxer Eliot Michele.
In the fifth fight of the night, British-Bangladeshi superstar Ruqsana Begum faced off against the talented Bangladeshi boxer Tanjila in the FlyWeight category for the WBU InterContinental title.
In the seventh and final fight of the night, Bangladeshi welterweight Al-Amin locked horns with India's Dushyant Shrivastava for a six-round bout, which ended with the visiting boxer's triumph.