'Finding identity was one of my biggest challenges'
Ruqsana Begum, former Muay Thai world champion, has made her transition into the world of Boxing as she prepares to fight for the Intercontinental Flyweight Title in Dhaka. The London-born kickboxer is of Bangladeshi origin and has returned this time to the country as a champion. The Daily Star's Shabab Chowdhury caught up with Ruqsana to revisit her empowering journey as she looks to inspire Bangladeshi boxers.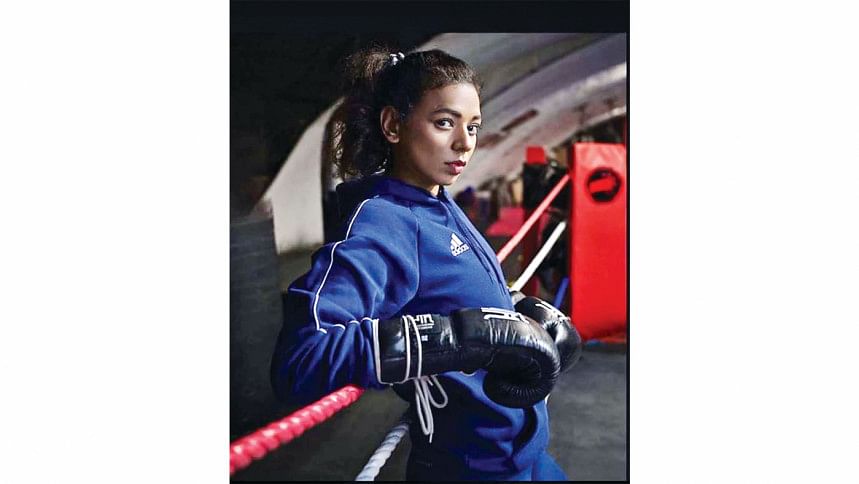 The Daily Star (DS): You've seen and done it all by overcoming so many obstacles. Now you've come to Bangladesh to fight for the Intercontinental Flyweight Title. What has the experience been like so far?
Ruqsana Begum (RB): It's an absolute honour to be back in Bangladesh; representing Bangladesh, representing the UK. Um, it's my heritage, it's my roots. And it just goes to show how boxing is so welcomed in Bangladesh and pioneering through Xcel Boxing Championships. So, I've been received really well. I did my book signing today. It's been a really warm welcome for me.
DS: How has the response been from your family and relatives here?
RB: My parents are really, really excited. I think this is the first time they've been so excited for me to be headlining a show in Bangladesh. It will definitely inspire so many women, so many male boxers, and woman boxers to kind of follow in my footsteps now. It just goes to show that we are being progressive … and sport is accessible now.
DS: Many sportswomen in Bangladesh can relate to the obstacles that you've had to face in the UK. How much has it changed?
RB: Ah, such a good question because I think definitely there were so many obstacles, going into a male-dominated sport. You know, even if you look at the women's football team in the UK, it's only now they're getting the platform and the recognition that they deserve, and they're excelling. You know, the country's media is behind them … the pay gap has been closing, which is excellent for the sport.
There's equal opportunity. So, I think it's time that we did that in Bangladesh as well, that women are given that platform to excel and to empower themselves.
DS: As someone from Bangladesh origin, what's your message for Bangladesh women in sports? How do they take the next step?
RB: I think, um, you know, everyone's situation is unique to them. Yeah. And I can never give one per cent advice based on my journey or this, but what I can do is tell what it took for me to be able to bridge the gap between being Muslim, being female, being Asian, being Bangladeshi, and being British. That was one of my biggest challenges: having to find my identity. I'm trying to be a fighter.
It took me many, many years, I would say 30 years, to get to a point where I said, this is me. And I think the best thing I did for myself is say I'm all of those things. And I think with young girls and boys, know who you are and be respectful to everyone else's beliefs, values, and find a respectful way to communicate that and find that connection through difference … I don't think anyone's wrong or right.
DS: How did you make your parents understand that you are a fighter and this is what you want to do?
RB: This is really interesting because I think you never set out to know exactly where you're going to be. You know, when I fought for the world title, that was a 10-year journey, 10 years of sacrifice … of being disciplined, being focused, not losing my hunger to become a world champion.
I had to manage … the best way to navigate my parents, my home life, my gym, my university, and my friends. It was a very delicate situation. If the balance was slightly off, I could have lost it all. When I was at home, I was a dutiful daughter. I was always helpful with my mom and I respected my parents and they knew that when I was at university, I made the grades.
I set myself small, manageable goals and as soon as I reached them, I reset my goals. So, when we became a British champion, Bill (Trainer, Bill Jude) was like: yeah, job done, you know, you can retire. And I said, hmm, if I could become a British champion then what's stopping me from becoming a European champion, and then that's when the journey continued.
DS: When you won your first title, did you tell your parents then? Or were they there to see you win the title?
RB: I did. Once I came home with the title, I showed it to my dad and they were really proud. There were moments, it's really strange, even though my parents didn't know when I did eventually tell them that I'm doing this because I had an arranged marriage, I went through depression. And at that time, I plucked up the courage to tell my parents that.
I lost my identity through marriage. And at that point, my parents backed off and they gave me their permission, a silent consent. I realized I'm going to embrace this. Within a year, I was representing Great Britain at the World Championships. And I remember coming home from Latvia once. That was the first time when I came home with a gold medal. And I showed it to my dad and he grabbed the gold medal and showed it to my grandmother, his mom. And that was a huge sign that he was proud of me.