'Asian Indoors gold medal is just a start'
Following decades in doldrums, Bangladesh athletics have found a beacon of hope in Imranur Rahman, who stormed to a stunning 60m gold medal at the Asian Indoor Athletics Championships in Kazakhstan recently. The 29-year-old had already won back-to-back titles in 100m sprint in national athletics and is promising to revive some of the glory days of the sport in the country. In a freewheeling interview with The Daily Star's Atique Anam, the Sheffield-based sprinter talked about his momentous victory, his ambitions, idols, sacrifices and a lot more. Here are the excerpts of the interview.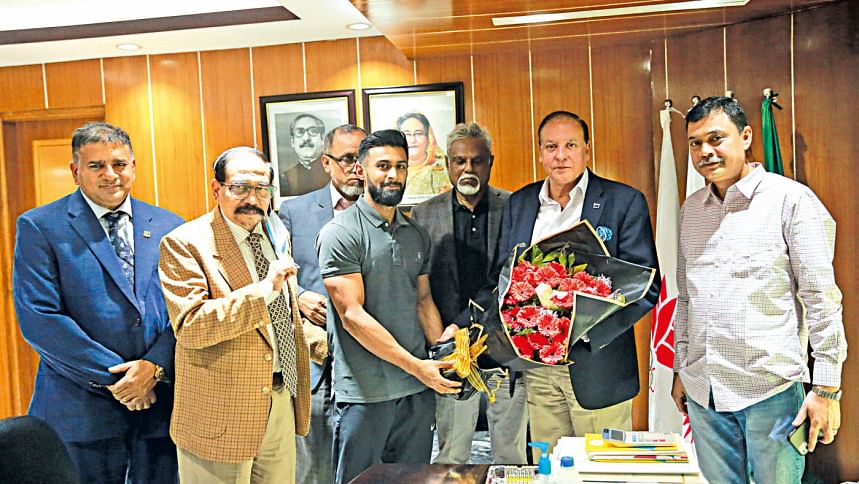 The Daily Star (DS): Congratulations for bringing such a big honour for Bangladesh. How was your reaction when you won the gold medal?
Imranur Rahman (IR): I'm feeling a lot calmer now compared to when I won the gold medal. It was an emotional feeling which is difficult to explain. To be honest, I didn't expect to win the gold medal.
DS: What was your expectation then?
IR: My initial expectation was being in the final and maybe have an outside chance of winning a medal. I thought, potentially, I'll have to do really well to even get a bronze medal.
DS: Was it because of the quality of the competition?
IR: Of course, there were full-time athletes, winners of multiple international medals. So, I was up against some really good people.
DS: What do you think helped you in winning ahead of the others?
IR: My preparation; I tried to stay level-headed and calm. I don't try to think about other people's performances, instead focus on what I'm good at and use that to my advantage. If I can do that, the results come.
DS: How was the reaction from the competitors?
IR: I probably later read in one of the world athletics articles that a Bangladeshi winning the 60m gold medal was one of the most surprising moments. We'd never won a gold medal at this level. They all congratulated me. Although they wanted to win themselves, it was like they were happy that Bangladesh won the gold.
DS: You haven't been to England since winning the gold medal. It must be a bit difficult for you.
IR: It is difficult but you have to make the sacrifices. Bigger achievements happen when you have bigger goals. Everyone makes sacrifices, especially my wife and daughter and my parents. They want me to do well, so they're willing to sacrifice.
DS: What was their initial reaction?
IR: They couldn't believe it. After my race, I saw so many missed calls on my phone from my wife and my parents. Once I spoke to them, they were extremely happy and extremely proud.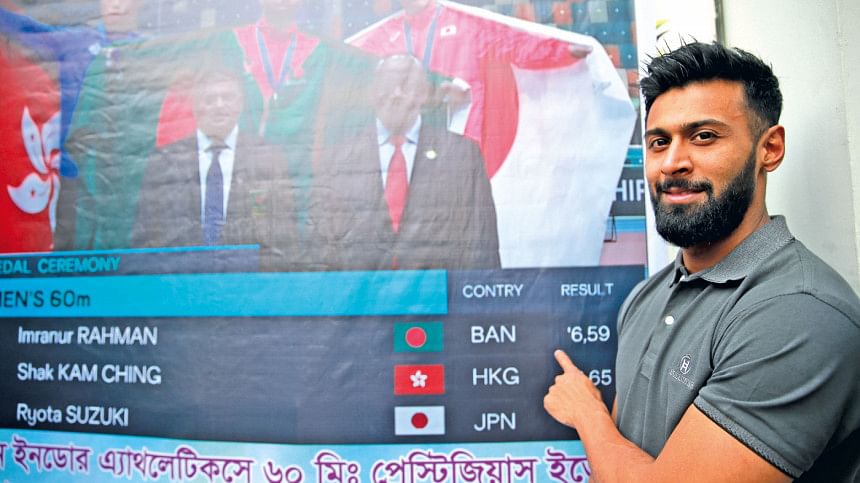 DS: People in Bangladesh don't know much about indoor athletics. They are all used to watching outdoor events; 100m, 200m and so on.
IR: Being in a warm country in South Asia, Bangladesh doesn't have indoor tracks. But if you look at USA and Europe, there are many indoor tracks and many major competitions are held indoors. Some of the best athletes in the world see indoors as big events and they all want to win major indoor titles. And it's also a good transition to the outdoor season.
I think we need to make athletics, in general, more visible to everyone. Maybe few more role models and few more initiatives like sponsorships from companies, and more grassroots activities from the federation could promote athletics.
DS: What is the basic difference to you between indoor and outdoor athletics?
IR: In indoor athletics, the most important thing is getting a good start and getting to the acceleration drive rather than having time to get into your stride. And of course, it's indoors, so there's no assisted wind or negative wind and the climate is stable.
DS: You ran in the same heat against Marcel Lamont Jacobs, the Olympic 100m title-holder, in the World Indoors last year in Belgrade. How was that experience for you?
IR: I think it was his first big competition since winning the Olympic medal. To be running against someone of that calibre made me feel that I belonged to that level.
DS: 60m is your favourite event. How different do you feel it is from 100m?
IR: 60m and 100m – they both have elements that I enjoy. My favourite part is the starting and acceleration stage, which is why I enjoy the 60 metres the most.
DS: Talking about starts, you had a good start in Kazakhstan (Asian Indoors). Did that eventually give you an edge?
IR: Since I got a good start, it put the others under pressure. Sometimes what pressure does to athletes is that it disorientates their technique. Sometimes the more you try the worse it gets.
DS: Now that you've won a gold at Asian Indoors, everyone in Bangladesh is expecting medals from you in South Asian Games and even Asian Games, but there won't be any 60m event there, there will be only 100m and 200m. Will that be a big challenge for you?
IR: It's always a challenge going into big events, but I will try to bring some sort of success to Bangladesh. If I don't, I'll be disappointed with myself. I always want to do well and that's how I was brought up. I'm probably my biggest critic. When I don't do well, I think of what I can do to improve. When I do well, I look at even the finest details to see what I can do to improve in harder races.
DS: What is your best timing in 100m?
IR: There are a few timings. One in 10.27s, then there's 10.01 in Konya which hasn't been ratified yet. This year, I would expect my 100m timing to improve based on my 60m improvement. If you're running faster indoors, you should be running faster outdoors naturally.
DS: The ratified timing of 10.27s puts you in silver medal position in South Asian Games behind Yupun Abeykoon of Sri Lanka, who clocked 9.96 seconds last year.
IR: Well, you can't always take results from previous years into consideration because another person might improve. Someone might be injured; someone might not have competed – so many factors that you have to take into consideration.
DS: Do you think you can get your timing closer to 10 seconds now?
IR: Yes, I do think so. I'm taking a lot of confidence from the Asian Indoors. I've been improving each year and I'm not showing any signs of slowing down.
DS: There are other good sprinters in South Asia like Hassan Saaid of Maldives and Uzair Rehman of Pakistan, to name a few. If SA Games take place sometime in near future, you would be up against all of them. It must be a big battle.
IR: I think currently South Asia has, in terms of sprint, the strongest field it ever had. We should try to keep this bar and try to raise it as much as we can.
DS: Let's talk about the early days. You were initially in football and then switched to athletics. How did that transition happen?
IR: I played football at decent level, but being a South Asian in England and becoming a footballer is not straightforward due to many factors. I knew I was fast and thought I should make a sensible decision of trying to do athletics.
DS: Was there any individual who pushed you to make this transition?
IR: No specific person, but a lot of people used to say, 'You are very fast, why don't you try athletics?' I said I would try, I would try. Eventually it happened when I was 19.
DS: Don't you think it was a bit late to start?
IR: Some people start young and they don't make it to the top; some people start late and do really well. The fact that I was naturally athletic helped me make the transition.
DS: Now you're 29. So, it's been 10 years but you only came into focus in Bangladesh two years ago when you came from England and won the 100m sprint in national athletics. What took it so long and how did the communication eventually happen?
IR: Abdur Rakib Montu, the general secretary of Bangladesh Athletics Federation, went to England for a major event in 2017 and from there the communication started. There were quite a few setbacks: I was injured, then Covid came. Everything was delayed but finally I was able to come to Bangladesh in late 2021 and show my talent.
DS: Are you happy that you have chosen to represent Bangladesh?
IR: I'm extremely happy and it's a big honour for me. Whether it's a national or international event, I want to hold Bangladesh flag tight to my chest.
DS: You have two jobs in England, so it must be difficult to focus on athletics.
IR: It is part of life and I have to manage both. I train five to six times a week. Two sessions: one track session and another gym session, each of two hours. So, it's all about time management and sacrifices here and there.
DS: You have a degree in sports science. How does it help you in your discipline?
IR: It gives me a deeper understanding of nutrition, how muscles work, how to prepare yourself, and the psychology of sports. So that has, of course, helped me in my athletics. 
DS: In the 1980s and 1990s Bangladesh produced some of the fastest men in South Asia, but no one has won the title since 1995. Do you think you can end the drought?
IR: My aim is to bring some of the glory days back. I think this Asian Indoors gold medal is just a start. The Asian level is one step higher than South Asia, but I can try to compete for the gold medal in South Asia.
DS: There is a conception that Bangladeshis are not athletic by nature, compared to Sri Lankans and Indians or Pakistanis. Do you agree with that notion?
IR: I don't agree with that. If you look at Bangladeshi people in sports, like footballer Hamza Choudhury and cricketers Shakib Al Hasan and Tamim Iqbal, they are all top-level athletes. So, the talent is there, you just need to tap into the talent in a certain way to get the best out of everyone.
DS: Talking about sporting talent, who are your sporting idols?
IR: My sporting idol outside of athletics is boxer Mohammad Ali. When I was younger, I used to enjoy boxing. In athletes, there are a few who have elements of their technique that I enjoy. I like Usain Bolt because his finish was very strong. I like Justin Gatlin, the way he used to start was amazing.
DS: What about sporting icons of Bangladesh?
IR: Currently I like cricketer Shakib Al Hasan like many Bangladeshis, but someone I really admired as a leader was Habibul Bashar. He captained Bangladesh for a long time and I think Bangladesh got their first Test win under him.