ICC Cricket World Cup 2015
New Zealand in form, but Australia formidable at home
Australia v New Zealand, World Cup 2015, final, Melbourne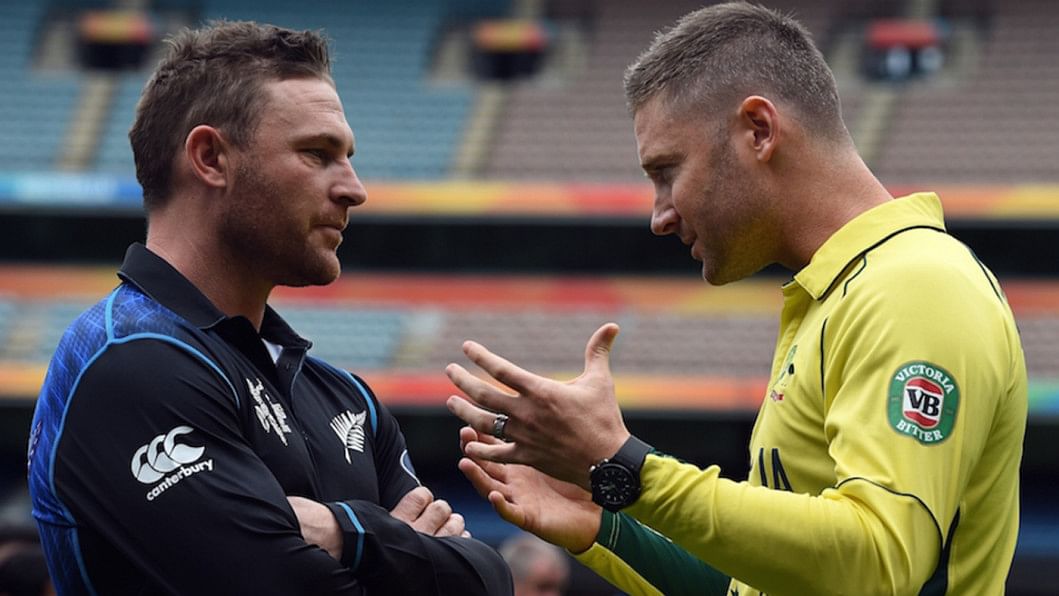 Match facts
Sunday, March 29, 2015
Start time 1430 local (0330 GMT)
Big Picture
New Zealand are electrifying, but Australia are clinical at home. The visitors are unbeaten, but the hosts have big-tournament pedigree. The teams have largely kept things classy, sure, but on both sides of the Tasman, there is an edge to this final.
In the New Zealand media, the Australia side has been described as "arrogant" and "self-absorbed". On talkback radio, David Warner's potty mouth has become a lightning-rod for anti-Australian sentiment. Across the ditch, a breakfast TV show presenter light-heartedly called New Zealand's Australia-based fans "the dole-bludging army". This drew predictable ire from the smaller nation. As did Matthew Hayden's suggestion that New Zealand would struggle with the size of the MCG, which spawned the satirical #MCGsobig.
Martin Crowe has described the final as a battle between brothers, but at present it feels like these are siblings who have wrecked each other's cars, quarreled over inheritance, and left unflattering remarks on the intelligence of each other's children on Facebook.
New Zealand are without doubt the form side of the World Cup, and like the parents' favourite child Brendon McCullum proudly said he expected the lion's share of neutral backing in the final. McCullum's manic starts have thrilled the nation all summer long, and his hyper-aggression in the field, which often sees four slips and a gully in place, has typified his team's playing manifesto.
They attack when the attackin's good. They keep shoving when the opposition shoves back. And even when aggression seems the silliest approach, McCullum keeps backing his bowlers to make breakthroughs. So often in this World Cup, his men have vindicated his strategy.
But while New Zealand's flair is new-found, Australia's penchant for attack is their way of life. Michael Clarke has set beautifully innovative fields in the past, has sent hitters up the order when other teams have sought to hunker down in the first Powerplay, and himself commands a pace attack that is fast, fit and fearsome. Their only shortcoming - and it has not hurt them so far this tournament - is the lack of a quality spinner in their preferred XI.
Australia's home ODI record is also phenomenal. They have won 24 of their last 26 completed matches at home, and this is what the team and its supporters will bank on. New Zealand are the little brother thrashing opponents in quaint, modestly-sized venues. Are they primed for cricket's biggest show? Are they big enough for the MCG?
Form guide
Australia: WWWWW (last five matches, most recent first)
New Zealand: WWWWW
In the spotlight
Harangued by injury, rickety spine in tow, Michael Clarke has announced the final will be his final ODI, at the age of 33. With an average of 44.42 across 222 innings, Clarke ranks among Australia's very good middle-order batsmen, though a rung below greatness. He has not scored as many as he would like in this tournament, having hit only one fifty and a 47 in his five innings so far. He will hope the big occasion, now tinged with sentiment, will spur him and his team to glory. Victory would see his name go down alongside those of Allan Border, Steve Waugh and Ricky Ponting, who have won the World Cup before him.
Of all New Zealand's current lot, Daniel Vettori has had the most fascinating career. Once a big-turning spinner, picked virtually out of obscurity in his teenage years, Vettori has been forced to refine his game, as injuries undercut his spin. By the mid 2000s, he was among the best slow bowlers in the world, probing even on New Zealand's unresponsive pitches via mastery of flight and guile. A much improved batsman as well in his later years, at one stage it seemed like Vettori was the only competent cricketer in the side he eventually captained. Now the statesman in a rockstar team, the final may well be his last international. A World Cup seems like only fair reward for a career of lonesome toil.
Teams news
Australia are settled and firing, and changes to the XI that beat India are unlikely.
Australia (probable): 1 Aaron Finch, 2 David Warner, 3 Steven Smith, 4 Michael Clarke (capt), 5 Shane Watson, 6 Glenn Maxwell, 7 Brad Haddin (wk), 8 James Faulkner, 9 Mitchell Johnson, 10 Mitchell Starc, 11 Josh Hazlewood
Likewise for the visitors. McCullum named an unchanged XI on the eve of the game.
New Zealand (probable): 1 Brendon McCullum (capt), 2 Martin Guptill, 3 Kane Williamson, 4 Ross Taylor, 5 Grant Elliott, 6 Corey Anderson, 7 Luke Ronchi (wk), 8 Daniel Vettori, 9 Tim Southee, 10 Trent Boult, 11 Matt Henry
Pitch and conditions
The Melbourne pitch has tended to be bouncy, but batsman-friendly through the tournament, and Sunday's surface is not expected to be any different. With a straw-coloured surface prepared, there is unlikely to be much in the way of swing and seam. There is a reserve day for the match, but no rain is forecast for Sunday.
Stats and trivia
Australia have won their last six matches at the MCG, going back to 2012. They did however, lose their most recent match against New Zealand there, in 2009.
Clarke needs 93 runs to reach 8000 career ODI runs. He currently sits fourth on Australia's ODI run-scorers' list.
Trent Boult and Mitchell Starc are the tournament's top wicket-takers, with 21 and 20 scalps respectively. Boult has taken his wickets at an average of 15.76. Starc's taken his at 10.20.
Quotes
"New Zealand have been the form team of the competition. New Zealand have beaten us once in this tournament. But I'm confident if we play our best, we can beat them tomorrow."
Michael Clarke
"There is no challenge which is insurmountable. With a lot of hard work, lot of heart, a lot of belief, we've made sure that everyone's heading in the same direction. I know tomorrow we'll still remain authentic to how we play. We'll play an aggressive brand of cricket with bat and ball in the field. We'll play with the humility which we've played with throughout this campaign as well. And hopefully the big fella upstairs shines on us when the pressure situations come into play."
Brendon McCullum gets all Ben-Hur about his team's approach to the final