Djokovic was desperate to meet Messi & Neymar during French Open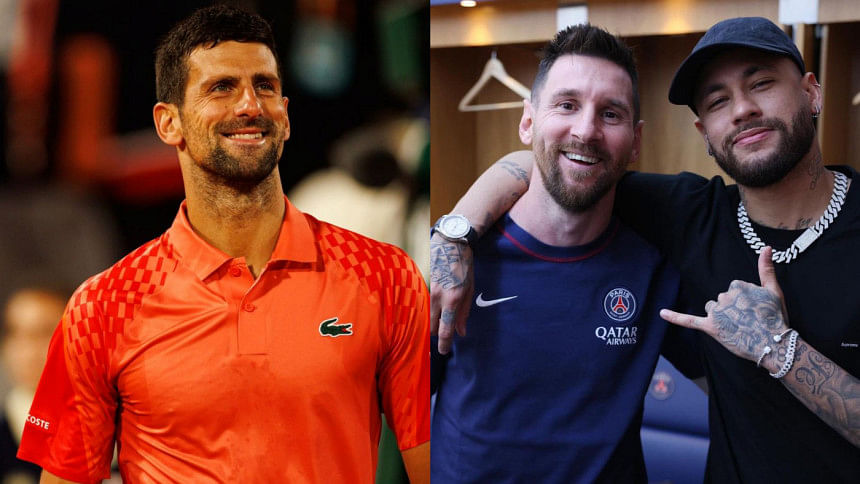 Tennis icon Novak Djokovic has revealed why he was desperate to meet Lionel Messi and Neymar while in Paris for the 2023 French Open.
Djokovic was among those in attendance as Paris Saint-Germain got their hands on the Ligue 1 trophy on Saturday, with Messi and Co. bringing the curtain down on their 2022-23 campaign with a disappointing 3-2 defeat to Clermont.
Djokovic, who has previously rubbed shoulders with footballing stars such as Zlatan Ibrahimovic, was offered the opportunity to meet with seven-time Ballon d'Or winner Messi and Brazil international Neymar.
Djokovic told reporters afterwards: "It was my first time meeting them in person – they are great champions, it was a pleasure and an honour to meet them, especially Messi, a player who left an extraordinary mark in the history of football.
"They did win the title already, but the expectations are always huge from stars like them. That's why I didn't want to disturb them and to enter their space while they were preparing, but they saw me on their way to the locker room [before the game] and they came to say 'hi'. It was my first time meeting them in person – they are great champions."
Djokovic went on to reveal that he had added incentive for wanting to meet up with South American forward Neymar, with his daughter Tara a big fan of the 31-year-old Brazilian.
He added: "Neymar signed Tara's jersey, but it's an interesting story. She doesn't follow sports much, but she has a school friend who is half Brazilian-half Serbian – that girl dances all the time to this song about Neymar. That's why she wanted to meet him badly."