Beer and new tattoo for Wimbledon champion Vondrousova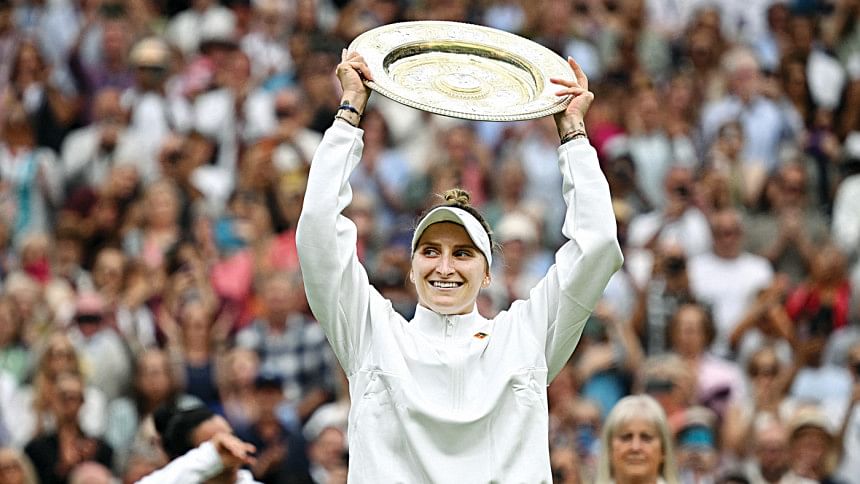 Marketa Vondrousova plans to celebrate with beer and a new tattoo after becoming one of the most unlikely Wimbledon champions by beating Ons Jabeur in the final on Saturday.
The Prague-based, 24-year-old Czech won 6-4, 6-4 against the overwhelming crowd favourite to become the first unseeded player to win the Wimbledon women's title.
After punching away a volley on her second match point the left-hander fell to the Centre Court grass. She wore an expression of disbelief after shaking hands with her opponent.
Asked on court how she would celebrate her victory, a smiling Vondrousova said: "I think I'm going to have some beer maybe. It was an exhausting two weeks, and I was getting myself together the last few days. I was so nervous before this game."
Vondrousova, whose husband Stepan Simek arrived from Prague in time for the final, having been on cat-sitting duty back home, has a collection of tattoos on her arms.
She was thinking of getting another one to celebrate a memorable fortnight in London and said her coach Jan Hernych would be getting inked too after a pre-match pledge.
"I don't know but I made a bet with my coach. He said if I win a Grand Slam he's going to get one also. So I think we're going to go tomorrow," she said.
Vondrousova became the first woman to reach two Grand Slam finals as a non seed, having lost the French Open final to Ash Barty in 2019 when she was 19.
Since then it has been an up-and-down ride and her only career title, prior to Wimbledon, was back in 2017.
She did win a silver medal at the Tokyo Olympics in 2021 but with only one match win at Wimbledon in four previous visits, her expectations were hardly sky high a fortnight ago.
This time last year she was in London merely as a tourist after having wrist surgery.
But after knocking out four seeds en route to the final and then out-playing sixth seed Jabeur to become the fourth Czech-born woman to win the title in the professional era, the celebrations will be well-deserved.
And the timing could hardly have been better.
"It's amazing, tomorrow is our first anniversary of our wedding. It's amazing to have you guys being here with me," she said looking up to Simek and family members in her box, although her mother Jindriska had preferred to watch on television at home.
Later, after waving to crowds from the Centre Court balcony, she told reporters she had been surprised to see her husband shed a tear, especially as he had been remarkably calm throughout the contest.
"I think when I came to the box, he cried. I saw him after, and he cried a lot. I think that's the first emotion I saw (in) him over the eight years," she told reporters.
"I think he cried on the wedding day also but that was it."
With a cheque for 2.3 million pounds ($3.01 million) in the bank, Vondrousova said she would buy some "nice fish" for her pet cat. "I think she doesn't really care what's happening, but, yeah, I'm going to buy her something good."