Tendulkar asks Maria Manda, 'Kemon acho?'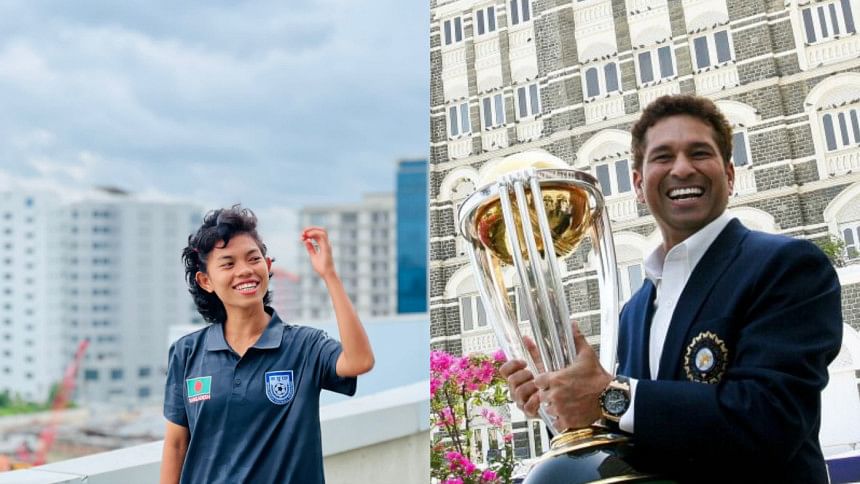 Indian cricket great Sachin Tendulkar exchanged greetings with Bangladesh midfielder Maria Manda and shared sporting advice while talking to the country's representatives of UNICEF as the organization's Goodwill Ambassador for the South Asia Region on the occasion of International Youth Day through a video call.
At the beginning of the conversation in the video call, host Sachin asked Maria in clear Bengali, "Kemon acho Maria? (how are you maria?)" Then Maria replied, "I am fine, how are you?" The 49-year-old legend laughed,' Good, I'm fine. You are a true champion,"
Sachin then gave Maria some valuable advice on overcoming stress and staying physically and mentally healthy. "Forget the past and emphasize the present," he added while asking about everyone's situation during the COVID-19 pandemic.
"How were Maria and others fit during Corona?" the former cricketer asked. To which Maria replied, "According to the schedule sent by the Bangladesh Football Federation (BFF), she went home and practiced on her own." 
After talking for a while, Sachin thanked everyone and said goodbye.
The star midfielder of Bangladesh then posted a video of the call on Facebook while her experience of talking with the Indian legend.
"On the occasion of International Youth Day, UNICEF South Asia Goodwill Ambassador and former cricket legend Sachin Tendulkar who scored many centuries in international cricket, I and Anshu had the opportunity to speak through UNICEF. He advised us about physical and mental health." Maria wrote.