History-maker Ramhim aware of the challenge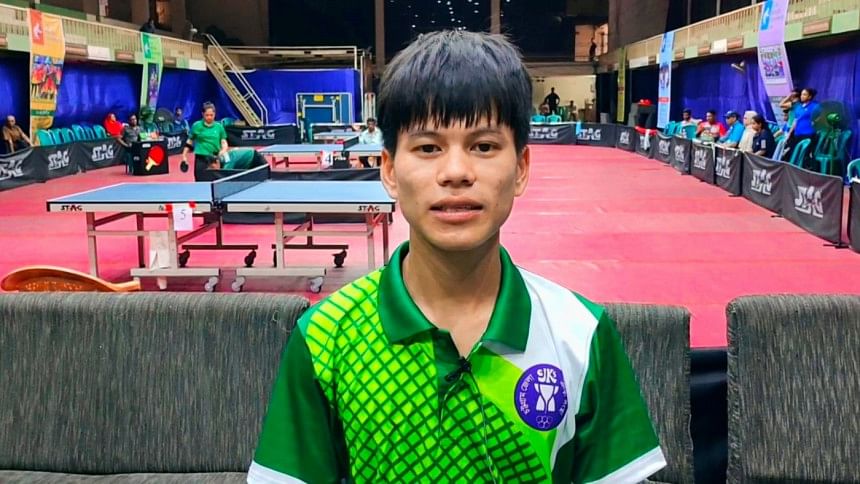 Ramhim Lian Bawm fell in love with table tennis in his childhood, after watching a game on television. That love dragged him towards the game some eight years back, eventually seeing him becoming the first indigenous player to lift the crown in men's singles event of the National Table Tennis Championships on Saturday.
In doing so, the 18-year-old also became the only player in the country to win both boys' and men's singles titles in the national meet while also playing a key role behind Chattogram becoming the champions in men's team event.
"I am proud of being an indigenous table tennis player and really happy after becoming champion," Ramhim told The Daily Star over the phone from Chattogram yesterday, with his voice seemingly filled with joy.
Son of a priest in remote Bandarban, Ramhim had gone to great lengths to come to this stage since Quantum Foundation and Bangladesh Table Tennis Federation (BTTF) laid the foundation in 2012 to groom indigenous paddlers in the hilly district.
"Table tennis started at the Quantum Foundation in 2012 with the help of the federation and I started playing the game in 2015 but could not play continuously due to my exams. In 2016, I trained under a Korean coach from the federation and gradually developed more interest in the game. When I started, I never thought I would come this far, I just stuck to the game," said Ramhim, who beat two-time champion Mohtasim Ahmed Hridoy in the semifinal on way winning the senior championship.
Ramhim, along with his teammates at the Quantum Foundation, tried to participate in every national-level competition such as the junior championships and school and madrasa sports events before the BTTF picked him and others for a long-term training in Dhaka.
"Everyone wants to become a champion but in the end, the one who works hard and makes sacrifices ends on top. I took preparation for two years for the national championships, which is why I succeeded. I want to thank all federation officials who gave me support in the long-term training camp," said Ramhim, who has gained experience by representing Bangladesh in a number of international junior and senior competitions.
The young paddler is determined not to disappear from the scene after becoming champion.
"It is more challenging to defend the title than winning it and I know I have to work hard to defend it," he said.
"The federation is undoubtedly doing its best to provide the facilities but we need advanced training under a good coach and also practice-partners if we want to go beyond the boundaries," Ramhim said. "As we are performing well in Junior South Asian Table Tennis Championships where we have won gold and bronze, we believe we can perform well in the South Asian Games in near future."
As there are hardly any financial benefits from playing table tennis, Ramhim urged sponsors and the government to come forward to help paddlers financially so that they can have a secured future.