Biggest ever GM Chess starts tomorrow
32 GMs to vie for $55,000 in Sheikh Russel International GM Chess Tournament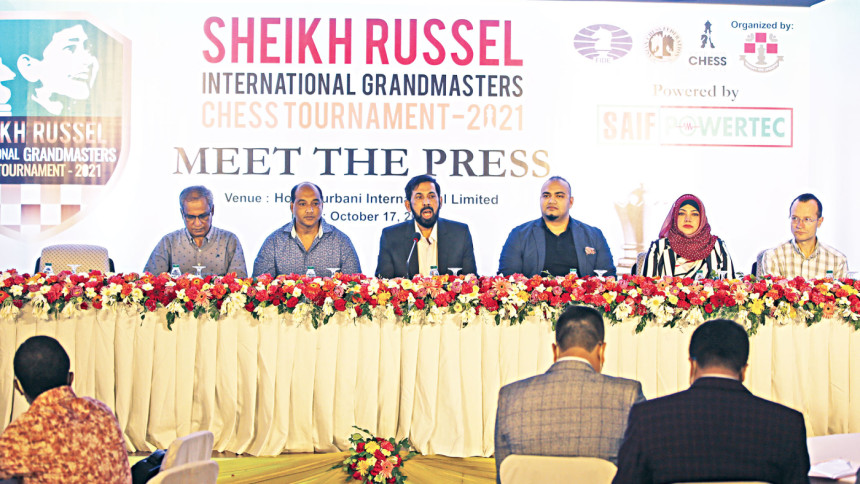 Around 100 chess players including 32 Grandmasters and one Women Grandmaster from will vie for the top awards in the Sheikh Russel International Grandmasters Chess Tournament which starts tomorrow in Dhaka, with 55,000 dollars on offer.
According to the organisers, the Bangladesh Chess Federation (BCF), this is the biggest ever GM chess tournament in the country – both in terms of number of participants and prize money.
The top seed being Sergei Tiviakov of Netherlands – a familiar face in Bangladesh chess, the nine-round Swiss League tournament will feature GMs, IMs, FMs, CMs alongside WFMs, WIMs and a WGM from Asia, Europe and South America.
Three of the five GMs of the country – Niaz Murshed, Ziaur Rahman and Enamul Hossain Razeeb are expected to spearhead the local players with 10,000 dollars of prize money stipulated for the locals, apart from anything they get from the overall
standing, informed organisers at a press briefing at a hotel in the capital yesterday.
"The lowest rating point requirement for participation is 2000, however, we have allowed to be lenient on that requirement in case of some promising local players," Shahab Uddin Shamim, the general secretary of BCF, said at the event.
While the biggest chess event in the country will not feature all five of the GMs of the country, the BCF official hopes tournament, especially the separate prize money for the locals, will encourage them to play well and compete with the rest.
"Even if the locals miss out on the prize money from the overall standing, we are making sure the best finishers from Bangladesh get some amount. We are also providing appearance money to the local GMs to ensure their participation," Shamim said.
Sponsored by Saif Powertec Limited, the mega event will offer opportunities for local players to earn requisite norms even though the locals failed to grab norms in the three recent GM chess tournaments held in the last one month.
The tournament's highest-rated player, Tiviakov, said he was impressed to see such a big event being during this pandemic.
"I am glad to be back here. I think the competition level will be high. I must congratulate Bangladesh Chess Federation for arranging this event despite the pandemic," the Dutch GM, who first played in domestic chess in 1998 before coming back a couple of times as a player and later as a coach of the national team, told media.