Barishal's karate kids "want improved infrastructure"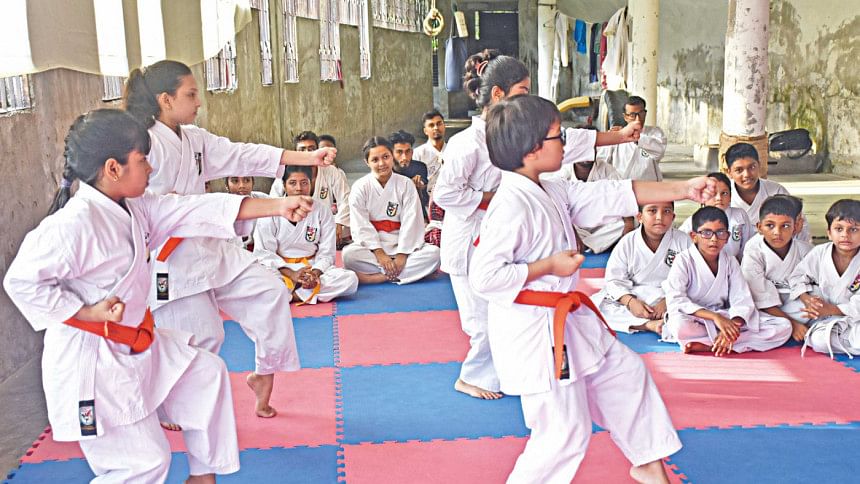 Lokman Hossain has been involved in karate training for more than three long decades now. In the meantime, gold, silver and bronze medals at the national levels have been the result of his hard work and dedication. This resident of Barishal's Ward No. 19 is currently conducting training at the Shaheed Abdur Rab Serniabat Stadium, where the apparent lack of sustainable infrastructure and adequate facilities has Lokman concerned.
Lokman mentioned there were only 25 students when he began coaching in 1992. Now there the numbers had risen to more than a hundred, with most of the trainees being girls.
"I'm wearing a black belt and I have two such other girls and a boy with me. Our trainee Marjuri Binte Hasi grabbed gold in 2006 while several others also bagged silver and bronze medals," a proud Lokman told The Daily Star. 
"Moreover, Juthi Gomez has snatched Bangladesh Games bronze as a representative of this organisation.
"At present, I've a place at the stadium to conduct my training sessions, courtesy of the support from the Deputy Commissioner."
Nasren Nahar, a parent of a karate student here, told The Daily Star that she had brought her daughter here so that she can protect herself.
Devjani, another mother of a trainee, reckons that karate training will make girls confident.
The karate instructor, Lokman, further informed he was working with a lot of difficulties as there was no permanent place with indoor facilities. In 1993, the coach went on to set up a karate academy called Bangladesh Sito Ryu Du Karate Academy, which has a commendable reputation.
"As there is no election in the district sports body, there is no desired development in these cases. The Deputy Commissioner is working in the district sports body as the acting president. I think elected representatives are essential."
The karate coach put serious emphasis on arranging frequent tournaments to take karate to the desired heights.
"Corona [Covid-19 pandemic] had halted the game for a long time. Now this gap should be filled. In particular, I'd say that this sport is as enjoyable as it is protective.
"We want improved infrastructure so that Barisal can produce a large number of prizes in the coming days at the National sports."