Hong Kong not short of motivation ahead of India, Pakistan challenges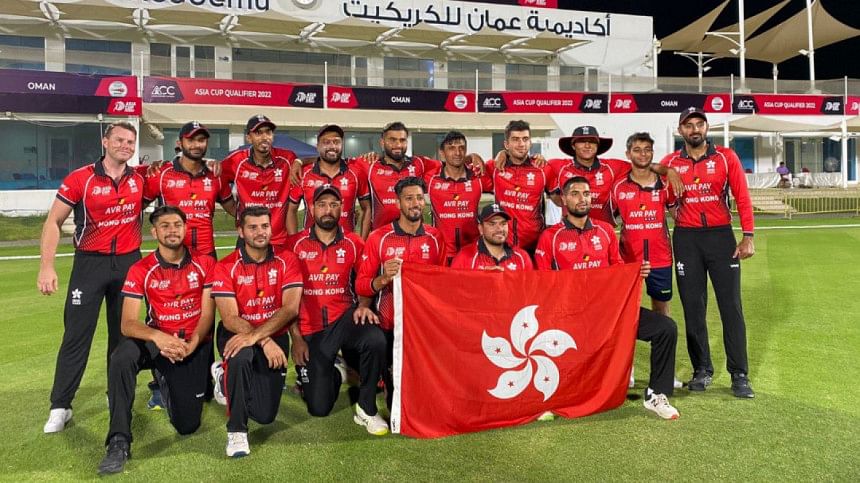 After progressing through the Qualifier, Hong Kong dare to dream in the Asia Cup 2022, taking on India and Pakistan in the group stage of the event.
It's been a tricky period for the side, with an unsuccessful 2019 World Cricket League 2 campaign stagnating their progress, and compounded by tough pandemic and political problems in Hong Kong, enduring no fewer than six lockdowns.
Nizakat Khan's side are up against it, though the side are well-tested over a gruelling three months of cricket across the world, and defeats are by no means a foregone conclusion for a team with a reputation of causing an upset. The team in 2022 don't have to go far back to serious challenges of strong opponents either, and several players in the Asia Cup squad have been front and centre in the David v Goliath tussles of recent years.
Fantastic victory for Hong Kong vs UAE
Hong Kong win by wickets!
Amazing performance by Ehsan Khan, who wins his second Player of the Match Award! (4 wickets/ 4 over/ 24 runs/ 6 ec)#ACC #AsiaCup2022 #GetReadyForEpic@ACCMedia1
Official kit supplier: VANY Sportswear pic.twitter.com/1dZrAfZCBC

— Cricket Hong Kong (@CricketHK) August 25, 2022
Hong Kong's greatest achievement in the T20I format came eight years ago, toppling Bangladesh in the First Round of the 2014 T20 World Cup.
Nizakat himself played a starring role in the shock victory, taking 3/19 as Bangladesh crumbled to 108 all out. Hong Kong's chase was by no means straightforward, though the big hitting of Munir Dar and Haseeb Amjad ensured a famous victory.
Fast-forward to 2018, and Hong Kong came close to beating the men they'll meet on Wednesday. Set 286 to win in the 50-over contest, Hong Kong sent nerves through the India camp, at one stage cruising at 174/0 in reply.
One half of the opening stand, Nizakat made a professional 92 before falling lbw to Khaleel Ahmed. The wicket swung proceedings back in India's favour, and the more-fancied side held their nerve in a tense 26-run win.
Written off by a number of outlets already, coach Trent Johnston has essentially had his team talk written for him, and it'd be remiss to downplay the experience of a side ready to compete. Half a dozen of the members from the 2018 meeting return to face the tournament favourites, and the competition's move to the shorter format could help the side looking to mount a challenge.
Nizakat himself is in the runs of late, making runs in two of the three Asia Cup Qualifier wins, and a pair of half-centuries at the recent T20 World Cup Qualifier B. Vice-captain Kinchit Shah is reliable with bat and ball, as top-order hitter Babar Hayat is capable of playing both aggressor and accumulator roles.
At one stage moving to Singapore to take up a coaching role, wicket-keeper Scott McKechnie has shuffled his work life around to represent Hong Kong once again. Now running his own business, the busy gloveman has an array of crafty shots to keep bowlers and captains on their toes, and will no doubt give batters headaches from behind the stumps. The experience of Ehsan Khan was telling, leading the wicket-taking column in the Qualifier, while 29-year-old namesake Aizaz is a Hong Kong mainstay.
As for Hong Kong's next crop, there are more reasons to be upbeat. 19-year-old university student Ayush Shukla represents the future of the side, while Yasim Murtaza has made an impression in both white-ball formats since his introduction to the side earlier in the year.
Hong Kong are tipped to play the same XI that overran UAE in the final match of the Qualifier.