New Zealand v Australia, 2nd Test, Christchurch, 1st day
McCullum slams fastest ton in final Test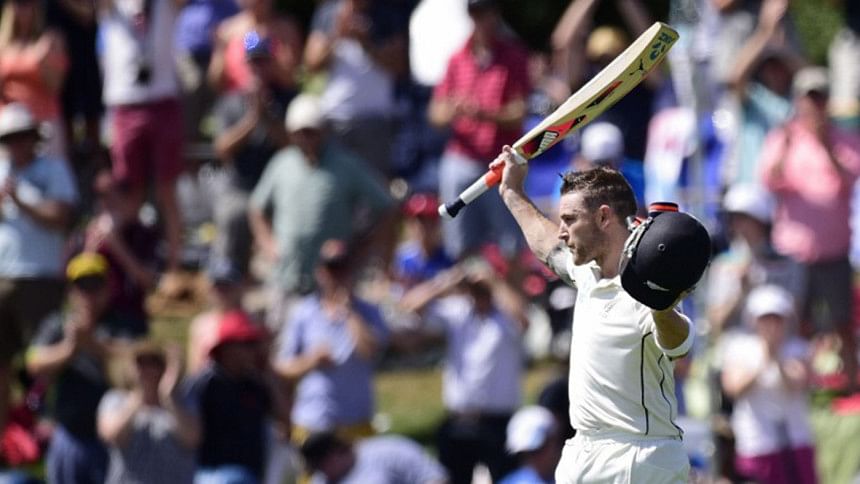 He's not going quietly. Brendon McCullum blasted into history with the fastest Test hundred of them all to leave Australia speechless and grant New Zealand a first-innings foothold on an unforgettable day at Hagley Oval.
Arriving at the crease with the hosts a floundering 32 for 3 in the 20th over of the innings, McCullum launched an immediate counterattack in the lead-up to lunch. On resumption he stepped things up further in the company of a similarly fearless Corey Anderson, and spanked Josh Hazlewood over wide mid-off to reach his century in a mere 54 balls - two fewer than Viv Richards in 1986 and Misbah-ul-Haq in 2014.
Most of Test cricket's fastest hundreds have been compiled in circumstances that heavily favoured batsman, whether it be the pitch or the match scenario. Not so this time, as McCullum and Anderson overcame the obstacles of a lively pitch, a dominant Australian attack and a day one scenario that would traditionally have called for dogged defence.
Josh Hazlewood, James Pattinson and Jackson Bird had all bowled demanding spells with the new ball, but none were able to find an answer for McCullum's assault. Vitally, an outstanding catch by Mitchell Marsh when McCullum had made 39 was rendered meaningless when the replay showed Pattinson had overstepped.
It would have been Australia's third brilliant catch of the innings, after the captain, Steven Smith, snared a pair of thrilling one-handed takes to dismiss Tom Latham and Kane Williamson. The second of these was made still more impressive by the fact that Smith was partly obscured by a helmet-clad David Warner, posted at a short third slip close to the bat.
After useful innings by BJ Watling and Matt Henry, New Zealand were ultimately bowled out for 370, leaving Australia with a testing period to bat in the evening session. The tourists' over rate was less than optimal during the afternoon, something that may result in a fine for Smith, though more than 12 months after his previous transgression, against India in late 2014.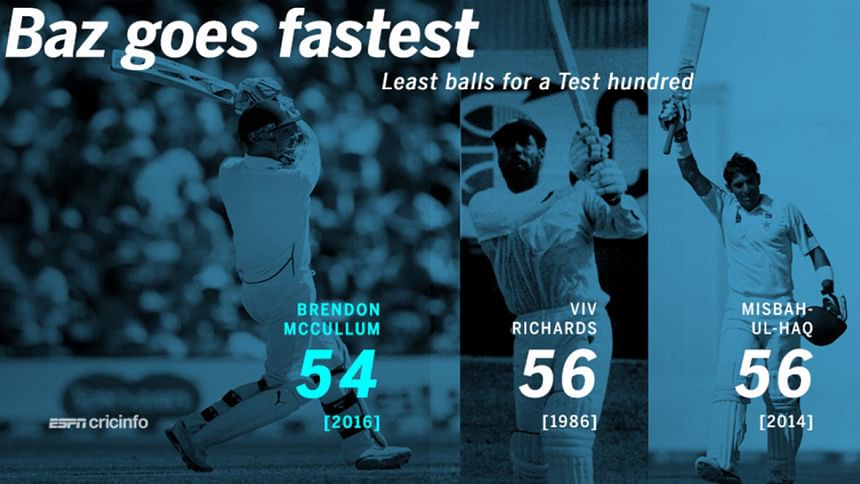 Warner and Joe Burns began carefully, weighing up conditions that still provided some challenges to the batsmen. Boult was particularly testing, gaining just enough movement to draw an edge from Warner that was comfortably held in the slips. Burns and Usman Khawaja did well to get to stumps, but there is plenty of work yet to be done.
As was the case in Wellington, Smith did not hesitate in sending New Zealand in on a pitch even greener than that served up at the Basin Reserve. Hazlewood and Pattinson found extravagant seam movement immediately, leaving Martin Guptill and Latham groping for the new ball.
Guptill was particularly troubled by Pattinson deliveries that cut back into him, and an inside edge squeezed off the body presented a chance to the short leg, Joe Burns, who grassed it. Another opportunity was not long in coming, and this time Burns did well to propel himself forward for the catch.
A period of stalemate followed, as Williamson and Latham tried to dig in. There were multiple plays and misses, and pressure built through some diligent work by Hazlewood, Pattinson and Bird. Eventually, Bird gave Latham one to drive, and the batsman's slightly hesitant movement drew an edge towards the slips. It was probably Adam Voges' catch, but Smith removed all doubt by flinging himself brilliantly across for a one-handed classic.
Hazlewood had bowled beautifully without reward, but he now homed in on Nicholls, who had edged a ball going across him on day one in Wellington. This time Hazlewood seamed one back down the line, and pinned Nicholls in front of the off stump. Richard Kettleborough gave it out, and the batsman's review only confirmed the fact.
All this time Williamson had been battling for survival, his back thigh taking a battering as he was often turned around by seam movement. Sensing momentum needed to change, McCullum walked out with his mind set on attack, and, after accepting a gracious guard of honour from the Australians, he did exactly that.
McCullum's first shot flew fortunately over the slips, but he subsequently found his range, and one Mitchell Marsh over was dispatched for no fewer than 21 runs including a pair of sixes. The Hagley Oval crowd came to life, and Australia's grip on proceedings was loosened.
They tightened it again when Smith swooped to claim Williamson, but Pattinson's overstep shifted momentum back towards New Zealand. The reprieve allowed McCullum to carry on charging at the bowlers with all the crazy brave belief of a man who knows his luck is in.
There were almost as many edges as full-blooded shots, not unlike Ian Botham at Headingley in 1981, but on a surface offering useful sideways movement this was to be expected. What McCullum did achieve was to throw Australia's bowlers off the optimum approach for the pitch.
Rather than pursuing the edge of the bat, the visiting pacemen dropped shorter and shorter, inviting McCullum and Anderson to use a horizontal bat. What resulted was an avalanche of runs that put New Zealand firmly back into the match and left Australia pondering a more challenging pursuit than they had faced in Wellington.
Aside from McCullum's thrilling display, the overall scoring was equally eye-popping. No fewer than 199 runs came between lunch and tea, 161 in 16 overs after Pattinson's no-ball. When McCullum finally hit one within reach of an Australian fielder to depart for 145, Hagley Oval stood as one. It may as well have been the whole of New Zealand.