ICC Cricket World Cup 2015
It's very tough: Mash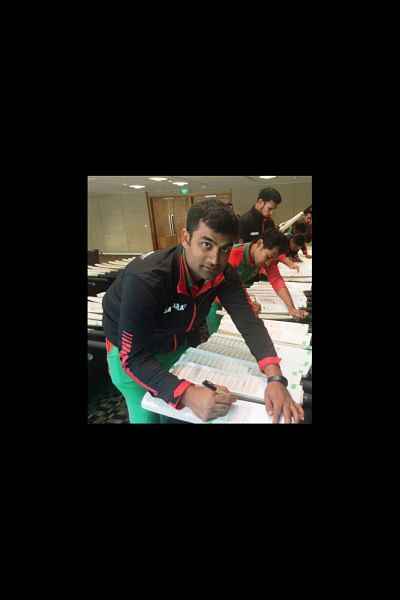 Bangladesh captain Mashrafe Bin Mortaza has said that it will be a 'very tough' task for the Tigers to go through to the second round of the World Cup.
"To be honest, everyone expects us to play in the second round. But it's going to be very tough. You have to beat at least two bigger sides, besides Afghanistan and Scotland. It is tough because of the conditions… we are not quite used to it.
"I think our young players are very good. They haven't played a lot of international cricket, but they have some experience, and hopefully they will turn out very well," Mashrafe told reporters in Sydney yesterday during the pre-World Cup press conference.
The two unofficial practice matches in Brisbane saw the Tigers experiment with their side. They changed the batting order, used eight bowlers and even called back a batsman in order to give others a chance.
The official practice matches against Pakistan and Ireland, due to take place today and on Thursday, would be played in a different vein.
"The World Cup starts now, and we will take it very seriously… we will play those matches as a normal match," said Mashrafe.
"We have some experienced players like Mushfiqur [Rahim], Tamim [Iqbal] and Shakib [Al Hasan]. I think if the big guns step up and the young players can help them, I think we have a great chance," he added.
Mashrafe further said that the Tigers weren't targeting any particular side to upset in the competition. He however said that they had a number of plans for their second match against Australia.
"You can't plan for just Michael Clarke. There are a few great batsmen in the Australia side. [Aaron] Finch is in great form, [Shane] Watson is there, and so is [David] Warner. You have to plan against all of them," reckoned Mashrafe.
The Tigers will face off with Pakistan today at the Blacktown Olympic Park Oval in Sydney in their first official practice match. Opener Tamim Iqbal, who missed the Brisbane practice matches, trained at the Sydney Cricket Ground along with the team yesterday and is expected to take part in today's game.