ICC CRICKET WORLD CUP 2015
Why a ten-team World Cup is right
The sport's top event must be a high-quality affair. It's up to us to ensure that Associates get a fair chance at making the cut for it
Do I believe that teams like Ireland and Afghanistan have a bright future in international cricket? Yes, I do. Do I want the Associate nations to play more cricket? Yes, I do. But do I want the World Cup in 2019 to include 14 nations or more? No, I don't. Am I contradicting myself by promoting the cause of the Associate nations and yet not favouring their being a part of the world event? No, I'm not. Allow me to explain.
Firstly, the World Cup, in my opinion, does not need 14 unevenly matched teams to compete over a month, dishing out some lacklustre cricket in the process. In any sport the World Cup must be a marquee event, and that must showcase the best possible level of skill.
Having teams that have neither the adequate skill nor the exposure to compete against the big guys promotes and facilitates mediocrity.
Losing can be a great teacher, but starting every game as a loser doesn't encourage learning. Coaches do not pit six-year-old batsmen against 22-year-old fast bowlers because it'll only lead to damaging the young kid's confidence - perhaps forever. Opposition that is slightly superior to you will enhance your skills, but if the gap is too big, you learn little.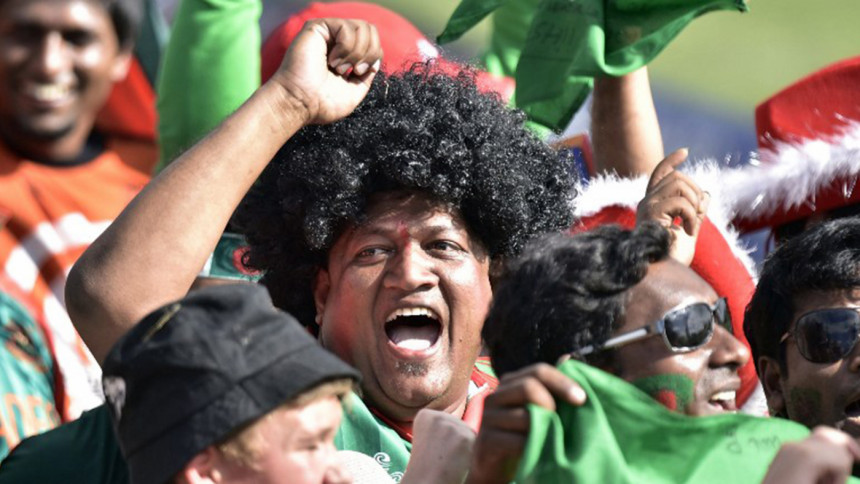 If at the start of the World Cup you know who the qualifiers are going to be from the group stage (give or take a team or two), and it all boils down to having three good nights - quarter, semi and finals - the format is in need of fixing. While a ten-team World Cup doesn't guarantee close contests all the way through, a tournament of this magnitude cannot afford many mismatches -- and there are simply too many of those at the moment.
Some say that if a football World Cup can have as many teams as it does, why can't cricket? Well, you can have as many as four 90-minute games in a day but a 50-over game consumes pretty much a full day.
It isn't feasible to have too many days of uninspiring, dreary play.
There's a strong argument that since most close contests in this tournament have involved the Associate nations, they must be given a longer rope, which means including them in the next World Cup. Well, more often than not, two teams of the same standard are likely to produce good contests.
And the reason behind some dull contests between two top Test nations could simply be that there isn't much riding on the game in question; when a loss doesn't have serious repercussions in terms of ability to progress through the tournament, there might be a tendency for teams to drop their guard.
That's why the Champions Trophy in 2013 was such a good tournament, for one loss meant losing a crucial spot in the final standings.
An argument in favour of having the Associate nations in the World Cup is that international sport ought be more inclusive. But thinking about them once every four years isn't really being inclusive, is it? Associate nations are, in my opinion, fighting the wrong battle. They ought to be fighting for the right to play at least 15 ODIs per year against the top Test nations. Between the two World Cups the Associates should at least play 60 games against the likes of Australia, India, South Africa and New Zealand, besides playing a lot more against the lesser teams - Test nations and otherwise.
The bigger issue here is the default qualification of some of the Full Members. With what credentials do the likes of Zimbabwe, Bangladesh, West Indies, and now even England, find places in the World Cup? Good Test cricket credentials - like England possess, cannot and must not ensure guaranteed participation in the World Cup.
Since the last World Cup, to date, in ODIs West Indies, Bangladesh and Zimbabwe all have win-loss ratios of less than 0.5 against the other Test-playing teams. England have a win-loss ratio of 0.18 against reasonable opposition in World Cups since 1996.
How about making the next World Cup a ten-team tournament with only the top five teams in the ICC ODI rankings qualifying automatically? Let the four-year cycle put equal pressure on everyone to be on top of their game to ensure they are in the top five, and make everyone outside the top five try hard to get in. Let Ireland, Afghanistan and Scotland have a real go at becoming a part of the next World Cup by giving them equal opportunities for the next four years.
I recently received a request to sign a petition to make the ICC think again about the idea of having only ten teams, but I've decided I'm not going to sign it. Instead, I'll appeal to the people looking after the interests of the Associate nations to write a new petition about a more inclusive growth.
Participation does not always mean progress.