ICC CRICKET WORLD CUP 2015
Bangladesh vs India: their strengths
Quarterfinal on March 19 at MCG
March 19, 2015, Thursday
9:30am (Bangladesh Standard Time)
The knock-out phase of this ICC Cricket World Cup 2015 is about to begin. March 19 will determine the fates of Bangladesh and India, when they lock horns at the famous Melbourne Cricket Ground (MCG) for a place in the semi-finals.
Here is a quick look at the comparison of relative strengths and weaknesses of these teams before the much anticipated clash of these cricketing nations.
The Tigers have managed to exceed expectations, both at home and abroad, especially after they defeated England and secured a place in the quarterfinals.
Their performance so far has been appreciated, and acclaimed by cricketing superstars and pundits all over. The lion's share of praises belong to the batters, and deservedly so.
They have not collapsed in a heap under pressure while the middle and late middle-order have transformed Bangladesh into a force to be reckoned with in this competition.
Mahmudullah Riyad has silenced his critics superbly with his bat, scoring two consecutive centuries against England and New Zealand respectively.
The manner in which he managed his innings, considering when he came in to bat after the fall of early wickets speaks volumes about his maturity as a cricketer.
Mushfiqur Rahim has utilized his purple patch to fullest, with three fifties to his name in this World Cup. He ups the ante late in the innings and ensures the power-play overs don't go begging.
With Sabbir Rahman doing well as the pinch-hitter, Mushy plays himself in before unleashing his full selection of strokes.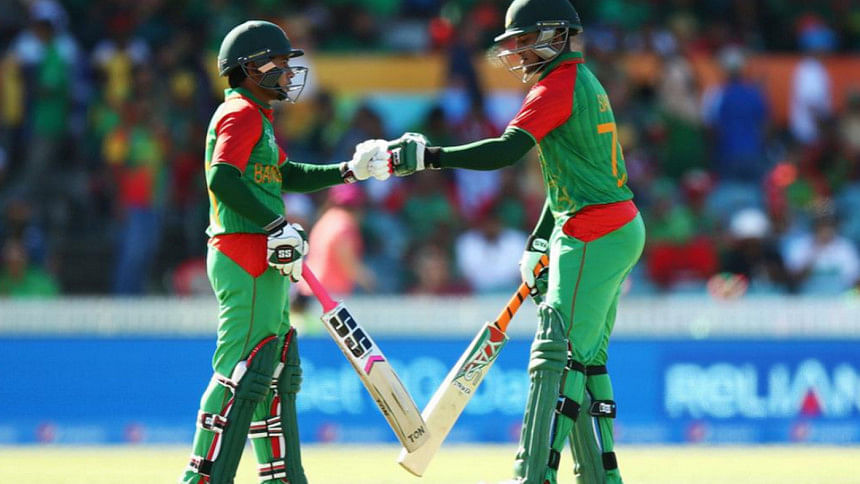 On the contrary, Shakib Al Hassan has looked good in patches; solely because he goes chaotic from ball one, instead of getting his eye in.
The glaring weakness of Bangladesh so far can be attributed to the spinners, particularly their bowling during the middle overs of a match.
They were unable to stem the flow of runs, and failed to break partnerships when it mattered the most.
Shakib has picked up seven wickets in six matches, four of them coming against New Zealand at Hamilton.
Taijul Islam and Arafat Sunny looked innocuous at best, while being easily milked for runs by opposing batsmen in the matches they played in.
Meanwhile, India's main strength has always been there batting, however in this World Cup their fast bowlers have come to the fore.
Mohammad Shami is their leading wicket-taker with 15 wickets in five matches.
He is ably supported by Umesh Yadav and Mohit Sharma, both picking up 10 wickets each in the group matches for India.
All in all, India's pacers have been taking wickets at regular intervals, and keeping the run-rate down in the process.
India's bowling is firing on all cylinders, not to mention being the most economical of all teams in this World Cup so far.
If there are any chinks in India's armour, they are at the top of the batting order.
Except the match against Ireland, the opening pair of Rohit Sharma and Shikhar Dhawan looked vulnerable against the new, white ball in slightly seaming conditions.
They have been bailed out by the likes of Virat Kohli, Ajinkya Rahane, Suresh Raina and Mahendra Dhoni time and time again.
Although Dhawan has two tons to his name, he and his partner regularly poke at balls outside the off-stump early in their innings, something that Bangladesh pacers can exploit at Melbourne on March 19
Best of luck to our Tigers! Go Tigers go!