'Here because we're good enough'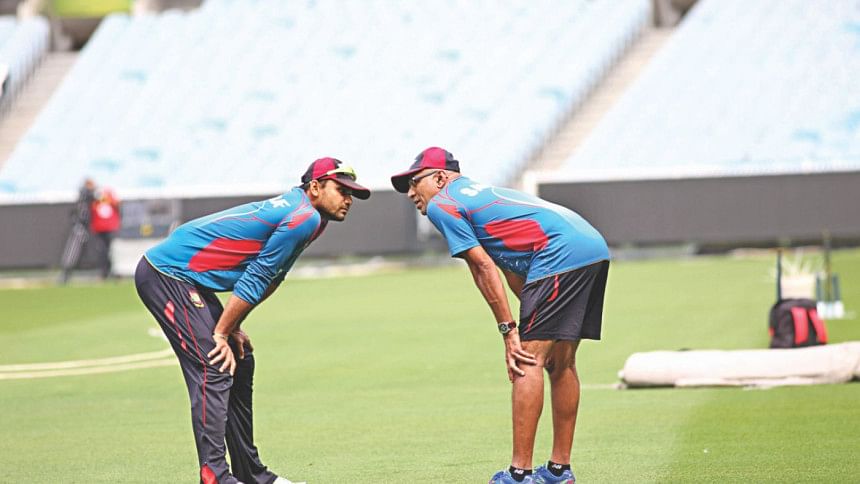 With Bangladesh's most important game in their history due this Thursday, coach Chandika Hathursingha reckons that his side can come out victorious on one condition: they need to enjoy the occasion. A tough ask; considering the weight of their opponents and the fact that a majority of the close to 100,000 spectators at the Melbourne Cricket Ground will be expected to wave the Indian flag.
However, Hathurusingha, during a press conference at the MCG following Bangladesh's training session yesterday, stated that his side could catch their opponents off-guard.
"The key is to play to our potential and then get those established sides on that day off guard and if they have an ordinary day or lesser day to their potential, I think we can beat many sides.
"The team that will enjoy the occasion more will have a better game. For us the key is to embrace the opportunity and enjoy that situation. Because for us there's nothing to prove; we know that we are good enough and that's why we are here," the Sri Lankan said.
There was a barrage of questions at the press conference yesterday from foreign journalists hoping to learn more on Bangladesh's journey in the World Cup thus far. Hathurusingha though, kept his calm and was his pragmatic-self.
"I don't think we have any hidden secrets. The preparation was very thorough and I think not playing a lot of cricket leading up to the World Cup helped as well because we played some cricket in Brisbane, to get used to the Australian conditions and now I think we are peaking at the right time.
"We have very few injuries so far and all the key players are in form. They improve with every match. I think that's the key to success for us," explained Hahturusingha. 
Hathurusingha felt his previous experience in Australia further helped him prepare the side.
"It helped massively. Knowing the conditions, we did a few things back home training-wise. We did things differently knowing the limitation of the sub-continental players and changed a few techniques early on," he added.
As opposed to the more popular notion, Hathurusingha claimed that none of the players in the side have talked about their famous win against India back in 2007. In fact, he stated that he was reminded of the win only during the press conference.
"I don't think we will talk about that at all. That is the past. Until you reminded me [regarding Bangladesh's performance] I didn't even know about that," he said with a smile.
The coach doesn't expect much turn in Melbourne on Thursday and he also described India as one of the best teams against spin. Whatever be the strategy, the one thing's that certain is that Hathurusingha won't be satisfied with a mere quarterfinal appearance. As he put it, "We have shown in the last few months how much talent we have and how much we have improved. It's all about taking the opportunities with both hands."