I can play until 40 for Madrid: Ronaldo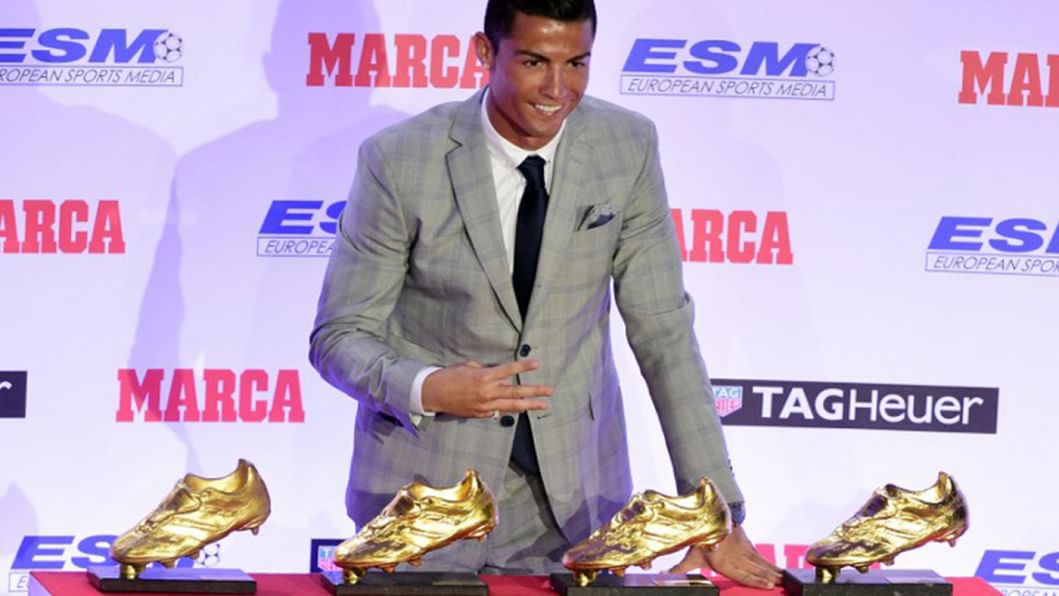 -Cristiano Ronaldo's long-term future has been the subject of debate through recent weeks
-Former club Manchester United and French champions Paris Saint Germain have been linked with Ronaldo
-Portugal captain this week picked up his record fourth career Golden Shoe award as Europe's top goal scorer
-The Real Madrid forward was very happy with his current physical shape and could play for another full decade
Cristiano Ronaldo says he still dreams of finishing his career at Real Madrid and can see himself playing until he is 40.
Ronaldo's long-term future has been the subject of debate through recent weeks, with the 30-year-old saying that "nobody knows what will happen next year" when speaking after equalling Madrid's all-time goalscoring record late last month.
Former club Manchester United and French champions Paris Saint Germain have been linked with moves for the forward, with Ronaldo's agent Jorge Mendes reportedly seeking a new bumper contract for his client.
The Portugal captain this week picked up his record fourth career Golden Shoe award as Europe's top goal scorer, and from the podium targeted a "fifth, and a sixth," saying he was not yet satisfied with what he had achieved to date.
Speaking to Marca after the ceremony, Ronaldo said he wanted to stay at the Bernabeu while pointing out he had five or six more years at the top level, and now less than three remaining on his current Madrid deal.
"I want to win more. I still feel good, I feel young," Ronaldo said.
"I am 30 and I want to play five or six more years, and in these years I want to do well and try and keep the level of recent seasons. I know that it gets harder all the time, but in my head it is possible."
"I want to win and I am at the best club in the world. Logically, I have a contract up to 33, and as I have said many times my dream was to finish here at Real Madrid, because I feel good, I feel useful, and I want to stay."
Ronaldo has had some significant injury issues in the past but thanked Madrid's physios when picking up this week's trophy, saying he was very happy with his current physical shape and could play for another full decade.
"At the moment I do not feel any different from when I was 25," Ronaldo said.
"Many people say that from 30 you start to drop, but I do not share this idea because if you look after yourself, you train and you do well day to day."
"You do not grow old overnight, it happens slowly. If you look after yourself, you can reach 40. I have the motivation to keep going."
Starting the 2014-15 club season by scoring all of his goals for club and country in three, of 12, games against weaker opposition in Espanyol, Shakhtar Donetsk and Malmo was not at all a concern, Ronaldo said.
"If I end the season with the same rhythm of goals per game as now, I would take that," he said. "Twelve games and 10 goals is perfect. Do the maths... Cristiano Ronaldo would sign up for that right now. For sure."
Asked who his rivals were for this year's Golden Shoe award, Ronaldo listed many of the game's top strikers without mentioning Barcelona's Lionel Messi by name.
"There are many great forwards in Europe, in many leagues, the English, the German...," he added. "[Wayne] Rooney, [Sergio] Aguero, [Robert] Lewandowski, Neymar, [Karim] Benzema is also very good. Luis Suarez again."
"There are great players and I feel privileged to have won it four times. But I want to keep winning more. We will see what happens this year."