'Great to be back in Bangladesh'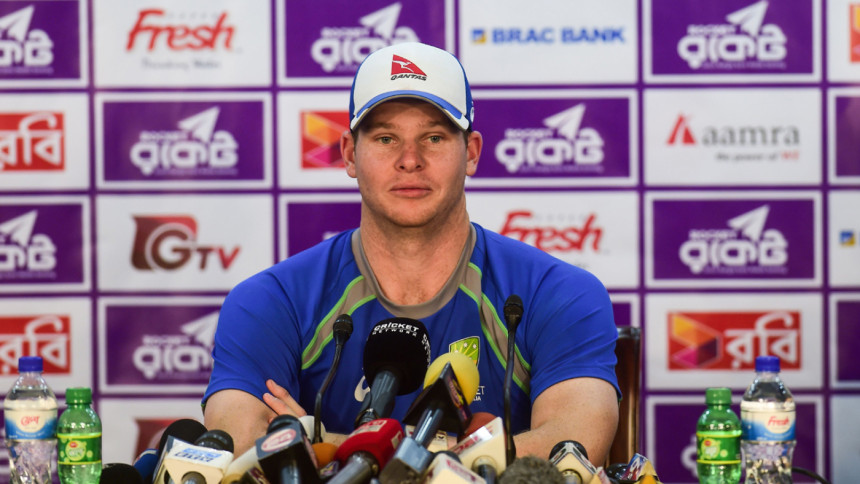 Australia Test captain Steve Smith said that it was great to be back in Bangladesh and added that he was expecting a very tough challenge from the two-match Test series, with the first starting on August 27.

"It's great to be here. I personally haven't been here since 2011 for the one-day series and it's been 11 years since the last Test. It's great to be back here in Bangladesh," Smith told reporters at the Sher-e-Bangla National Stadium in Mirpur today.

The Australian cricket team arrived in Bangladesh last night for their first Test series since 2006, and the Aussie skipper said that he was anticipating a challenging series.

"We arrived here last night and it's nice to be here in Bangladesh. We're excited about this tour and its going to be a very challenging tour for us. I think Bangladesh have been playing some very good cricket at home of late so hopefully the weather holds off and we can get some good cricket in this Test series."

The Australians made a brief visit to Bangladesh's home of cricket in Mirpur, before returning to the Radisson Blu without getting in any practice.

Smith said that they were curious how wickets in this part of the world behave, especially after a long spell of rain.

"We're not entirely sure what we're going to get out here for this first Test match. Obviously there's been a bit of rain about and we don't know how much time the curator is going to get to get into the wickets so we'll have to adapt to whatever wicket we come up against on the morning of the Test match."

However, the Australian did have some idea about the kind of deck that his side would be up against.

"I expect they will come out with some similar wickets that will help spin and hopefully we can learn from what we did in India."

He also added that the strength of this Bangladesh team, their recent form and the unfamiliar conditions in the subcontinent all added up to a very big challenge.

"I think it's going to be a very challenging series. They beat England in a Test match here not too long ago. So we're looking at it as a really big challenge. Hopefully we're can learn a lot out of what we did in India and show some improvement.

"We know it's going to be a challenge for us. The conditions in the subcontinent are always a bit foreign to us, the wickets are always a lot different to what we are used to, so it's definitely going to be a big challenge for us and hopefully we can learn from that series against India," Smith concluded.