Shankar hot on Siddikur's heels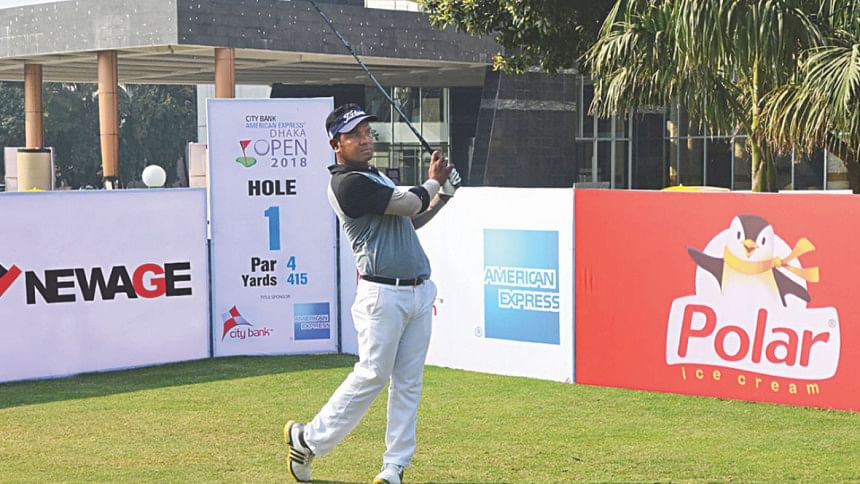 Siddikur Rahman saw his lead at the top of the inaugural City Bank American Express Dhaka Open trimmed to two strokes at the end of the third round yesterday.
The 33-year-old, who enjoyed a five-stroke lead going into the weekend rounds, still holds the best chance to win the title of the 60,000-dollar tri-sanctioned event after having settled for a two-under-par (70) on Friday.
The two-time Asian Tour winner found the course conditions at Kurmitola Golf Club more difficult compared to the previous rounds. He carded three birdies against one bogey for a 12-under-par (204) total.
"I just can't seem to make any birdies today. I wasn't able to hit it close and my putting wasn't as good as the last two days," said Siddikur, who won his first ADT title in Bangladesh in 2011, also at the same venue.
"The course seems to be playing tougher by the day so I hope to stay focused tomorrow and try my best to win in front of my home crowd again. All the good memories I have had on this course are what inspired me so far. I hope to ride on that good vibes to put on a good showing tomorrow," Siddikur added.
Conversely, his playing partner, India's Shankar Das, took most of his chances as he scored six birdies against a lone bogey to card a 67. He finished the round in second place.
"I struck my 3-wood really well today and hardly missed anything on the greens. It'll not be easy to dislodge Siddikur on his home turf, but I'll have to make a good start in the final round if I have to exert any pressure on him," said Das.
Shamim Khan of India (70), Malcolm Kokocinski of Sweden (71) and Akbar Hossain of Bangladesh (71) grabbed a share of third place at five-under-par (211).