McIlroy eliminated by Kjeldsen at WGC Match Play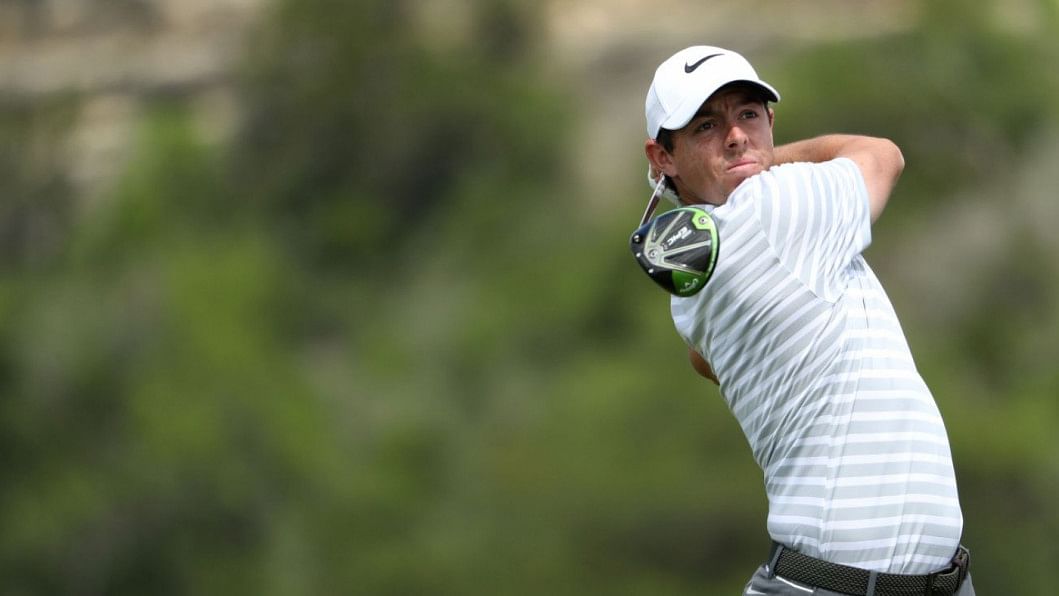 Second-ranked Rory McIlroy was eliminated from title contention on Thursday at the World Golf Championships-Dell Match Play after group rival Gary Woodland withdrew and Soren Kjeldsen won his second consecutive match.
Denmark's Kjeldsen, barely in the field at 62nd in the world rankings, defeated Argentina's Emiliano Grillo 4 and 3 to end McIlroy's hopes a day after a shock victory over the four-time major winner from Northern Ireland.
The situation was created after Woodland conceded his second-round group match with McIlroy for personal reasons, handing him a victory but also giving Kjeldsen a walkover in their scheduled Friday matchup.
The Dane will advance to the knockout stage round of 16 on Saturday after a 3-0 finish in the group while the best McIlroy can do is 2-1 even if he defeats Grillo on Friday.
Grillo began birdie-par to win the first two holes over Kjeldsen in windy conditions, but the Dane birdied two of the next four holes to square the match. Kjeldsen won the first four holes on the back nine, taking the 10th and par-5 12th with birdies, and despite a bogey to drop the 14th, clinched the match with a six-foot par putt at 15.
"I'm brought up in this," Kjeldsen said of the blustery conditions, with wind gusts reaching 45 miles (72 kilometers) per hour. "I like to shape shots. I like to change trajectory. I like to play golf in this where you have got to be really creative."
"When I saw it was windy today I was very happy."
While McIlroy has a meaningless match, Kjeldsen said he plans to spend his unexpectedly free Friday with his children after Woodland's exit.
"Due to a personal family matter, Gary Woodland must withdraw from the World Golf Championships-Dell Technologies Match Play," said a statement issued by Woodland's agent, Mark Steinberg. "We ask that you respect his family's privacy at this time."
Woodland was the second golfer to withdraw from the tournament for personal reasons.
On Wednesday, distraught Australian star Jason Day conceded his match against American Pat Perez after only six holes at Austin Country Club.
He later revealed he had withdrawn to be with his mother, who is battling lung cancer.
The Texas tournament sees the field split into 16 groups of four players who play each other on a round robin basis through Friday. Group winners then advance to the knockout rounds starting on Saturday.
Casey, Schwartzel both 2-0
England's Paul Casey edged South Korea's An Byeong-Hun 1 up to set up a Friday showdown of unbeatens against South Africa's Charl Schwartzel, who beat Dutchman Joost Luiten 4 and 3, to decide which advances.
"I played the golf course today. I think that was imperative -- it was the key to staying sane," Casey said. "Boy was it difficult, one of the more difficult days I've seen of the golf course in a long time."
Casey shrugged off the windy conditions now that he was in familiar match-play territory in Friday's only meeting of 2-0 players.
"It's what I like now, straight knockout," Casey said. "I'm going to enjoy it."
Another win-to-advance showdown matches up Spaniards Sergio Garcia and Jon Rahm. Garcia beat American Kevin Chappell 4 and 3 after halving with Ireland's Shane Lowry to open, so he must win to advance over Rahm, 2-0 after beating Lowry 2 and 1.
US star Jordan Spieth beat Japan's Yuta Ikeda 4 and 2 to sustain his hopes of reaching the knockout stage despite the tricky winds.
"Everybody in the field knew it was going to be a very challenging day so you change the way you play certain holes," Spieth said. "I thought I was very solid given the conditions."
"It's about as tough as I think I've ever seen it," he added. "This is tough because of where the pin locations are and the speed of the greens. With your putting, it's hard to trust out here."