Vietnam apologises for Indonesia team bus attack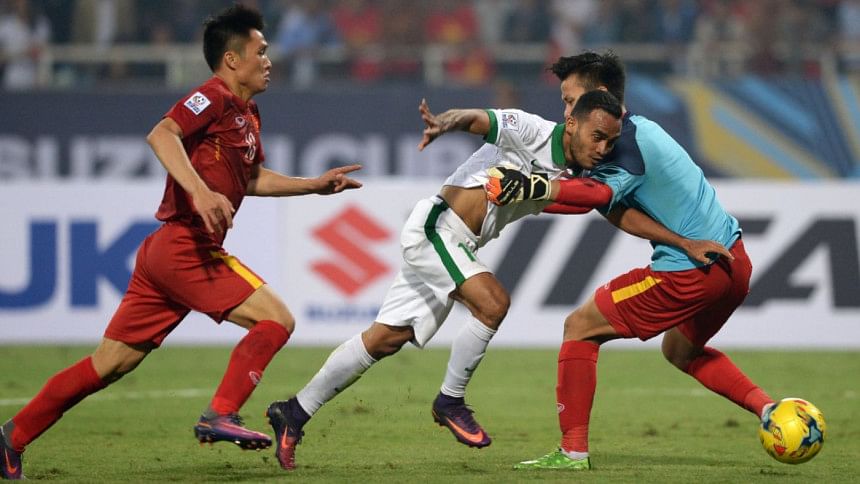 Vietnamese football authorities apologised on Thursday after fans hurled stones at the Indonesian team bus shortly after their Suzuki Cup semi-final tie in Hanoi, breaking a window and injuring two of the visiting team's staff.
The second leg of the fiercely contested tie at the My Dinh stadium on Wednesday night ended in 2-2 draw after extra time, sending Indonesia into the final with a 4-3 aggregate score.
But as the victorious visitors left the stadium, a mob of Vietnamese football fans -- reportedly on motorbikes -- attacked their bus, throwing rocks and shattering at least one window.
Indonesia's assistant coach and the team doctor were slightly injured in the incident, the general-secretary of Vietnam's Football Federation Le Hoai Anh told AFP Thursday.
"We would like to apologise to the Indonesian team for this unexpected incident," Anh said, adding that a replacement vehicle was dispatched to pick up the team.
Security was also strengthened around the players' hotel that evening, he added.
Many Vietnamese were swift to condemn the incident online.
"A loss is a loss," a reader wrote on state-controlled VNexpress news site.
"Vietnamese football will never develop well if we carry on behaving like this".
Indonesia advance to the December 14 final where they will play Thailand or Myanmar.
Thailand, who host their neighbours in Bangkok later on Thursday, have a comfortable two goal advantage from last weekend's first leg.
Vietnam won the biennial AFF Suzuki Cup in 2008, and Indonesia has lost in the finals four times between 2000 and 2010.