The end is in sight for Ronaldo at Real Madrid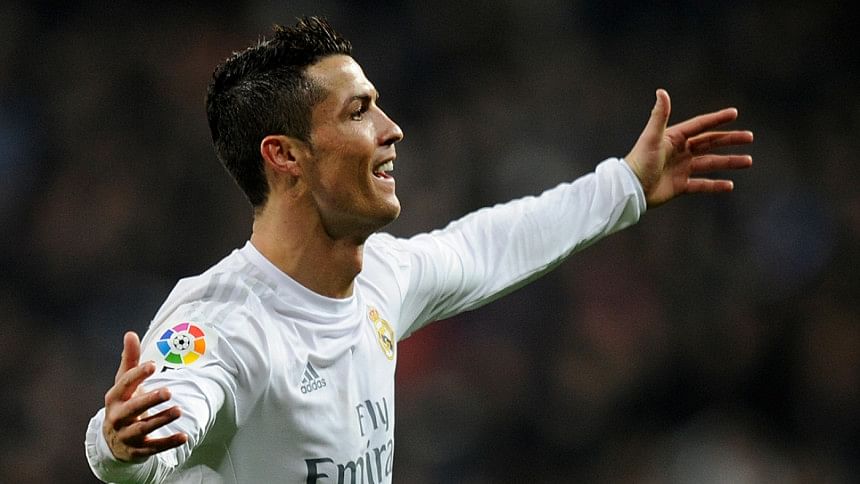 Another award for Cristiano Ronaldo as the Portuguese star picked up the prestigious Pichichi prize for the third time on Monday, but hinted he may not be at Real Madrid beyond the expiration of his current contract in 2018.
"Two more years and then we'll see," he said.
Since moving from Manchester United to Madrid in 2009, he has already gone on to become the club's all-time top goalscorer. That honour arrived earlier this season as he overcame Raul's record of 323 strikes and he was celebrating his ability to put the ball in the net again on Monday.
Leading figures from the football world were present at Madrid's Teatro Goya to see Ronaldo receive his third Pichichi prize for finishing as La Liga's top scorer in 2014-15 - the 48 goals in 35 games he hit last season his best return yet in the Primera Division.
So Cristiano has now won the award as many times as Barcelona's Lionel Messi. This term, however, he has competition from several other players. Ronaldo (19) is level with club colleague Karim Benzema and one behind Barca's Luis Suarez (20), with Neymar (16) not far back. Messi, meanwhile, has 12 after spending almost two months on the sidelines between September and November.
And even if Ronaldo retains the trophy this time next year, it is unclear how many he can win. The Portuguese is out of contract in 2018 and said on Monday: "I will stay for two more years and then we'll see."
Coach Zinedine Zidane dismissed doubts over Cristiano's future recently when he said: "As long as I am here, he'll be here as well." That, however, is no guarantee of longevity because Madrid coaches rarely get more than two or three seasons - especially under current club chief Florentino Perez.
Carlo Ancelotti is the best example of that and the Italian coach was present at the MARCA ceremony on Monday to pick up an award for his success as coach last year - even though a failure to claim a major trophy in the second part of the campaign ultimately cost him his job.
Ronaldo and Ancelotti embraced affectionately outside the theatre, the two men still close after leading Real to La Decima in 2013-14. But the Italian is now part of the club's past - and the Portuguese may no longer represent the long-term future for Madrid either.
Ronaldo's remarkable record in front of goal has continued this term, with 30 goals in 29 matches so far in 2015-16. But a failure to convert against top teams like Barcelona, Atletico, Paris Saint-Germain and more, plus an inability to influence outside the area and a noticeable decline physically show quite clearly that he is no longer the player he was in his early years at the Bernabeu.
Madrid, of course, are now banned from signing players for two transfer windows. With the sanction suspended during the appeal process, Real should be allowed to complete deals in the summer, but they will be unable to strengthen their squad again after that until January 2018.
And by then, replacing Ronaldo is likely to be top of their list of priorities. Because he is already slightly past his physical peak and at the age of 33, the time may just be right for the two parties to go their separate ways. In addition, failure to add more collective trophies to his underwhelming total of seven since 2009 could also hasten his departure.
So while Cristiano has been brilliant by and large for Madrid these past seven seasons and Monday's award was another reminder of his extraordinary goalscoring skills, it now appears the end may be in sight for the prolific Portuguese at Real. And much like the player himself, his club will surely be thinking along similar lines. "Two more years and then we'll see."