Poppies and pride as England, Scotland collide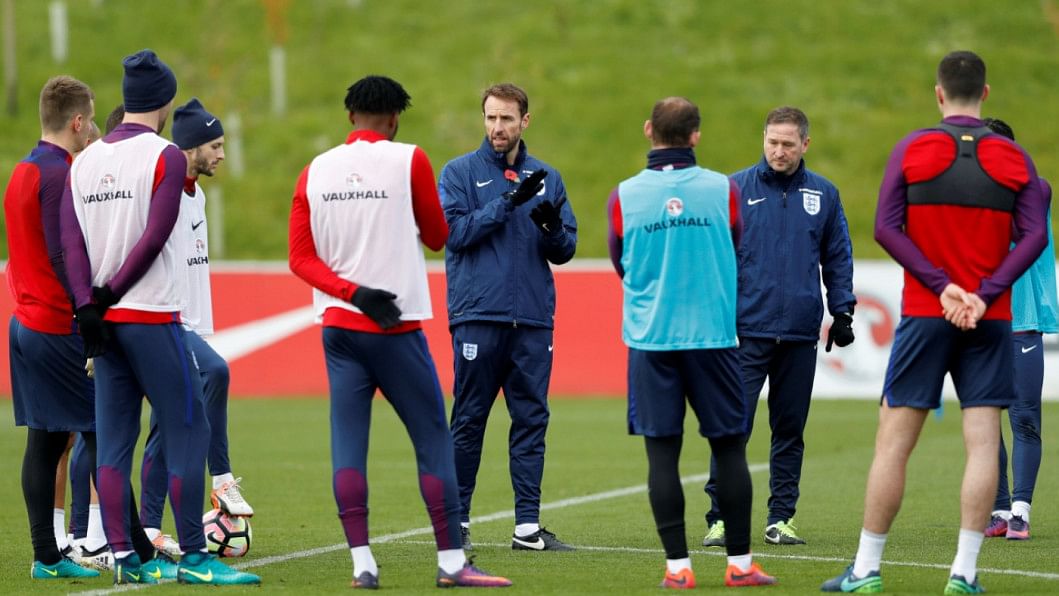 England and Scotland renew the oldest rivalry in international football on Friday in a 2018 World Cup qualifier that has been dogged by a pre-match row about commemorative poppies.
The football associations of both countries have pledged to defy a FIFA ban on political, religious or commercial symbols by wearing black armbands with red poppy emblems.
It leaves both teams at risk of sanctions from FIFA, but England and Scotland are determined to observe the custom, by which people in Britain pay respect to the country's war dead on November 11.
"As head coach, I was keen for us to wear poppies," interim England manager Gareth Southgate said this week.
"It's important we represent the nation and wearing the poppy is the right thing to do."
Players on both sides have backed the stance taken by their national associations.
But the risk of punishment by world governing body FIFA has led Northern Ireland to decide to wear plain black armbands without poppies on for their home game with Azerbaijan on the same day.
On the sporting front, Friday's game at Wembley represents Southgate's penultimate opportunity to show his Football Association bosses he deserves to be awarded the manager's job full-time.
Southgate was promoted from his role as England Under-21 coach when Sam Allardyce was brought down by a newspaper sting after just one match at the helm.
His four-game tenure has been underwhelming so far, with a laboured 2-0 win over Malta followed by a 0-0 draw away to Slovenia in which England were indebted to the reflexes of goalkeeper Joe Hart.
But England remain top of UEFA qualifying Group F, two points clear of Lithuania and Slovenia, and the Daily Telegraph has reported the job will be Southgate's barring a disastrous result against Scotland.
England host Spain at Wembley on Tuesday in their final game of 2016.
England and Scotland's first meeting, a 0-0 draw in November 1872, was the first recognised fixture in international football and they will be facing off for the 113th time.
Iconic images
Their rivalry has produced some iconic images, from Scotland's fans storming the Wembley pitch after a British Home Championship win in 1977 to Paul Gascoigne's memorable volley for England at Euro 96.
This will be their first competitive meeting since a two-legged Euro 2000 qualifying play-off in November 1999, which England won 2-1 on aggregate.
Southgate has been educating his players on the history of the rivalry with the aid of video footage.
"Of course there will be tackles flying in and a lot of battles and duels, but that's what it's all about," said England striker Harry Kane, who could start after seven weeks out with ankle ligament damage.
"You have to keep a cool head, but still keep that passion."
England prevailed in their two most recent friendly encounters with Scotland, winning 3-2 at Wembley in August 2013 and 3-1 at Celtic Park in November 2014.
But Scotland winger Robert Snodgrass, who plays for English side Hull City, has taunted England with claims their fans have lost interest in the national team due to recurrent underachievement.
"I speak to English people and I don't think they want England to do well because it's the same old story all the time," he said.
"England know their fans will turn on them if they don't score first."
As well as Kane, England captain Wayne Rooney will hope to return to the hosts' starting XI after being dropped for the draw against Slovenia.
Rooney has returned to Manchester United's starting line-up in their last two games and could replace Kane's injured Tottenham Hotspur team-mate Dele Alli.
Celtic midfielder Scott Brown is expected to overcome a dead leg and start for Gordon Strachan's Scotland -- fourth in the group -- after reversing his decision to retire from international football.
But Sheffield Wednesday striker Steven Fletcher is a doubt with a knee injury.