Neymar stays tweet a bluff, admits Pique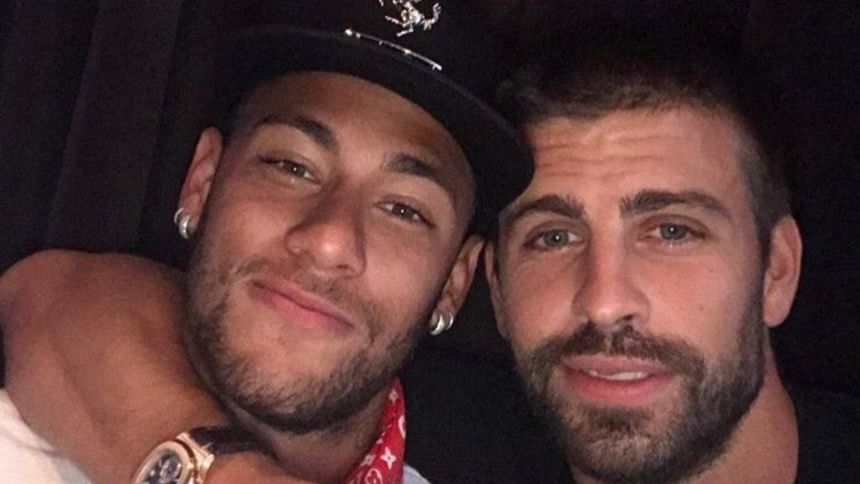 Gerard Pique knew Neymar had decided to leave Barcelona long before the Brazilian completed his world record 222 million euro ($261 million) move to Paris Saint-Germain, the Barcelona defender admitted on Saturday.
Pique has been mocked for posting "he stays" with a picture of him and Neymar together on Barca's pre-season tour to the United States on July 23.
However, Pique claimed he was using social media as a last throw of the dice to keep Neymar with the Catalan giants as the Brazilian had intimated his decision to leave to his former teammates as early as Lionel Messi's wedding on June 30.
"There was a group of players that tried to convince him to stay and the day I wrote the tweet 'he stays' I knew he was going," Pique said on the eve of Barca's Spanish Super Cup first leg clash against arch rivals Real Madrid.
"I knew it was the last shot I had, to use social media and public opinion to try and convince him to stay."
And the Spanish international insisted he didn't regret it despite Neymar's short-lived anger at the post.
"It was to try and help this club, to try and retain a player that for me is unique, with unique talent," added Pique.
"I knew it would be very difficult because it was a decision he had taken a while ago and it wasn't possible, but at least I tried."
- No grudge -
Neymar's decision to take what many perceive as a step down from the fierce competition between Barca and Madrid at the top of La Liga to France's Ligue 1 has divided opinion.
The Brazil captain is reportedly set to earn 30 million euros a season after tax, but Pique called on Barca fans not to hold a grudge against a player who won two La Liga titles, a Champions League and scored 105 goals in four years at the club.
"He has his reasons, I don't know if they are economic or to be the best in the world at a different team, but in the end I don't think we should judge him," said Pique.
"He has made the decision, it is a brave decision, he was here four years and gave us extraordinary performances."
Losing Neymar just before new Barca coach Ernesto Valverde's first season is about to commence has been compounded by the club's inability to sign a replacement in a market characterised by hyperinflation.
Bids for Liverpool's Philippe Coutinho and Ousmane Dembele of Borussia Dortmund have been rebuffed and Pique believes it is impossible to directly replace Neymar.
"Liverpool and Dortmund are making the most of the situation. They are playing their cards and it is a difficult moment for Barca to be able to sign without doubt," he added.
"To replace Neymar who is a unique player with very special talent and a one-on-one ability that no one else has in this sport will be difficult.
"What we have to do is make ourselves stronger and not look for a replacement because there isn't one on the market."