Werner has no regrets over Chelsea move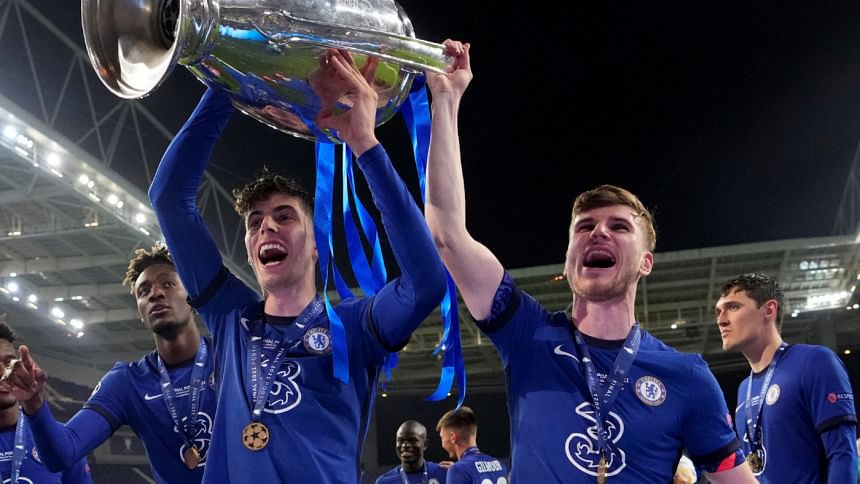 RB Leipzig striker Timo Werner said on Wednesday he did not have any regrets over his decision to move to Chelsea rather than German giants Bayern Munich.
Speaking ahead of Leipzig's home match with table-topping Bayern on Friday, Werner -- who won the 2021 Champions League with Chelsea -- told Germany's Sportbild "I think the path you take is always the right one in the end."
Werner moved to Chelsea in 2020 for a reported fee of 53 million euros as one of Europe's hottest striking prospects, having scored 34 times with 13 assists in 45 competitive fixtures with Leipzig in 2019-20.
Werner had opted for Chelsea ahead of Bayern,  but spent two unhappy seasons in London before returning to Leipzig last August.
"Up until now, I would have had two coaches at Bayern who would have been very good for me: Hansi Flick, with whom I get on well, and Julian Nagelsmann, my former coach at RB.
"But I think it's a better idea not to regret it."
Werner scored just ten times in 56 league appearances with Chelsea and was benched for much of his second season by then manager Thomas Tuchel.
"I wasn't part of the coach's plan anymore. You have to accept that and find a way to deal with it."
Werner said he would advise team-mate Christopher Nkunku -- the Bundesliga's top goalscorer this term with 12 goals in 15 games -- on the potential pitfalls he could face at Chelsea should he move there as is widely rumoured at the end of the season.
"I can tell him about both positive and negative experiences, should he make the change.
"At a club like this (Chelsea), you don't play like you do at RB Leipzig because there's more competition.
"(That's) not just on a sporting level, but also on a different level mentally."
Werner, who missed the World Cup due to a torn ligament, said he was "ready to return against Bayern" on Friday.
Werner played for the first time since November 2 in a 4-0 friendly win over Czech side Mlada Boleslav last Saturday.
"It was important for me to play once more after the injury, even if I wasn't 100 percent and could feel my foot a bit after such a long absence."
Werner said Leipzig -- who are third in the table six points adrift of Bayern -- were "on an even footing in terms of our quality" with the league leaders.
"We don't even know what we're made of -- we can do a lot more."