'We are ready to face Kuwait'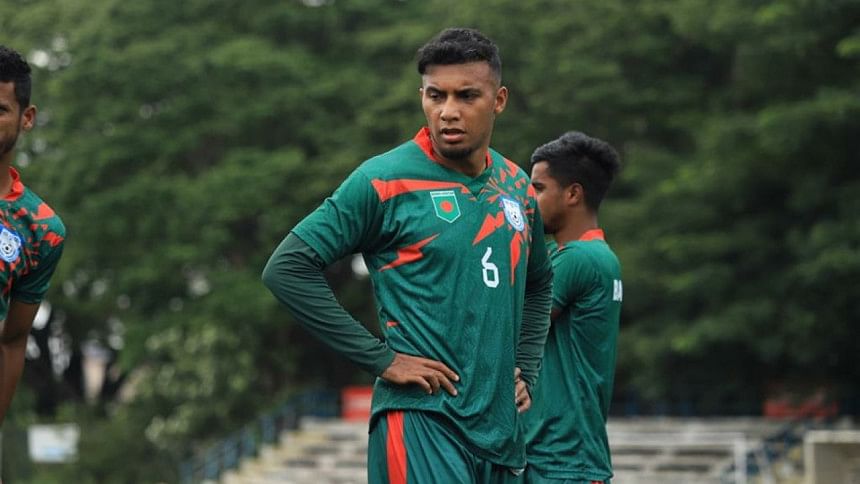 Bangladesh have already achieved their SAFF Championship objective -- reaching the semifinal this edition. 
But following inspirational performances in the final two group games, against Maldives and Bhutan, Jamal Bhuiyan and Co. are now aiming to go even further as they take on Kuwait, arguably the toughest team in the tournament, in today's first semifinal at the Sree Kanteerava Stadium in Bengaluru.
Javier Cabrera's troops are brimming with confidence, having secured a semifinal berth for the first time in 14 years in the regional football extravaganza. The booters now have their sights on the final -- which Bangladesh last reached almost two decades ago in Pakistan in 2005.  
   
Ending an 18-year wait to reach the SAFF final will not be easy for Bangladesh, especially considering how Kuwait have outplayed Pakistan and Nepal before showing resilience to make a remarkable comeback against hosts India in the group stage.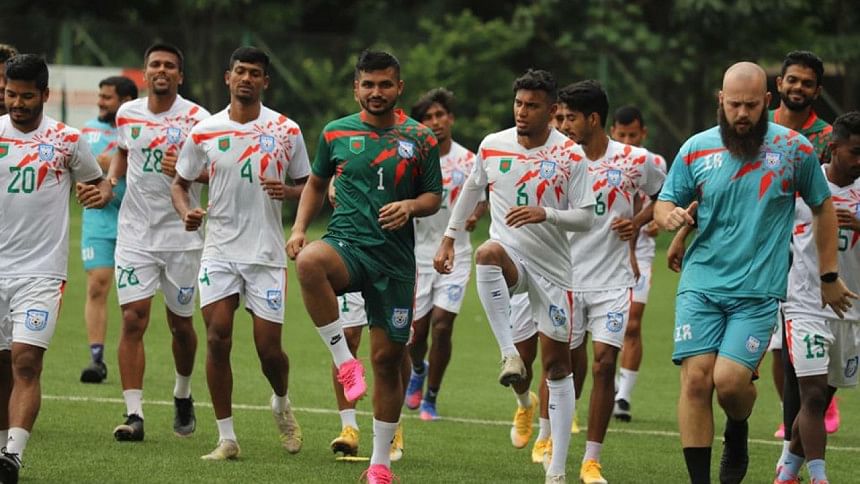 Kuwait, ranked 141 in the FIFA rankings, are 40 and 38 places below India and Lebanon, respectively, due to various internal problems including a two-year FIFA suspension and for forfeiting the Asian Cup from 2015 to 2017, but the 1985 Asian Cup champions have certainly proved to be a force to reckoned with in this SAFF Championship. They have beaten strong teams like Tajikistan, the Philippines, and the UAE in the recent past. They also drew against Bahrain and have been unbeaten in the last seven matches.
It only proves that today's semifinal will be an uphill task for the men in red and green against the middle eastern side, who looked more aggressive in pressing against India. Containing such pressing will be key for Bangladesh. 
"We have to take it [the challenge] as a team. We have to deal with it. We have to be aggressive but also play our game. We don't want to play their game and we have to focus on ourselves and try not to concede goals. We would need to score goals and defend well. But first, we need to focus on ourselves," said captain Jamal Bhuiyan at the pre-match conference on Friday.
"I think the team is confident like before but also not too confident. I think all of us have big respect for Kuwait because we saw how they played against India. However, we believe in ourselves because we have a good group of players who can compete and do something. We are ready. Even though the players may be a little bit tired, mentally we are a hundred per cent ready for the match against Kuwait," Jamal affirmed.
The game could be a battle between Bangladesh defenders and Kuwait forwards. So far, Kuwait have scored eight goals in three matches and apparently, the outcome of the contest could boil down to how well the Bangladeshi defenders can thwart the Kuwaiti forwards.
"Of course, it is a battle between the Bangladesh defence line and Kuwait forwards. At the same time, it will also be a battle between the Bangladesh forwards and Kuwait defenders. We are going to try to push our limits and have a fifty-fifty battle because our target is to win tomorrow," said Bangladesh's Spanish coach Cabrera, who is likely to bring a few changes into the squad during the final preparation time on Friday afternoon.
"The players are trying to recover as much as possible [from their game against Bhutan last Wednesday]. We will have a training session [on Friday afternoon] to prepare for tomorrow's game. We are ready and excited to face Kuwait in the semifinals after such a long time and [I am] convinced that we can give a very good fight and try our best to get to the final," said Cabrera.
Bangladesh staged two brilliant fightbacks against Maldives and Bhutan to ensure a spot in the semifinals, but Cabrera believes it is tough to come from behind in every game. 
"Of course, we don't want to concede goals at the beginning of the game. Tomorrow is a very important day for us and we are focused from the beginning to stop Kuwait and try not to get in that situation [trailing] again. If we get into such a situation, we have to fight again because we had the experience of coming back from behind in the previous two games. But we should avoid this situation against Kuwait," said the 38-year-old coach.  
Bangladesh lost to Kuwait 1-2 in 1973 during the Merdeka Cup in Malaysia and then suffered a huge 0-4 thumping during the 1986 Asian Games. Since then, Bangladesh never faced Kuwait in 36 years. Bangladesh U-19 team, however, beat Kuwait in the AFC U-19 Championship Qualifiers in 2013 under the guidance of Dutch coach Rene Koster.