Spain prosecutors open probe into racist abuse of Vinicius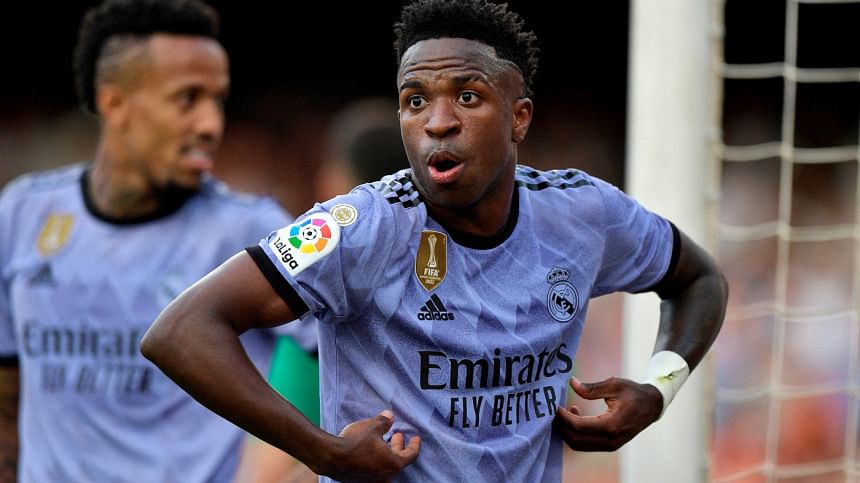 Spanish prosecutors opened a probe Monday into racist chants hurled at Real Madrid's star forward Vinicius Junior during a match as the football federation president admitted the country had a "problem" with racism.
The 22-year-old Brazilian international forward was targeted by a home supporter during a 1-0 defeat at Valencia on Sunday and was later sent off.
The prosecutor's office in Valencia is investigating the incident as a possible "hate crime", a judicial source told AFP.
The move comes after Real Madrid said it had filed a complaint with the office "in order for the facts to be investigated and for those responsible to be held accountable."
The club said the chants, in its view, "constitute a hate crime".
Top figures from the world of football and beyond rallied around the player, who has frequently been singled out for racial abuse in La Liga.
The head of Spain's football federation, Luis Rubiales, said the country had a "problem" with racism.
"As long as there is just one fan, a single undesirable, or group of undesirables who hurl insults over someone's sexual orientation, or skin colour, we have a serious problem," he added.
Vinicius stood in front of fans behind the goal and pointed to the apparent culprit and play was delayed for several minutes in the second half.
Referee Ricardo de Burgos Bengoetxea spoke to stadium officials, who made an announcement calling for racist insults to stop before play resumed 10 minutes later.
The referee wrote in his post-match report that a fan shouted "monkey, monkey" at the player.
Vinicius was sent off in added time at the end of the game for hitting Valencia player Hugo Duro during a brawl.
He issued a statement afterwards saying that La Liga "belongs to racists" and several Brazilian players past and present offered their support.
Brazilian President Luiz Inacio Lula da Silva condemned the abuse, telling a news conference at the close of the G7 summit in Hiroshima: "He was attacked. He was called a 'monkey'."
Spain's Labour Minister Yolanda Diaz, a deputy prime minister, also weighted in, saying "racist chants in football stadiums do not represent our country".
"We will continue to work to end racism," she tweeted.
- 'Unacceptable' -
Real Madrid coach Carlo Ancelotti said Spanish football needed to be prepared to halt matches.
"The Spanish league has a problem, and Vinicius is not the problem. Vinicius is the victim," Ancelotti said.
"What has happened today has happened before, but not like that, it's unacceptable," he told reporters.
FIFA reiterated on Monday that stopping matches is permitted as well as players walking off the pitch in their three-step approach when racist abuse takes place.
"Full solidarity to Vinicius," FIFA president Gianni Infantino said in a statement.
Vinicius has been racially abused at several stadiums this season in Spain and an effigy of him was hung from a bridge by Atletico Madrid fans.
La Liga have filed legal complaints to Spanish authorities on multiple occasions this season, with the league pledging on Sunday to do so again after investigating.
However, Ancelotti said it was not helping.
"What has happened? Reports, and nothing at all has come from it. The solution is to stop the game," said the veteran Italian coach.
Writing on Instagram, Vinicius said Spain was viewed as "a country of racists" in his homeland.
He said Spain was "a great country, which welcomed me and that I love, but which has accepted to export to the world the image of a racist country. I am sorry for the Spanish people who do not agree, but today, in Brazil, Spain is known as a country of racists."
"The league that once belonged to Ronaldinho, Ronaldo, Cristiano (Ronaldo) and Messi now belongs to racists," Vinicius added.
- 'It's unjust' -
La Liga argued it had been "proactive" in previous cases of racism against Vinicius, filing nine complaints with relevant authorities and prosecutors.
La Liga's combative president Javier Tebas hit back on Twitter, claiming Vinicius on two occasions did not turn up for a meeting with the governing body to discuss what it "can do in cases of racism".
"Before you criticise and slander La Liga you need to inform yourself properly," Tebas tweeted.
Vinicius has, though, received widespread support.
Madrid goalkeeper Thibaut Courtois said he heard "monkey noises" during the game and said he would have walked off with Vinicius if the Brazilian chose to stop playing.
There was anger among many in Brazil.
President Lula called for FIFA and the Spanish league to take "serious measures".
"It's unjust that a poor kid who's done so well in life, who may be on his way to becoming the best in the world -- he's certainly the best at Real Madrid -- gets insulted at every stadium where he plays," he said in Japan.