SAFF U-15 Women's title slips away from hosts
Bangladesh failed to regain the SAFF U-15 Women's Championship title after Joynob Bibi Rita squandered a last-gasp penalty in a 1-1 draw with Nepal in the final group-stage game at the Birshreshtha Shaheed Motafa Kamal Stadium in Kamalapur on Friday.
Their first draw in four games saw the hosts finish second behind champions Nepal, who secured 10 points from four matches, three more than Bangladesh. Bhutan finished bottom of the three-team competition, with four defeats from as many matches.
Trailing Nepal by three points, Bangladesh knew nothing other than a win would suffice if they wanted to lift the trophy five years after becoming champions in the inaugural edition.
Although they dominated most of the match, Bangladesh lacked composure in the attacking third, appearing to hurriedly control and distribute in what was the first international tournament for this batch, who underwent six-eight months of training after being scouted from the BFF-UNICEF Women's Competition.
Nepal tightly marked the tournament's top-scorer and most valuable player, Sauravi Akanda Prity, hardly allowing her space up front, before taking the lead against the run of play. Sushila made no mistake firing home from the top of the box after a feeble clearance from Kanon Rani came her way. Bangladesh created at least three good chances to level the margin but could not convert.
The hosts finally levelled the margin in the 54th minute, with captain Ruma Akter heading a Joynob Bibi corner home. A couple of changes then strengthened the attack and Bangladesh were awarded a penalty after Nepalese defender Bipana Snehi handled a cross from Trishna Rani in the 89th minute.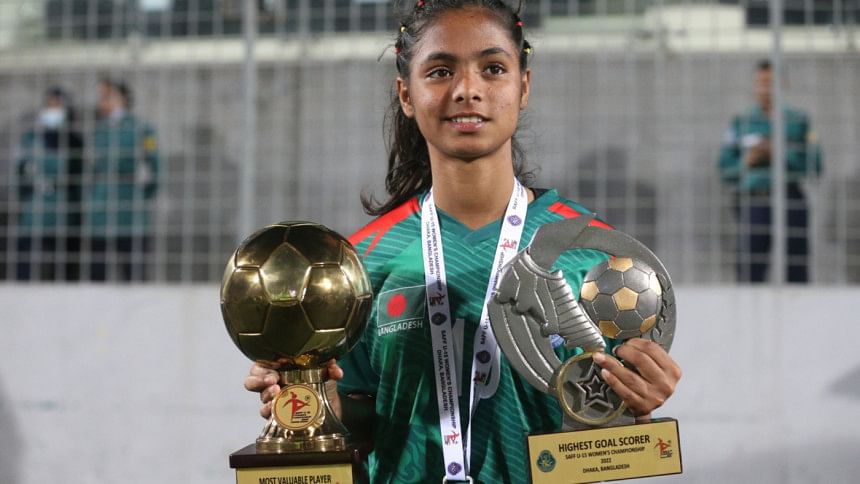 But Joynob Bibi fired straight at Nepal goalkeeper Sujata Tamang as Bangladesh's hopes of regaining the title disintegrated.
Golam Rabbani Choton said inexperience on the international arena was one of the reasons for the result, but believes only training and playing more international matches can help the girls mature and put up stronger performances in the future.
"They are not mature enough to handle such situation because, barring one player, the rest played their first international tournament. There is no lack of merit; they lack experience in international matches. That's why they looked in a hurry. But if you look back, they have improved in every match and put up better performances," Choton said at the post-match briefing.
"They have a tendency to play in a hurry. They also made small mistakes in the match. They need more training to make that up," Choton said. "Prity was marked tightly and she did not know how to overcome that. But I think she can overcome it after more training."