Padma Bridge elevates Eid joy for Rahmat, Jewel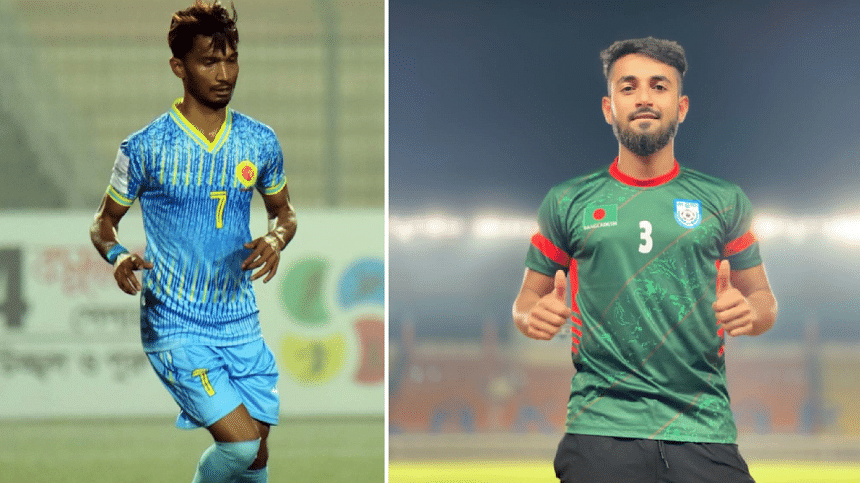 Due to the domestic and international engagements at the clubs or national team level, top footballers hardly get the scope to enjoy the religious festivals and vacations with family members, relatives and friends. And for some booters who get to be on leave but have to head to the other side of Padma river from Dhaka, most of their time would be spent crossing the river via ferry.
"My mother was also surprised to see me and my brother reach home within a few hours after starting the journey from Dhaka."
The Daily Star talked to Rahmat Mia and Jewel Rana to know about their relevant experiences since both have to travel south from Dhaka to Magura and Jhenaidah, respectively. 
Each footballer, whose family reside in southern parts of the country, had different types of painful stories when it came to their journey to their respective homes from Dhaka ahead of Eid festivals. This time around, however, their trips were delightful, courtesy of the establishment of the long-awaited Padma Bridge on Mawa-Jazira point.
"After coming down the Jatrabari fly-over, the whole highway express seemed to me like the Padma Bridge and I could not realise when I reached the Padma Bridge area," said Rahmat Mia, who plays for Sheikh Russel KC and was given only a three- day leave and asked to join the camp the next day after Eid-Ul-Adha.
"Besides I did not face any kind of tailback on the road back to Mohammadpur of Magura," said the national team's defender, who plays as a left-back.
Rahmat took only four hours to reach his destination from Dhaka whereas it once took him 10 hours to reach home via Paturia-Dawlaldia ferry ghat on the Padma river.
"Perhaps in 2016 or 2017, I had to wait at the ferry ghat for several hours to cross the Padma river but once I started using my private vehicle, it saved one to two hours but did not eliminate my suffering at ferry ghat," Rahmat recalled.
"Those suffering are now a thing of the past as I returned home via Padma Bridge and it took only four hours, out of which two hours were consumed to get out of Dhaka city."
Rahmat informed that he has come home to celebrate Eid with near and dear ones for the third time since 2014 as he couldn't make it happen every time because of his involvement with the national team as well as the domestic commitments.
Like others he also enjoys time with his family members, relatives and friends as he usually doesn't find them available except the Eid vacation.
"There is usually plenty of time in hands after the prayer of Eid-ul-Fitr but I have almost no time in hands during the Eid-Ul-Adha because I remain involved with the event of animal sacrifice and [the meat] distribution among destitute people. However, I enjoyed my time with everyone after reaching home from Dhaka."
Jewel Rana was also ecstatic after taking less time to reach Jhenaidah from Dhaka through Padma Bridge.
"For the first time, it took only 4 hours and 15 minutes to reach Jhenaidah from Dhaka whereas it usually took 6 to 7 hours via Paturia-Daulatdia ferry ghat," said Jewel, who plays as a winger for the national team.
"My mother was also surprised to see me and my brother reach home within a few hours after starting the journey from Dhaka."
Like Rahmat, Jewel also once took a maximum 11 hours to reach Jhenaidah from Dhaka due to long tailback on Paturia-Daulatdia ferry ghat.
"Previously, we suffered while crossing the Padma through a ferry despite having a personal vehicle because we had to wait for a ferry for a few odd hours during the Eid vacation. However, this time around we had to wait a few minutes to clear toll before crossing Padma and now we won't have to face that kind of hardships to cross the river," said Jewel Rana of Abahani, who is eager to celebrate the festival and be involved with its process alongside his uncles and cousins.
Both Rahmat and Jewel are scheduled to join their respective football camps the next day after Eid. They are delighted to get more time to spend it with the family members and also because, thanks to the Padma Bridge, they are now able to join the camp on the same day after beginning their journey from their respective districts.