Topu hails positive performance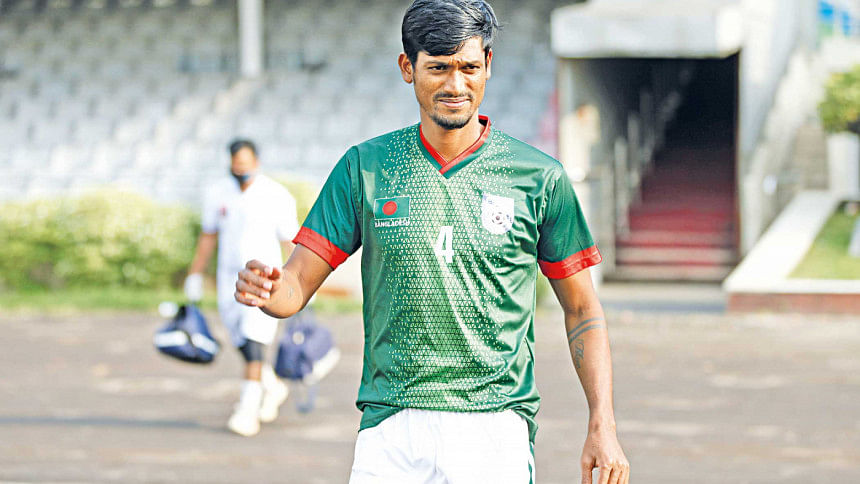 Bangladesh centre-back Topu Barman, who is missing the Asian Cup Qualifiers due to a long-term injury, was impressed with the positive performance of the team against Turkmenistan in Kuala Lumpur on Saturday.
Bangladesh were beaten 2-1 by the Central Asian nation, who are 54 places ahead of them but it never seemed like an odd battle.
"It was a positive performance against Turkmenistan. There were positive performances in every department from defending to creating chances. The build-up, passing, ball possession and pressing opponents in the attacking third were excellent which we lacked in previous matches," Topu told The Daily Star on Sunday.
"To be honest, the boys created a lot of chances which we generally struggle to do. They played much better than the Bahrain match," Topu said. "Usually the forwards don't get much support or get a second man in the attacking third but yesterday it was different. There were two to three men in the opponent box whenever Bangladesh launched attacks."
"The style of play or formation depends on the opposition's strength and I think the coach chose to adopt such attacking play after watching the opponents' style of play," opined Topu, who believes only defending never delivers positive results.
"When you adopt only defending approach, it will reduce the chances of scoring. We had earlier played defensive football and couldn't create many chances or could not reach the opposition box or could not avail goalscoring chances due to shortage of players in the attacking third. But there were players like Biplu, Sazzad, Rakib and sometimes Jamal in the opponent box when the attack was built through the right flank by Ibrahim yesterday," said Topu.
"This fighting approach will give the players a belief that they can play attacking football and also defend well. I think the performance against Turkmenistan will help the boys a lot in future," said the Bashundhara Kings defender.
Topu was also impressed with the performance of Biplu Ahmed and Jamal Bhuyan, who yesterday played in attacking midfielder position.
"Jamal generally plays in number eight position but his performance against Turkmenistan was better than the Bahrain match while Biplu snatched a lot of balls in the midfield before building attacks," said Topu.
Topu believes there may be changes in the formation ahead of the match against Malaysia, who he feels are better than Turkmenistan.
"I think Bangladesh should first focus on not conceding goals against Malaysia, who will play on home ground and then look to attack on the break like the game against Bahrain," concluded Topu.