Napoli don't play like an Italian team, says Frankfurt coach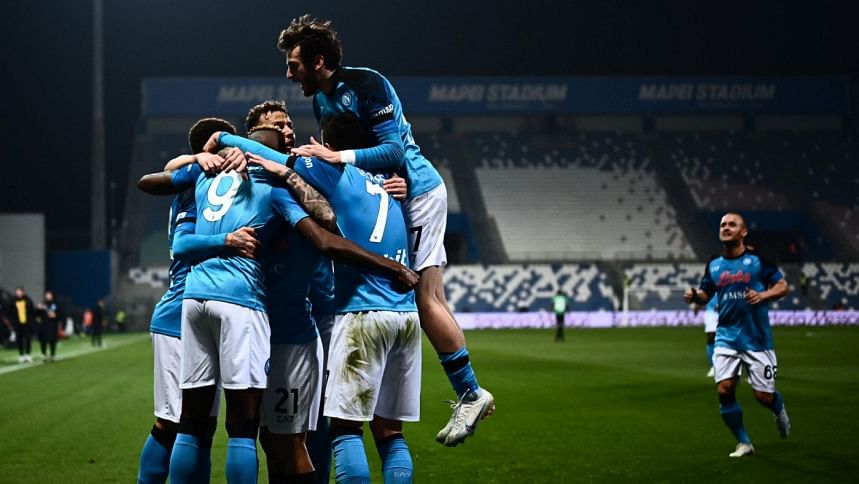 Serie A leaders Napoli will be aggressive and counter-press with "incredible intensity" in their Champions League last-16 first leg, Eintracht Frankfurt coach Oliver Glasner said on Monday.
Napoli won five out of their six Champions League group stage games to finish as group winners ahead of Liverpool.
"Napoli don't play like an Italian team," Glasner told reporters ahead of Tuesday's clash at the Waldstadion.
"They play with the most intensity by some distance. They're aggressive without the ball and counter-press with incredible intensity. We're aware of that and we've prepared for it.
"There's more to Napoli than just their attack. They have an incredible balance and don't concede many goals. They had an exceptional group stage."
Napoli coach Luciano Spalletti rejected the idea that his side were not playing like an Italian team.
"This anti-Italian thing is a cliche. Sometimes teams playing in Europe decide to leave space for the opponent," he told a news conference later on Monday.
"Eintracht are very aggressive but can also track back quickly. We all use different styles but due to the quality in Europe it's very difficult to play constantly in the opposing half."
Impressive Season
Napoli have had an impressive season so far, currently with a 15-point lead over second-placed Inter Milan in Serie A, and have won seven straight domestic league games, scoring at least two goals in each, but Spalletti brushed off the praise.
"Generally, I don't trust compliments, especially in the media. I still remember the general comments of those who didn't even predict us a place in the top four in Serie A at the start of the season," he said.
Eintracht's Glasner added that captain Sebastian Rode, who missed Saturday's 2-0 Bundesliga win over Werder Bremen due to illness, trained on his own on Monday and "will be in the squad, provided nothing else happens. He won't start, though."
Frankfurt midfielder Mario Goetze, part of the Borussia Dortmund side that reached the 2013 Champions League final, said he was expecting a "tremendous atmosphere".
"It's going to be a sensational game," he told reporters.
"We learnt a lot during the group phase as a team and earned these two games. We know how difficult it's going to be at this level. Experience is important, but ultimately it's our performance that counts."
Frankfurt are sixth in the Bundesliga standings on 38 points, five points behind leaders Bayern Munich.