Mexico name Argentina's Cocca as coach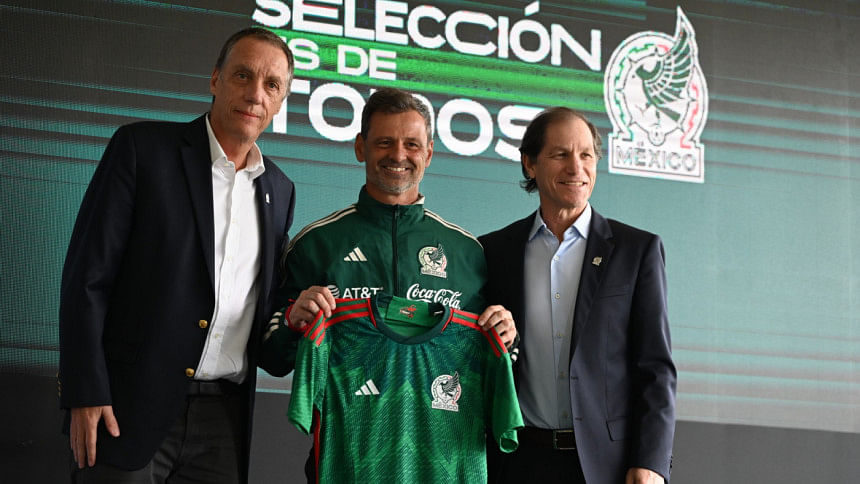 Mexico on Friday named Argentina's Diego Cocca as coach of the men's national football team, with a mission to revitalize the side ahead of the 2026 World Cup that it will co-host.
He replaces fellow Argentinian Gerardo Martino, who left after failing to lead the side past the group stage in Qatar last year.
"We're convinced that it was a good decision and that we're going to triumph with Diego at the helm," said Rodrigo Ares de Parga, an executive director at the Mexican Football Federation.
"He's a hard worker and a great strategist," Ares de Parga told a news conference, adding that five candidates had been interviewed for the job.
Cocca, who turns 51 on Saturday, is the Mexican national team's 45th coach and its fifth Argentine manager.
He previously led the Mexican club Tigres, which announced this week that it had terminated Cocca's contract after only five games in charge due to his move to the national team.
"It was an opportunity that I couldn't pass up," Cocca told reporters.
"I feel happy, proud and privileged to be the manager of the national team of this country that has given me so much," added the Argentinian, who has played for, or coached, several Mexican teams during his career.
"This country opened its doors to me as a player, made me grow as a person, and welcomed me back as a coach. I'm very grateful," he said.
Cocca will be tasked with ensuring the side put on a better performance in the 2026 World Cup, which Mexico will jointly host with the United States and Canada.
Martino, his predecessor, was appointed in 2019 with the goal of leading Mexico to the quarter-finals for the first time in more than three decades.
Instead, the team suffered an agonizing exit in the group stage in Qatar -- a result that Martino rued as a "huge failure."
It marked Mexico's earliest exit from a World Cup finals since the team failed to go past the group stage in 1978.
Cocca, already under pressure to win the CONCACAF Nations League in June, said he relished the challenges facing him.
"With time and work we're going to find a Mexican team that will win every game," he said.