Lemos relishing Abahani-Mohammedan final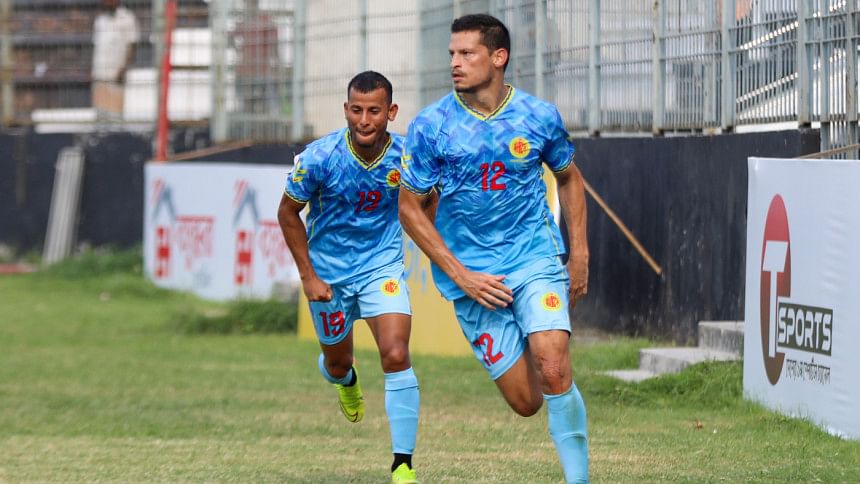 Coach Mario Lemos expressed his excitement after leading Abahani to the final of the Federation Cup against historic rivals Mohammedan following a 3-0 win over Sheikh Russel in the second semifinal at the Shaheed Dhirendra Nath Dutta Stadium in Cumilla yesterday.
The final, to be held in Cumilla on May 30, will be the first Federation Cup final between the country's two most popular clubs in 14 years, with the Black and Whites winning the last battle at the Bangabandhu National Stadium in 2009.
The two sides met later twice in cup finals during the 2009 Super Cup and 2011 Super Cup, with the Black and Whites winning the former and the Sky Blues having the last laugh two years later.
Mohammedan's 2-1 win against favourites Bashundhara Kings in the first semifinal last week means this will be the first Dhaka Derby final in more than a decade, a prospect that excited Lemos.
"I'm very excited. It's a big game with a lot of history. I think it's a game that is going to get the gallery full. People who love football and love Mohammedan-Abahani, hopefully we can have a good game and show them that Bangladesh football is still alive," the Portuguese told The Daily Star over phone following yesterday's victory.
Abahani are the defending champions and record 12-time winners of the Federation Cup, which had been a traditional curtain-raiser in Bangladesh football in the past. But is being held in concomitantly with the Bangladesh Premier League for the first time this season.
Both Abahani and Mohammedan are realistically out of contention for the Bangladesh Premier League title, with Abahani in second position, 10 points behind leaders Bashundhara Kings and Mohammedan sixth, a further 11 points behind. This is both teams' first chance to taste silverware this season, but Lemos was confident.
"I know it's not [going to be] easy, but when you are in a final, it's one game. It's a very tough game but we have to win. We have to play the same way we played today -- be patient, disciplined, organised and try to win the game," the long-term Abahani coach said.
After Sheikh Russel striker Mfon Udoh missed a couple of scoring chances, Costa Rican forward Daniel Colindres gave Abahani a 38th-minute lead with a powerful diagonal shot following a long-ball from Rezaul Karim.
Foysal Ahmed Fahim doubled that lead six minutes after the restart with a placed shot on a square pass from Raphael Augusto. The 24-year-old Bangladeshi forward wrapped up the victory with a floated attempt that Sheikh Russel keeper Ashraful Islam Rana failed to keep out in the 71st minute.
Lemos felt the team defended very well and were effective on the counterattack.
"Sheikh Russel are a very tough team to beat. We played three times against them. We lost one, we drew one and we won on penalties in the group stage of the Federation Cup. I thought it would be a 1-0, 2-0 or a 2-1 -- a very tight game. We defended very well and attacked very well. It was a good win for us," Lemos added.